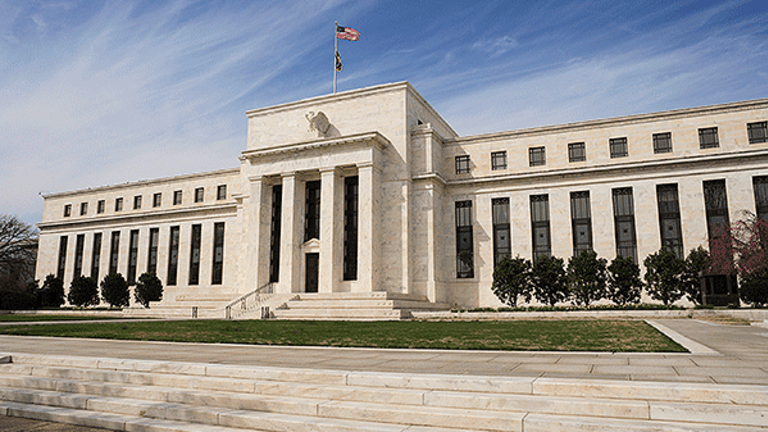 Market Recon: We Just Heard Something Very Impressive From a Federal Reserve Member
Meanwhile, Commerce Secretary Wilbur Ross indicated he is open to talks.
"Sticks and stones may break my bones, but words will never hurt me." -- Unknown
Trader Focus
The data was mixed yesterday. Income and spending improved, as expected. Core PCE printed rather weakly, as expected. Consumer confidence showed signs of further erosion from lofty levels seen earlier this year. Ho hum. Trading volume was light, very light, across several asset classes. I knew it might be rough when my morning blast e-mail resulted in more vacation messages than I had ever seen before. Dull markets, however, are never really that dull. There's always something.
Treasuries continued to strengthen. Stocks came in small, except for energy shares and bank stocks. Those groups came in a bit harder. At least for the bank stocks, the yield curve was the culprit. The ever-dwindling gap between what the U.S. 10-year and the U.S. two-year give up continues to grind down to less than what we saw just before the election. That spread was down to 0.93% last night and is up small in the early going today, now at 0.933%. The banks go nowhere without this item approaching and surpassing a full percent. Continued dysfunction in the nation's capital could allow this spread to re-test the lows of last summer, which were below 0.8%. No agenda. No banks. Scary.
Now That I Have Your Attention
Commerce Secretary Wilbur Ross indicated last night that he is open to talks that could result in a proposed trade pact with the European Union as a whole. Ross said: "Any negotiations legally must be conducted at the EU level and not with individual nations." Ross intends to continue Trans-Atlantic and Investment Partnership (TTIP) negotiations, and work toward reducing bloated U.S. trade deficits with what as a group is one of our nation's largest partners in trade.
How interesting that this comes just days after the president launched a series of angry tweets toward Germany based on that nation's failure to meet its obligations toward NATO, and on its superior trading position. The U.S. ran a 2016 trade deficit with the EU that ran up to $146.3 billion. Germany, over that same year, ran a current account surplus that in relation to GDP was the largest in the world (8.5%). Would Europe be open to continued negotiation on trade? You bet. Of course they would. You don't cut off a good customer because of some angry tweets. About those angry tweets...
... Really? Germany probably can't believe it took the U.S. so long to realize that it was being taken advantage of. Would you worry about the reaction of a deadbeat, when called out on being a deadbeat? There are almost 35,000 American troops stationed in Germany alone. That's not free. Germany has paid less than 1.2% of its GDP toward NATO, when the agreed-upon guideline in 2%. The U.S. has made up the difference, all while Germany runs up the third-largest trade surplus with the U.S. among the planet's nations behind only China and Japan. I think they'll live, and I think they'll play ball.
Bundled Debt
One extremely interesting news item that ran by last night was the story of a European Commission paper advocating the bundling of sovereign debt from across the monetary union into a new financial instrument. As the ECB winds down the road and ponders the removal of quantitative easing, something will have to be done to make the debt of some of the weaker nations more marketable. The question will be how OK with this idea will Germany be, as this would mean that German credit would still be the strength behind any support for the rest of the eurozone.
You can be sure that Germany will not go along with any plan that pools individual governments' debt issuances. Brussels will receive this paper at some point today. My thought: nothing happens too quickly. If debt is not to be pooled, then any regional cooperation would have to set up as some kind of fund. That fund would then have to be managed. Would that potential manger then be forced by mandate to buy product in proportion to GDP, or some other guideline? Ultimately, this "fund" would have to, at some point, buy sovereign debt that the manager would rather not. Then one would have to wonder how deep independent investor demand would be for such an asset. Much thought ahead on this.
She Said What?
Federal Reserve Board Governor Lael Brainard spoke from New York yesterday afternoon. She said a lot, but two quotes really stuck out to me. Brainard said: "I am not confident we can count on the Phillips Curve to restore inflation to target in today's economy." She then acknowledged that despite the dramatic drop in the national unemployment rate, core inflation has still undershot the Fed's 2% target for 58 consecutive months. She went on: "Currently I see more signs that progress on inflation is slowing than of a breakout of inflation to the upside".
This may be the single, most impressive thing that I have heard from a member of the FOMC since Richard Fisher and Tom Hoenig moved on to greener pastures. This displays an ability to interpret data, and to reason. Does anything come of it? Well, I do not think it changes a thing as far as a June rate hike goes. It certainly could mean that later this year, some dovish tendencies could re-emerge at the FOMC. There could be real debate and actual dissent as the central bank goes about tightening monetary conditions. This story could be the start of real market volatility as the year evolves, and unfortunately will make all of the Fed Speak that we suffer through every week all that more focused upon. Buckle up.
Macro
08:00- Fed Speaker:Dallas Fed Pres. Robert Kaplan will speak on international economics this morning from New York City. Yesterday, Kaplan said that he sees GDP on trend at around 2% this year, that the stock market is yet to go too far, and that he still expects two more rate hikes before said year is out. Thank you, Robert for offering us absolutely nothing that we could not have told you. Otherwise, great job. Kaplan is a voting member of the FOMC, and will answer questions today for both the audience and the media.
08:55 - Redbook (Weekly):Last Week 2.0% y/y. This item held its ground nicely last week on a year-over-year basis, despite the rougher comparisons that the placement of Mothers' Day on the calendar wrought. The four best weeks of 2017 in terms of that kind of growth have all come in the last six weeks.
09:45 - Chicago PMI (May):Expecting 57.2, April 58.3. Chicago is hot. Business conditions in the region have beaten expectations for three consecutive months, and both March and April hit the tape at the highest level of headline expansion since December 2014. Is the most volatile data point in our macro universe finally settling down and trending one way? We'll find out at 9:45 ET.
10:00 - Pending Home Sales (April):Expecting 0.6%, March -0.8% m/m. If Chicago should abdicate the throne as most volatile data point, I think we have our new champion. Pending home sales have printed in contraction in three of the last five months, yet exploded back in February. That stellar month proved to be the best print for month-over-month growth in this space since May 2014. Today we look for a mild bounce from last week's expected step backwards. Remember, this is where existing home sales are born.
14:00 - Beige Book: Two weeks prior to the next FOMC policy decision, we have this. How significant might this just be? Anecdotal evidence of economic conditions from across the 12 districts just as the harder macro seems to be sketchy at best over the last few weeks. This will have some potential to move the markets today. Yes, you're right, it usually does have such potential. Just think it matters a little more this time 
19:30 - Fed Speaker:San Francisco Fed Pres. John Williams will be in Seoul, South Korea, to speak on the global economy over the next decade. Williams does not vote on policy this year, but is considered influential. He will take questions at the conclusion of the event.
Sarge's Trading Levels
These are my levels to watch today for where I think that the S&P 500, and the Russell 2000 might either pause or turn.
SPX: 2439, 2426, 2417, 2410, 2404, 2397
RUT: 1392, 1386, 1376, 1370, 1362, 1356
Today's Earnings Highlights (Consensus EPS Expectations)
Before the Open: (ADI) ($0.84), (KORS) ($0.70)
After the Close: (BOX) (-$0.14), (HPE) ($0.35), (OLLI) ($0.23)
---------------------------
Meet the Millennial Media Moguls
Planning to be in New York on Tuesday, June 13? You're invited to join us for an evening of cocktails and conversation with three dynamic young CEOs whose companies have found big news audiences and good markets. How have they done it? What have they learned? Meet Chris Altchek, CEO and co-founder of Mic; Shafqat Islam, co-founder and CEO of NewsCred; and Kathryn Minshew, the CEO and co-founder of TheMuse. Our panel discussion will be led by Ken Doctor, media analyst and columnist for TheStreet. The event, from 6 to 8 p.m. is free, but space is limited and reservations are required. Please click here to RSVP and get more information.
Read More Trending Articles:
Stocks Turn Negative on Final Day of May; Crude Oil Plummets Again
At the time of publication, Stephen Guilfoyle had no positions in the stocks mentioned.