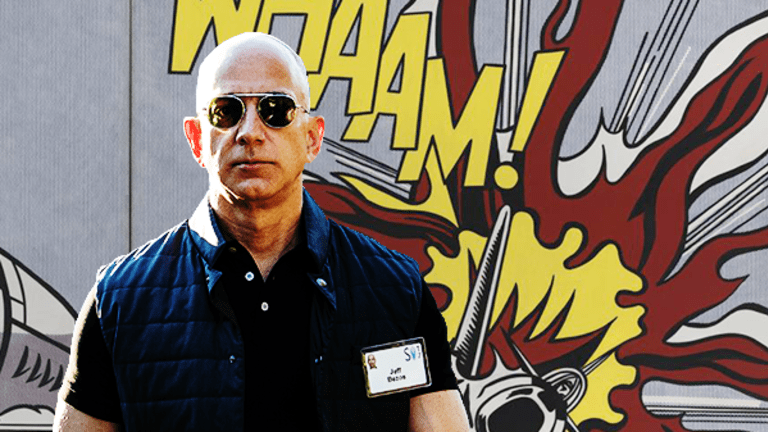 What Amazon Whole Foods Hack: Market Recon
Lots going onto end the week. Did you see that Whole Foods might have been hacked?
Get Morning Recon delivered directly to your inbox each market day. Click here to sign up for e-mail delivery of Stephen "Sarge" Guilfoyle's Morning Recon, Jim Cramer's Daily Booyah! or other great free newsletters from TheStreet.
"Fools ignore complexity. Pragmatists suffer it. Some can avoid it. Geniuses remove it."  
--Alan Perlis
Complex Tech Deal
Channeling Alan Perlis. One news item that I have read, and then read again, and then read some more is this Toshiba deal with Bain Capital. Having recently taken some tech chips off of the table (The kid rang the register in Nvidia (NVDA) ), my book is a little lighter in the tech space than I like. What to do? What to do? Still packing Lam Research Corporation  (LRCX) , so not really desperate.
Back in March of this year, Westinghouse Electric, Toshiba's nuclear unit here in the U.S., filed for bankruptcy protection. Earlier than that, Toshiba had announced that the firm was looking to sell at least part of it's memory chip unit. The firm has been blunt. They have been looking for a beefy cash infusion, perhaps just to stay afloat. Yesterday's announcement brings that cash infusion.
The buyer? A group led by Bain Capital that includes financing from a consortium of tech companies, including not only SK Hynix, but Apple Inc  (AAPL) , and Seagate Technology PLC  (STX) . The hope is that these tech players happen to be customers, as well as competitors. That is very interesting. These NAND memory chips are used in everything from computers to cell phones, for those that might be unaware. This deal would be able to preserve Toshiba's place as number two in the industry behind leader Samsung. Samsung is way out in front. (AAPL and NVDA are holdings of Action Alerts PLUS.)
There is some hair on the dog. Toshiba has a partner in this flash memory business -- Western Digital Corporation  (WDC) . WDC opposed this deal, and thought that they had veto power over such a deal even taking place. Toshiba, in turn, denied that WDC had any such power, and Toshiba's board of directors quietly approved this sale.
Tech as a sector finished Thursday slightly in the green (+0.1%). Semiconductors as an industry outperformed the sector (+0.8%). Not WDC, though. That stock came in hard, -1.7% on the day. There will also be antitrust concerns, as SK Hynix is number five in this industry, and will be held though convertible bond holdings to less than a 15% stake in the deal. 
Where am I going with this? Seagate's involvement. The performance of STX has been an absolute disaster this year. Why do I care? The stock, an on-again, off-again holding of mine, currently resides as an underweight long position in my dividend book. STX is providing $1.25 billion worth of financing over several years to this nearly $18 billion deal. Seagate is a rival of Western Digital's in the hard disk drive business. STX has traded as low as $17 and as high as $50 over the last year and a half -- basically being left behind by many in the industry. Does this do anything for them? Is the 7.6% dividend yield still safe? That yield is really the only reason to own the stock at this level, and has not at all been worth the 30% decline since Spring.
Seagate insists that the need for these chips is growing, and this helps them crack that business line. The stock reacted negatively yesterday (-0.6%), but not nearly as negatively as did WDC's. Longer term, this deal protects NAND supply lines for STX. As bad as things get for STX, they have always maintained their dividend, and through that, some loyalty from shareholders.
I'll tell you what. I do not think that STX is a buy at these prices around $33. Steve Luzco stepped away from the role of Chief Executive in July, but he is still the Chairman. He is still the boss. I think if you are long the name, you hold. If the stock dips close to the $30 level, where it has found prior support, you can put on about a fifth of a position. I would not look at this as any kind of saving grace for Seagate, however. If you are out, stay out.
Trouble at the Point of Sale?
It always catches the eye when a major chain of any kind reports a hacking or any kind of unauthorized security breach at the point of sale. On Thursday, Whole Foods Markets stepped to the plate, admitting that there had been a credit card security breach at some of its venues, but that it had not impacted the chain's main grocery business. The breach was, they believe, confined to the chain's taprooms and restaurants, business lines not present at many Whole Foods locations.
What a way to start a relationship. Just last month, Whole Foods had been acquired by Amazon.com Inc (AMZN) for $13.7 billion. This comes on the high-profile heels of what happened at Equifax Inc  (EFX) , but that is a completely different kind of security breach. This particular type of breakdown happens at the register, and has more in common with what recently happened at the Sonic Corp (SONC) , Wendy's Company (WEN) , and Chipotle Mexican Grill (CMG) fast food chains. It would appear that in the modern day, each and every one of us who uses a credit card (all of us) will have to deal with the possibility of some kind of imposition made on our financial safety at some point.
Despite this breach, Amazon was up roughly $5 in Thursday's trading session (+0.6%), and is up another 0.5% in overnight trading as I bang out this note. Investors have apparently decided that this is not the worst thing that they'll have to deal with at this time -- unless of course they recently used a credit card at one of these facilities. I have not yet seen word on how many credit card accounts may have been compromised.
Dollar Bill
U.S. dollar valuations took a breather yesterday. As we roll into the end of the month and quarter, the U.S. dollar had gained rather dramatically against the euro, as well as against the basket of currencies collectively referred to as the U.S. Dollar Index (DXY). Key to note is that there could be some profit taking as the quarter closes, so do not take your cue from today. Janet Yellen spoke aggressively this week. That gave some pop to the greenback. Second-quarter GDP was revised higher. This added to sentiment as well.
Before getting all giddy about the U.S. dollar, keep in mind that the current administration is a very pro-manufacturing administration. They have given every indication over the last nine months that when need be, they will find a way to pressure the home currency. On top of that, we still have a jobs report due next Friday. That may, or may not, help clear things up for our openly confused chief central banker. I might not go into the weekend overweight.
Will Roku stay hot?
Macro
08:30 - Personal Income (August):Expecting 0.2%, July 0.4% m/m.
08:30 - Consumer Spending (August):Expecting 0.1%, July 0.3% m/m. In recent months, the balance between Income and Spending has been somewhat restored. This is key to the economy. Prolonged bouts of spending being extended well beyond income, as we have often seen in recent years, impact confidence -- and ultimately retail sales. These numbers matter, but tend to be overshadowed at the time of release, at least for traders, by the inflation data that the BEA releases, simultaneously.
08:30 - PCE Price Index (August):Expecting 1.5%, July 1.4% y/y.
08:30 - Core PCE Price Index (August):Expecting 1.4%, July 1.4% y/y. This is usually a very high-profile release, given it's stated importance to the FOMC as the tool used for their target on consumer level inflation. What will be of interest today is this question: Will the financial markets continue to place a premium on this data, now that the Fed Chair has openly admitted that she does not quite understand the forces impacting modern inflation, and is likely to disregard her own targets for inflation when making interest rate policy decisions? Hmm.
09:45 - Chicago PMI (September):Expecting 58.5, August 58.9. This usually wildly volatile measure of business activity in the Chicago regional Federal reserve district actually printed very close to expectations in August. If you follow this series, then you know that this was a very rare occurrence. The markets do not focus on this series like they did years ago. Still, the media will focus on it, due to it's solo release time.
10:00 - U of M Consumer Sentiment (September release review):Flashed 95.3. The Conference Board's very similar Consumer Confidence number showed some minor erosion of sentiment in Tuesday's release. Albeit that was from extremely high levels. As for the University of Michigan number today, we expect confirmation of the preliminary release two weeks ago, which reflected similar leanings by the public.
11:00 - Fed Speaker:Philadelphia Fed Pres. Patrick Harker is set to speak from the city of brotherly love on banking and regulation. Harker, who does vote this year, has been rather quiet on monetary policy of late after positioning himself as a hawk after taking the job. Harker will take questions today from both the audience as well as the media.
13:00 - Baker Hughes Rig Count (Weekly):Last Week total 935-1, oil 744-5.One thing you might find interesting is that while the number of U.S. oil rigs in operation did drop by an aggregate five last week, this was for the first time in weeks, completely independent of the after effects of Hurricane Harvey. Total rigs in operating in the states of Texas and Louisiana actually grew for the week, while the declines came from elsewhere (Colorado, North Dakota, and Oklahoma).
Sarge's Trading Levels
These are my levels to watch today for where I think that the S&P 500, and the Russell 2000 might either pause or turn.
SPX: 2536, 2523, 2511, 2504, 2497, 2489
RUT: 1505, 1498, 1490, 1484, 1477, 1470
There are no quarterly earnings releases scheduled for today. The banks start reporting in about two weeks.
More of What's Trending on TheStreet:
At the time of publication, Guilfoyle was long AAPL, LRCX and STX, although positions may change at any time.