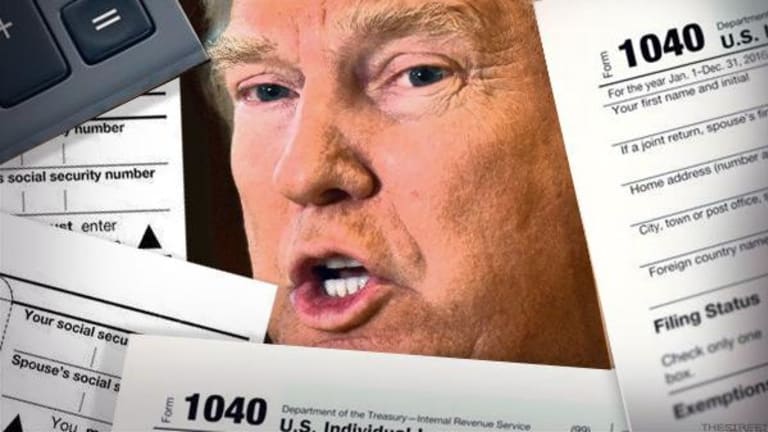 Market Recon: Today Is the Day You've Been Waiting For
It is the day when the White House launches the start of President Trump's tax reform.
"There will be a big tax cut for the middle class. But any tax cuts we have for the upper class will be offset by less deductions that will pay for it." -- Steven Mnuch 
Better Than Apple Pie
Today is the day for which, if you are like me, you've been waiting all week. Today, President Donald Trump's White House unleashes -- or at least plans to outline -- the start of its own tax reform plan. What does this mean to the markets? After two days of meteoric gains for the broader indices, it would be hard not to imagine at least some digestion on this news. The headline among several key points of what we believe will be included in today's announcement will be the reduction of the federal corporate tax rate from the current 35% to 15%. This will include pass-through businesses. That's a huge plus for almost everyone who works for themselves.
On the individual level, there is talk of reducing the top 39.6% federal tax tier to something between 33% to 37%, and a reduction in the number of tiers from the current seven to three. Remember, though, that the pass-through rate for owner-operators drops to 15%, so for the doctor, lawyer, landscaper, whoever, this would be a big deal. For those in need of definition, a pass-through business would be one where there is virtually no difference between business profits and labor income. Basically, if you can't sell it, you don't eat.
There is some hair on what we expect to be in this plan, for sure. For one, as far as repatriation goes, this plan is expected to include a provision for multinational corporations that would allow them to pay a greatly reduced tax on foreign earnings, perhaps something like 10%. Currently, firms get credit for taxes paid in foreign jurisdictions and are able to defer paying U.S. taxes until those profits come home. Under the law now in place, all corporate income is taxable at the full rate, regardless where earned.
What will be of great concern to Congress, and may go without much of a mention today, will be funding the outlined plan. The expectation is that without a border adjustment, or some kind of value-added tax, Republicans will have to go the Reconciliation route in order to get any tax bill passed that would be expected to post negative federal revenue beyond a 10-year window. Such a law would be considered temporary and would likely have limited impact on spending, repatriation, and overall pro-growth behavior. That would be because a projected negative impact on the 11th year could come as soon as year two or three. In that case, the new law would have to expire.
The only way to get around the reconciliation process would be for any bill to get through the Senate with 60 votes. Some Democrats would have to cross the aisle, which may be why you are seeing some give on the budget. That brings the likely short-term spending bill, which is far less sexy to speak on than possible tax cuts, but in actuality a much more immediate priority for Congress.
No Fear
Remember the VIX? The Chicago Board Options Exchange's Volatility Index, that is intended to illustrate expectations for market volatility over the next 30 days through the tracking of short-term options related to the S&P 500? Yeah, that one. The VIX had been working its way back into trader consciousness as the broader equity indices had spent the better part of two months moving sideways to lower on your medium to long-term charts.
Now, with what would be considered a stabilizing result in the French presidential election's first round and the re-emergence of U.S. tax reform plans as headline news, the VIX is flirting with three-year lows. Would I short the VIX here, or get long VIX puts? Probably not. Actually, definitely not. That doesn't mean that I trust this product to go much higher, either. Sure, policy will remain uncertain, both fiscally and monetarily, but despite an expectedly weak GDP print that we'll likely see this Friday, much of the macro remains supportive and earnings are just plain spectacular. That last item is key. Without an unexpected catalyst (think geopolitical), the VIX will not likely leave its cage anytime soon.
One for the Home-Gamers
I know that I'm not known as a commodities guy. I get that. But did anyone else notice the recent drop in copper inventories? Yesterday, London Metal Exchange on-warrant stocks declined for a fourth day in a row. This pushed copper up to $2.591 a pound on the COMEX.
Meanwhile, prior to yesterday's opening bell at 11 Wall Street, Freeport-McMoRan (FCX) - Get Free Report reported in-line with expectations earnings per share for the first quarter and a disappointing revenue miss, despite a year-over-year revenue print that was +3.1%. The firm lowered its full-year operating cash flow guidance, and lowered its expectations for full-year sale of copper from £4.1 billion ($5.2 billion) to £3.9 billion.
Know what? The stock ran more than 7% on the day. Why? The firm and its fans have been hurt by an export ban imposed by the Indonesian government on its Grasberg mining operation. Well, now it looks like Jakarta has granted FCX a temporary (six-month) export permit (that happened to coincide with a visit by Vice President Mike Pence). FCX is likely to now ramp up production and exports of copper concentrate as much as they can for the medium-term. Is this a long-term investment opportunity? I really don't know, but I do think I smell a chance to make some dough.
FCX closed at $13.10 last night. The stock is coming off a few pennies in "zero dark thirty" trading. For eight weeks now, FCX has found significant support at the $12 level, so your downside could be limited to little more than a buck. The charts suggest an eventual re-test of the $13.94 level, which would be a 38.2% retracement of the move off of the 2017 highs to that support level. The Pitchfork model, if begun in early March, suggests first-level resistance at $13.21-ish, which is also the 50-day SMA (simple moving average). A take and hold there allows for a move to $14.40, according to this model. That's close enough to $14.53, which would be a 50% retracement going back to the Fibonacci levels.
That's a lot of mumbo jumbo. I know. What am I trying to tell you? I am telling you to watch this name. Short the stock? No way. That's how innocent people get hurt. I am thinking that news out of Indonesia will likely be volatile going forward, reinforcing the already in existence trading range. My thought here is buying some equity in the $12.75-$12.90 area on a pullback, if you can. Then, simultaneously selling August $14 (covered) calls in the name for about $0.80, while also selling (writing) a like amount of August $12 puts for a rough $0.70. This will all put your effective cost of the equity in the $11.25 to $11.40 range, well below well-established support. Best case... you get called away at $14. Worst case... you own twice as much at a significant discount to your point of entry.
Macro
10:30 - Oil Inventories (Weekly):API +897,000 , Last Week -1 million barrels.
10:30 - Gasoline Stocks (Weekly): API +4.4 million , Last Week +1.5 million barrels. Crude prices eroded last night after the weekly numbers showed surprise builds for both WTI crude and gasoline. The gasoline build in particular came in at alarmingly large size. The data this morning from the Energy Information Administration will be watched closely and likely reacted to by the marketplace, for two reasons. One: WTI traded for nanosecond yesterday below $49 a barrel. Two: There are no other numbers being released today, and no Fed speakers to take the focus elsewhere.
Sarge's Trading Levels
These are my levels to watch today for where I think that the S&P 500, and the Russell 2000 might either pause or turn.
SPX: 2404, 2398, 2391, 2384, 2377, 2369
RUT: 1427, 1421, 1415, 1410, 1393, 1384
Today's Earnings Highlights (Consensus EPS Expectations)
Before the Open: (ALK) - Get Free Report ($1.04), undefined ($3.84), (BA) - Get Free Report ($1.91), undefined ($1.97), (DTE) - Get Free Report ($1.53), (GD) - Get Free Report ($2.32), (HSY) - Get Free Report ($1.25), (HUN) - Get Free Report ($0.37), (IR) - Get Free Report ($0.53), (NSC) - Get Free Report ($1.36), (NOC) - Get Free Report ($2.92), (PEP) - Get Free Report ($0.92), (PG) - Get Free Report ($0.94), (STX) - Get Free Report ($1.07), (TMO) - Get Free Report ($2.02), (TWTR) - Get Free Report ($0.01), (UTX) - Get Free Report ($1.39), (WM) - Get Free Report ($0.66)
After the Close: (AMGN) - Get Free Report ($3.01), (BWLD) ($1.67), (EFX) - Get Free Report ($1.41), (KEX) - Get Free Report ($0.51), (ORLY) - Get Free Report ($2.88), (UNM) - Get Free Report ($0.99), (VMW) - Get Free Report ($0.95).
Read more top stories on TheStreet:
At the time of publication, Stephen Guilfoyle was long
STX, TWTR
, although positions may change at any time.