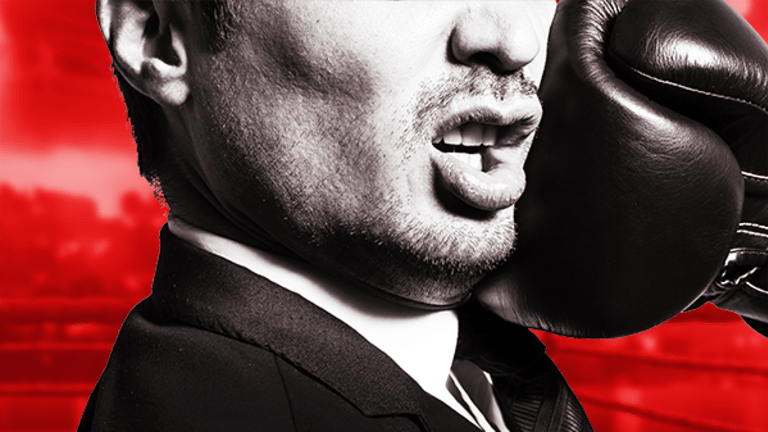 It's Worrying That These Sectors Have Just Taken a Crowbar to the Knee-Cap: Market Recon
Clearly, the bond market is not buying what the Fed is selling.
Clearly, the bond market is not buying what the Fed is selling.
The German "High Seas Fleet" was interned at Scapa Flow, in Scotland under the terms of the Armistice of 11 November 1918. The fate of the fleet's remaining 74 ships was under negotiation. On this day in 1919, German Admiral Ludwig von Reuter decided to scuttle his fleet to avoid its seizure. Hatches, flood valves, portholes were all left open. The fleet tried to sink itself. By noon, 74 crews hoisted the Imperial German Ensign and promptly abandoned ship. By the time the Royal Navy realized what was going on, they could only save 22 of the fleet's craft. Throughout the day, the Royals picked up 1,774 German sailors. Nine were shot dead and 16 were wounded. These were the last casualties of World War One, coming more than eight months after the war's end.
Enter the Bear
Market prices for crude fell yesterday to their lowest levels of 2017, a 20% discount from where they were in January. This latest show of weakness for the commodity has put oil back in a bear market for the first time (last August) since traders started speculating that OPEC might put together the production cuts that allowed optimistic traders to take oil higher at that time. This May, OPEC, and other major producers agreed to extend those cuts/freezes another nine months.
This time, however, the move was seen by oil traders as disappointing. Increased competition from U.S. producers, not to mention the likes of fellow OPEC peers Libya and Nigeria, both of whom are exempt from the limiting deal due to their own internal strife that has rendered them in even more dire need of revenue than the rest of the former cartel's membership. Oil markets may eventually re-balance, as Saudi energy minister Khalid Al Falih continues to insist, but the road to that place where demand and supply work out the high global inventories of crude has proven long and winding, not to mention at lower market prices than sellers, and most analysts, ever expected.
As for the U.S., the number of domestic rigs in operation climbed last Friday for the 22nd consecutive week, to 933. The only optimistic sliver of news that I have seen of late for oil bulls has been that within that rig count, the number of productive rigs within the Permian Basin stagnated at 368. The Permian is where gains in technology have allowed the shale crowd to lower costs to the point where they are profitable even at these prices.
What does this mean for us, and our eternal effort to drive home a buck? I can't speak for all of you, but I have been saying for a good while that $44 a barrel, and then $42.75 where sweet spots that possibly presented the right point of entry into, or in my case, in a couple of names, extension of sector longs. The next stop after bouncing off of $42.75 precisely yesterday could be as low as $39.85. Although at this current level I am still able to professionally manage the risk, I can't imagine approaching prices below $40 with what I consider the speculative portion of my oil patch intact, and will hold only what I consider "high quality" should $42.75 crack. For the new guys, piercing a level and a level cracking are not the same thing.
The Hockey Mask and the 30-Year
In the movies, it's always the guy with the hockey mask. He's the one that simply can't be put down, surviving everything, and then grabbing your ankle from beyond as you try to walk away. Yesterday, the guy with the hockey mask was the Speaker of the House, Paul Ryan, and his tax reform message. We'll stick with the "movies" theme here. You guys remember "The Warriors"? It was Cyrus who asked us all "Can you dig it?". Well, the markets did not dig it. The markets did not buy that these Republicans will successfully push through a permanent tax overhaul, as opposed to a temporary tax cut. The former is much harder to achieve as it will likely not be "revenue neutral". The latter is easier to get passed legislatively, but likely far less effective in producing lasting growth, or in attracting foreign business to the U.S.
In the very recent past, any talk by a political leader about another push into the tax reform space would have been cause for a euphoric rally (justified or not). This time, nobody bit. The major equity indices sold off hard into the close -- not all on Mr. Ryan, but he did not make a dent in a downward sloping daily chart. In fact, that selloff gained steam late in the day, as equity prices broadly rolled back to levels not seen since Wednesday.
It would be easy to simply blame the Speaker's message, but there was more to it than that. Was it, maybe, the crashing oil patch? Oh, it would also be easy to blame oil, but there was also more to it than that. Transports, media stocks, retail, the small caps and the industrials all took a crowbar to the knee-cap in yesterday's action. Even the tech sector and the financials, both of which had led the way higher together on Monday, held hands and jumped off a cliff yesterday. This adjustment was broad-based. So, we probably can't blame the day's whole selloff on oil, or on Paul Ryan. There is one other mighty force that cannot be ignored.
Thor swings a mighty hammer, and so does the bond market. Money poured into the long end of the curve yesterday, the very long end, and it had to come from somewhere. Clearly, the bond market is not buying what the Fed is selling. The 2yr/10yr spread is down to 0.794% this morning. Then there's that 30-year bond. Whoa doggy !! The 30-year screamed all the way back to pre-election day prices. That's a big, fat bond market veto. A veto of the FOMC's intent on monetary policy as the economy continues to show evidence of weakening. A big, fat bond market veto of the belief in the administration's ability to make progress implementing a pro-growth agenda.
You do know that all of this negativity, if not arrested in development, first leads to volatility, but then ultimately leads to even higher, if not artificial, valuations. Right? I don't like the big ugly any more than you do, but there is always a way for a kid with two fists and a quick brain to stay in the fight.
Macro
10:00 - Existing Home Sales (May): Expecting 5.55 million, April 5.57 million SAAR. Quite simply the most important economic release that we have seen in almost two weeks. Not only has much of the economic landscape been shaky at best lately, even the housing numbers have been less robust. This item disappointed in April, and housing starts disappointed in May, so traders will surely focus upon this print.
10:30 - Oil Inventories (Weekly): API -2.72 million , Last Week -1.7 million barrels.
10:30 - Gasoline Stocks (Weekly):API +350,000 , Last Week +2.1 million barrels. The headline draw in crude inventories that the API put to the tape last night was welcome indeed. That said, it will likely be more than merely confirmation by the EIA today to put a bid under the commodity. One thing that you can expect is short-term volatility for the entire energy sector this morning in response to this data. Keep in mind that during yesterday's selloff, technical support did show up precisely where it was supposed to.
Sarge's Trading Levels
These are my levels to watch today for where I think that the S&P 500, and the Russell 2000 might either pause or turn.
SPX: 2462, 2448, 2441, 2436, 2430, 2421
RUT: 1419, 1410, 1404, 1398, 1390, 1385
Today's Earnings Highlights (Consensus EPS Expectations)
Before the Open: (KMX) - Get Report ($0.99), (WGO) - Get Report ($0.68),
After the Close: (ORCL) - Get Report ($0.78), (SCS) - Get Report ($0.19)
Read More Trending Articles:
Intel Just Got Smoked By AMD In the Race to Unleash a Super Chip
Costco Sees an Extremely Damaging Flush In Aftermath of Amazon's Big Whole Foods Deal
'Walmart Rx' Takes Center Stage as Walgreens Rite Aid Saga Nears Homestretch
At the time of publication, Stephen Guilfoyle had no positions in the stocks mentioned.