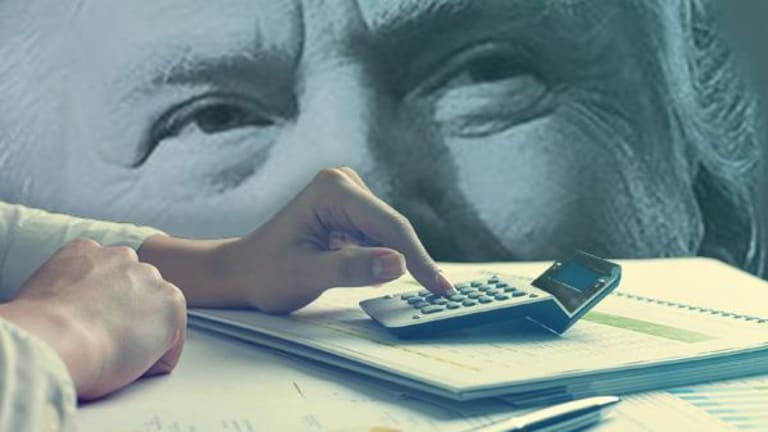 Market Recon: The Tax Reform Is Just Ordinary Negotiation on Steroids
Nobody shows their hand in negotiations. Why should government? This new tax plan must go to Congress.
"The passion for office among members of Congress is very great, if not absolutely disreputable, and greatly embarrasses the operations of the Government." -- President James K. Polk
Now What?
First off, heavy day for the macro, heavy day for earnings. That's your focus this morning. But now that we have the rough outline of the White House tax plan, what do we do about it? Every single kid with an opinion has been visible on every single media outlet, offering their warnings and their advice out front. Do we need to react? Have you learned nothing? Do you not yet understand this president? Have you seen China labeled a currency manipulator? Is there new construction on that wall down south? Are we scrapping the worst deal ever made, NAFTA? No, no, and no. Does that mean that this president is flipping on the issues? Again, I offer the quick answer: no, not really. This president, like anyone who has ever negotiated anything, stakes out a condition nearly impossible for his opponent(s) to tolerate, so that he can then be drawn back to center, where all are comfortable, but maybe get something for it.
Ever buy a car, or an expensive piece of furniture? You don't staple your money to your forehead, and ask the salesperson for help. You usually start off with making some kind of stupid bid that you know will be embarrass that salesperson in front of his or her manager. Right? This is the same general idea. Just on steroids, and on the global stage, concerning millions of lives and trillions of dollars. Nobody shows their hand. Why should government? This new tax plan must go to Congress. Many parts will evolve before any bill is eventually introduced, voted upon, and then signed. Months and months will pass. Changing any well thought-out investment strategy already initiated by the individual at this point would be downright silly. So, don't be silly.
Maggots
The general thought is that Congress is trying to throw together a temporary deal to get the government through to September, without shutting the doors. Now there is also talk that Congress will push out the spooky Friday at midnight deadline at least a week, just to make sure that they can finish negotiating the temporary deal, so there will be no shutdown. Well, hooray for our legislators. Always stepping to the plate to well represent the people of the republic. The larger budget deal picture remains uncertain. The president seems OK with not spending a fortune on building a wall. Perhaps he always was OK with that. Funding for the ACA (Obamacare) seems sort of safe for the rest of this year, though I would not go too far out on that limb if I were you. There remains the prospect of a huge increase in military spending while simultaneously cutting nearly everything else -- or is that more negotiating?
The bottom line is this. We are a long way from seeing a more permanent agreement on financing the government going forward. We are close enough to financing the government for several months, but first we have to finance the government for at least a week or so, in order to finish negotiating the temporary deal. Got all that?
Ridiculous? Yes. Another crazy idea that could aid our legislators move forward in future, similar situations might be to try working full-time. Yeah, I know, it rots, man. There are 12 weeks throughout the year that neither the Senate, nor the House spend a single day in session. I am not even going to get into partial weeks. Two of those restful weeks are in mid-April. With a budgetary deadline in late April. Time to give up on the lengthy recesses, and do your jobs. Maggots.
Over There
In short, last night the Bank of Japan made no changes to monetary policy. The central bank is more optimistic on Japan's economy, but clearly not satisfied with the pace of consumer level inflation. The bottom line is that the BOJ is looking to reassure investors that 2017 is not likely the year that they take their foot off the gas pedal. The yen remains far stronger vs. its competitors than anyone in Japan is comfortable with, and that particular punch bowl may remain bottomless.
We'll also hear from the European Central Bank on policy this morning. The thought here, at least in my opinion, is that Mario Draghi would like to get the normalization ball rolling now that the European economy no longer seems to be rolling off a cliff. There are several reasons, though, why the ECB will not likely act, and maybe can't act in the immediate future. For one, uncertainty in France, although apparently abating, is not completely unwound. Then, there's always Italy next year for the perma-doves. Secondly, the forward-looking statement put forth by the ECB at the last policy meeting still contained the phrase that GDP risk "remains tilted to the downside".
Yup, I think that maybe, outside of an emergency rate hike in response to an unforeseen burst of inflation or the outright collapse of the euro, the ECB would need to change those words first as a signal that any increased tapering of the quantitative easing program were on the way. I do believe that the ECB intends to make this change very shortly, if not today. The intent, if economic conditions in Europe range anywhere from remaining constant to general improvement from current levels, would be to move on this during calendar year 2017.
Macro
08:30 - Durable Goods Orders (March):Expecting 1.3%, February 1.7% m/m.
08:30 - Ex-Transportation (March):Expecting 0.4%, February 0.4% m/m.
08:30 - Ex-Defense (March):Expecting -1.0%, February 2.1% m/m.
08:30 - Core Capital Goods (March):February -0.1% m/m. At the headline, durable goods orders have been very strong over the last two months. Much of that strength, though, has been in transportation purchase orders, particularly aircraft. At least, the gains made in February were not completely reliant upon the military, though the expectation for March is that military purchases will be required in order to post positive month-over-month growth. Core capital goods have unfortunately remained soft. They are the spot within this release where growth from a business perspective would be most needed. That one subcomponent could be our macro event of the day, as far as the marketplace is concerned.
08:30 - Initial Jobless Claims (Weekly):Expecting 243,000, Last Week 244,000. This reliable series is expected to be just that today. Consensus view calls for a drop of 1000 off last week's number, which would, if realized, put this print right on the four-week moving average. The range of expectations that I have seen for this item today spans only 5000, from 240,000 to 245,000. From a trader's perspective, this series is now irrelevant.
08:30 - Goods Trade Balance (March):Expecting $-65.4 billion, March $-64.8 billion. As bad as a deficit of $-64.8 billion looks, that number was much better than expected when it was reported last month. Need some more warm and fuzzy? The number will likely be revised to less than $-64 billion when this item is released today. Unfortunately, economists do not feel that this was the start of a trend, and today's March data will head deeper into negative territory. This item has significant impact on GDP, and ultimately how the Fed will be perceived as they raise interest rates, so the lack of any knee-jerk market reaction does not make this print unimportant.
08:30 - Wholesale Inventories (March-adv):Expecting 0.3%, February 0.4% m/m.
08:30 - Retail Inventories (March-adv):February 0.4% m/m. Business inventories are a big deal in the macro world, and they punch their weight when it comes to impacting gross domestic product. Well, these two advance numbers represent two of the three components that comprise business inventories, the third coming from the manufacturing sector. That headline level release for March will hit you on Friday, May 12. It will be overshadowed at that time by April CPI and retail sales. I would think however, that you do want to watch the development of these two items as second-quarter GDP expectations develop.
10:00 - Pending Home Sales (March):Expecting -0.7%, February 5.5% m/m. Remember that robust existing home sales print for March that we saw just last Friday? Well, it was brought about by this robust 5/5% month over month gain for February. See how that works? The expectation for today is not so much a negative, but in my opinion, a positive because the pace appears to be holding close enough to the high level already established.
10:30 - Natural Gas Inventories (Weekly):Expecting +51 billion, Last Week +54 billion cubic feet. Think that a build of 54 billion cubic feet is not really such a big deal? Consider that last week's print equaled the largest increase in 25 weeks. Practically half a year. the commodity comes into this report having regularly found support just below $3.15, and finds itself halfway to expected resistance at 3.40.
11:00 - Kansas City Fed Manufacturing Index (April):March 20. Like the other manufacturing surveys released by the regional Fed districts, Kansas City has been printing in expansion ever since November. New orders have remained a key ingredient here, which is important. Kansas City will likely complete yet another sweep of across the space, as NY, Philly, Dallas, and Richmond have all already put positive digits to the tape.
Sarge's Trading Levels
These are my levels to watch today for where I think that the S&P 500, and the Russell 2000 might either pause or turn.
SPX: 2404, 2398, 2391, 2384, 2377, 2369
RUT: 1436, 1429, 1420, 1414, 1408, 1400
Today's Earnings Highlights (Consensus EPS Expectations)
Before the Open: (ABBV) ($1.26), (BMY) ($0.73), (CELG) ($1.63), (DLX) ($1.15), (DPZ) ($1.16), (DOW) ($0.99), (F) ($0.34), (IP) ($0.58), (PH) ($1.86), (PX) ($1.33), (RTN) ($1.60), (SIRI) ($0.04), (LUV) ($0.63), (UNP) ($1.23), UPS ($1.29)
After the Close: (AFL) ($1.62), (GOOG) ($9.36), (AMZN) ($1.13), (BIDU) ($0.91), (EMN) ($1.76), (INTC) ($0.65), (MSFT) ($0.70), (MHK) ($2.72), (NSR) ($1.24), (SBUX) ($0.45), (WDC) ($2.13).
At the time of publication, Stephen Guilfoyle was long LUV, AMZN, INTC, although positions may change at any time.