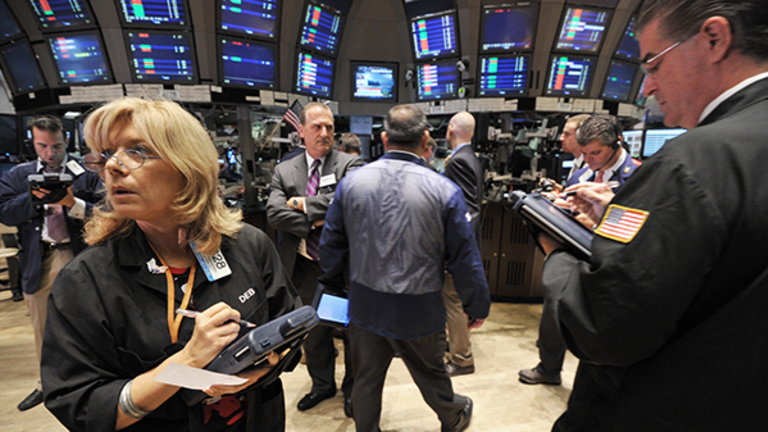 Market Recon: The S&P 500 May Have Met Its Match
Corporate execution has put a bid under the market. You may not like these valuations. Tough.
On this date in 1883, the Brooklyn Bridge was finally opened to traffic after 14 years of construction. At the time of this opening, the Brooklyn Bridge was not only the longest suspension bridge in the world, but 50% longer than any previously built. The bridge cost $15.5 million to build in 1883 U.S. dollars, or the rough equivalent of $386 million today. During construction, 27 men died. The bridge's designer, John Augustus Roebling, passed away in 1869 after developing a tetanus infection, never to see his own creation. Things you didn't know.
Trader Focus: Crossroads
Has the S&P 500 met its match? Could be. This level that the index is pressed up against right here sure seems to be one tough nut. Not 2400 precisely, but 2400-ish. The index first kissed this level as February turned into March, then spent three weeks knocking on the same door as late April rolled on through the first two weeks of May. Last week's sharp selloff turned into a surprisingly strong rally that stalled where? Right here. Again. What is it about this level that makes it so significant? Where does the index go from here? The intersection of supportive and destructive forces? Duh. Let's explore.
They say that stocks are overvalued at these levels. I am not all that convinced. Maybe they look that way in historical context (They do). Maybe that's not the proper vantage point. Nine years of hardship have made U.S. corporations lean and mean. Not so good for employees. Pretty darned decent for shareholders. Corporate execution is quite simply a major driver for the vast and steady improvement in earnings seen over the last three quarters. Global performance is another key ingredient.
Yes, the FANG stocks -- Action Alerts PLUS holding Facebook (FB) , Trifecta Stocks name Amazon (AMZN) , Netflix (NFLX) and Alphabet (GOOGL) -- have led the way, but the rally has clearly been broader than given credit for. Only two of 11 sectors are in the red for the year. The information technology sector has easily been your leader, but discretionaries (such as hotels, restaurants, household durables, etc.) and health care (particularly health care equipment) have also outperformed. Then there is this persistently low interest rate environment. The bond market has simply not reacted (despite yesterday's mini-spike in yields for 10-year paper) with any conviction to central banking intentions, which brings us to the negative side of this coin.
Is this level a cap? Has the market been capped by macroeconomic and political uncertainty? Inflation and wages are stuck, dudes. The consumer is far less active than hoped for. Rising public delinquencies have put the kibosh on revolving credit as if it were some kind of perverse idea. Perhaps it is, in some households. Servicing debt sure can make life expensive. Perhaps this is the evolution of the American consumer that no expert saw coming.
It has been said by many that GDP is comprised of money supply times velocity, then adjusted for price. Well, if you slow velocity to a crawl, then you really cannot do much about price, can you? This took some time to dawn on our pals over at the Fed. Some of them probably think that their textbook theories just need more time. Stinks when life is complex, doesn't it? The political arena? You can find a dozen articles covering the state of our political uncertainty in any newspaper in America on any given morning. I do not think I need to go further into that in this space right now. That does push forth the next idea, though.
The Trump trade. The broad indices have reached these levels despite the lack of this supposed "Trump trade" being priced in. Some pundit will tell you today that the markets are at these levels because of the hopes for this administration's agenda on tax reform. Yeah, OK. You can readily admit that this idea did get the ball rolling nicely... six months ago. Outside of defense and aerospace, which obviously got a positive boost from both the un-adoptable budget plan, and Saudi Arabia this week, I ask you: Where are the small-caps? Where are the transports? Where are the financials? Not leaders. At least not to the upside. All of these are what you would think of as primary beneficiaries if this was indeed a "Donald J. Trump" market.
Where to? Obviously, we stand at a crossroads for equity markets. Thanks, Sarge ... Any moron on TV can tells us that. Fair enough. Bottom line: Corporate execution has put a bid under the market. You may not like these valuations. Tough. Barring something awful, get used to them. The market is knocking on the same door multiple times now. The S&P 500 could give up 70 or 80 points, and truly cause almost no technical damage. You give me a take and hold of SPX 2405, and I think we can hit 2465 by third-quarter earnings season. After that you're on your own, but this hotspot of resistance could easily become a trade-able pivot point on the six to 12-month chart. Rock and roll.
Oh, No They Didn't
Oh, yes they did. Last night, while you were draining your IQ watching some kind of drivel on television, Moody's was busy downgrading China's long-term local currency and foreign currency issuer ratings to A1 from Aa3. The good news is that at this less glamorous level, China's outlook is now perceived as stable vs. negative. Oh, joy. There are two key takeaways that stand out in the Moody's document, at least to this casual observer.
1) "GDP growth has decelerated in recent years from a peak of 10.6% in 2010 to 6.7% in 2016." "Looking ahead, we expect China's growth potential to decline to close to 5% over the next five years."
2) "Overall, we believe that the authorities' reform efforts are likely, over time, to achieve some measure of economic re-balancing and improvement in the allocation of capital. But we think that progress will be too slow to arrest the rise in economy-wide leverage."
My take: There is a lot more here, and I don't want to put you to sleep, but this really is required reading for critical thinkers. Soft landing? Yeah, actually this does sound like a soft landing. That's actually not a negative. It also makes the "One Belt, One Road" idea seem like what it is: an oversized fiscal spending plan. BTW, you can profit from that short to medium-term if you're on your game, so no sleep walking. We have seen China do this before, but not on this scale. This is a plan that would leave China in a regionally, and ultimately globally, dominant position -- economically, as well as perhaps strategically. Pay attention here gang, even if it's not in your wheelhouse.
Cracks in the Pavement
I know that we're getting a little long here today kids, but there are a lot of interesting things swirling around in my head this morning, so please bear with. You guys notice the Richmond Fed Manufacturing Index yesterday? Of course you did. Silly question. Well, that number rolled off a cliff, barely posting a positive number at the headline. Under the hood, Richmond put prints of zero or less to the tape in key sub-component areas such as new orders, backlog of orders, shipments, and utilization. Oh, and the workweek was cut too. Special. Wait. Didn't the Empire State report similarly weakening data this month? Now, you're catching on. Even Philadelphia, the most important of our nation's regional manufacturing surveys, while still strong did come off some lofty levels under the hood. Manufacturing has been a national strength coming off a very weak base about six or seven months ago. At least we still have housing. Right? Guys?
Oh, you mean new home sales for April came in below trend, and below expectations? How about housing starts, and building permits? Uh-oh. Them too. Wait. You mean to tell me that the manufacturing, and housing slices of the economy are starting show some cracks? Well, maybe. April industrial production was strong, but we are talking about May here, and housing has been red hot. I mean red hot. It's way too early to call this month a trend breaker. That said, you better put this information in your bag of tricks. Watch today's existing home sales number at 10am ET. It matters more than usual. Then you are going to have to pay attention to some tertiary data-points that some of you big shots may not always focus on. Kansas City (Thursday), and Dallas (Next Tuesday) are still to release their regional manufacturing survey results for May. Now, get after it. Isn't this fun?
Macro
09:00 - FHFA HPI (March):Expecting 0.6%, February 0.8% m/m. This House Price Index is comprised only of single family homes, and only homes with mortgages backed by either Fannie Mae FNMA or Freddie Mac FMCC. With that narrow, and the serious lag in the timing of the data's release, this item will not make much of an impact on your trading session. The more heavily focused-upon March Case-Shiller HPI is scheduled for release next Tuesday morning.
10:00 - Existing Home Sales (April):Expecting 5.65 million, March 5.71 million SAAR. The focus for this morning at least, will land right here. Last week, we dealt with disappointing results for both April housing starts, and April building permits. Yesterday, it was the less than thrilling data for April new home sales. A lousy print here could create a troubled mood in the marketplace.
10:30 - Oil Inventories (Weekly):API -1.5 million, Last Week -1.8 million barrels.
10:30 - Gasoline Stocks (Weekly):API -3.15 million, Last Week -400,000 barrels. Last night, the American Petroleum Institution reported sizable weekly draws for crude, and especially for gasoline. Confirmation of those prints today by the Energy Information Administration would be constructive a day ahead of the formal OPEC meetings. Last night, WTI traded sideways for the most part after the API numbers were released.
14:00 - Fed Minutes. This will be today's focal event. Do we expect any great shakes? No, we really do not, but the Minutes are worth going over despite the fact that they merely represent what was going through the minds of those on the committee (FOMC) three weeks ago. A hint on interest rates? I think we know what they're thinking. Balance sheet? They're probably too careful to let something difference making happen there.
18:00 - Fed Speaker:Dallas Fed Pres. Robert Kaplan will speak from Toronto, Ontario tonight. Kaplan is a voting member of the FOMC. In an essay published yesterday on the Dallas Fed's website, Kaplan was absolutely fearless in the face of those weak first-quarter GDP numbers and soft data on inflation. Kaplan expects to see two more rate hikes this year.
18:30 - Fed Speaker:Minneapolis Fed Pres. Neel Kashkari will speak publicly for ... wait for it...wait... the fifth time in three days. A new record! Actually, I have no idea if it's a new record, I just wish some of this crew would stop to catch their breath. Today, our dovish friend (at least he was still dovish yesterday) is in Ashland, Wisconsin, and he will take questions. Huzzah.
Sarge's Trading Levels
These are my levels to watch today for where I think that the S&P 500, and the Russell 2000 might either pause or turn.
SPX: 2425, 2414, 2405, 2396, 2387, 2378
RUT: 1399, 1392, 1386, 1380, 1372, 1367
Today's Earnings Highlights (Consensus EPS Expectations)
_______________________________
Meet the Millennial Media Moguls
Planning to be in New York on Tuesday, June 13? You're invited to join us for an evening of cocktails and conversation with three dynamic young CEOs whose companies have found big news audiences and good markets. How have they done it? What have they learned? Meet Chris Altchek, CEO and co-founder of Mic; Shafqat Islam, co-founder and CEO of NewsCred; and Kathryn Minshew, the CEO and co-founder of TheMuse. Our panel discussion will be led by Ken Doctor, media analyst and columnist for TheStreet. The event, from 6 to 8 p.m. is free, but space is limited and reservations are required. Please click here to RSVP and get more information.
Read More Trending Articles:
11 Countries to Visit With Caution
At the time of publication, Stephen Guilfoyle had no positions in the stocks mentioned.