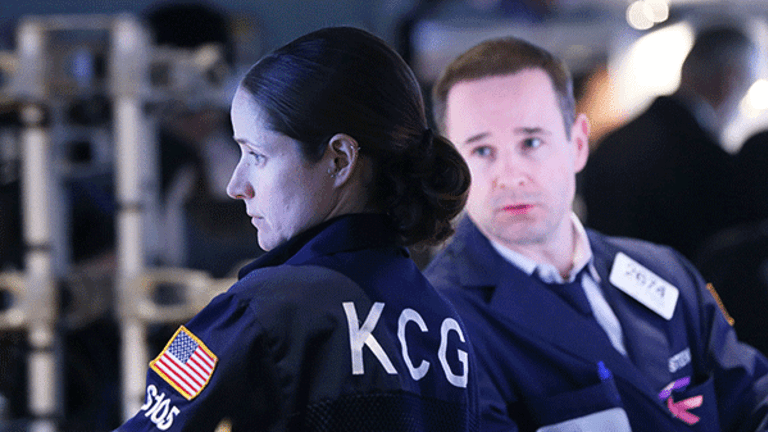 Market Recon: The 'Reflation' Trade Had Been Priced to Perfection
We all knew that the ice we were skating on was thinning.
We all knew that the ice we were skating on was thinning.
"The thinner the ice, the more anxious is everyone to see whether it will bear." -- Josh Billings
What, Me Worry?
Worried? I don't know if you should call it that. You should, however, be very concerned, very focused, and keep from sticking your head in the sand. All the markets did yesterday was decapitate the reflation trade. Should there be a lack of positive news regarding progress toward the growth agenda, well, then obviously we have plenty of room to the downside. Plenty. Stocks directly related to the "reflation" trade had been priced to perfection. We all saw that. We all knew that the ice we were skating on was thinning. Could a failure to get to tax reform, and fiscal spending take us all the way back to November? Did you ever think equity prices would have gotten as far as they got without them?
The truth is that corporate earnings have been growing with or without the agenda in place, but projections for that earnings growth have been lowered somewhat as the growth agenda seems to keep being pushed out. Some of this was built on forward-looking confidence. The economy? We keep hearing that the economy's improving nicely. Every Fed speaker we run into not named Neel Kashkari keeps telling us this. That's nice, but they are only words. Speaking of words, I am currently tracking seven Fed speaking engagements to be spread over Thursday and Friday.
Economic data does not at all confirm that story. Not with any kind of conviction, anyway. Inflation was only hot on a year-over-year basis due to very easy comparisons and higher energy prices. Retail sales were not close to healthy in February. The Atlanta Fed is telling you something when their first-quarter GDP projection is running below 1%. Yes, we as traders have ignored spotty macro before, but that was based on confidence, or what we call hope. Hope is the stuff that animal spirits are made of. We may or may not re-establish the growth trajectory, but once somebody gets punched in the face for the first time, they fight differently.
Health care reform dies on the vine, then so does the budget. The budget dies on the vine, then so does tax reform, then so does increased fiscal spending. Gone as well will be that repatriation tax holiday. After that goes consumer, small business, and homebuilder confidence. It's easy to say "be cautious", or "be nimble". It's a lot harder to actually protect your P/L, particularly for those trading their own money. Some movement toward capital preservation would appear to me to be prudent, even if it sacrifices gains that would be made in the event of a positive headline that inspires a reversal. Found money based on inaction will never feel as good as lost money due to inaction will feel badly. Moves made to preserve funds never give anyone that "oh yeah" feeling, but is it really just you that you're protecting?
Feeling the Pain
The most vulnerable sector yesterday was clearly that of the financials. The most vulnerable industry within that sector was banking. That group dug what was almost a 4% hole yesterday as a yield curve that had already been getting flatter got much more so. Without a steepening of the yield curve, easy profits for those banks turn from a likely reality into a mirage in the desert, or a "Bridge Too Far". If the reflation trade gets back on track, it's not doing it without the banks.
Never thought that you would be such a fan of the new health care bill, now, did you? It's not about the health care bill at all; it's about getting past it. There are many other problems tied to this as well. The small caps lose their competitive advantage (also known as mojo) without lower corporate taxes and a weaker dollar. The transports aren't going anywhere (pun intended) without headline growth, or a rejuvenated energy sector. And speaking of energy, how telling is it that WTI crude battles established support on a weaker dollar? Speaks volumes to me. The underlying commodity wants to go lower. This will put the whammy on OPEC (again), and make the Permian the only game in town. Only demand can help there, and that depends on global growth. Global growth, at least to a significant degree, depends on U.S. growth.
Gear Up
This is a challenging environment, gang. No doubt. Don't play the game scared. Think about what you are trying to accomplish, and take logical steps to reach that end. If you lose, you still have your health. If you get hurt, you still have your mind. No matter what, you still have each other. In 10 years, maybe even in one year, nobody will care what happened today. You will know. You will know how you behaved when the chips were down, and people counted on you. Now, go. Political risk runs in both directions today. Keep your helmet on, buckle your chinstrap. Flak jacket on at all times, and gas mask on the hip. Two sources of water, gloves, eye-pro. Faith.
Macro
09:00 - FHFA HPI (January):Expecting 0.4%, December 0.4% m/m. This lightly focused upon data-point will pass by quietly as those who do watch home prices wait for the Case-Shiller release on Tuesday. This item's narrow focus prevents its being looked at more closely, as this print only covers single-family homes, and only covers homes with mortgages covered by Fannie Mae, and Freddie Mac.
10:00 - Existing Home Sales (February):Expecting 5.57 million, January 5.69 million SAAR. In January, this item seems to have been unfazed by the rate hike in December and the prospects of another one early in the year. That print came in at the highest annualized levels in more than a decade. Anything close today would be considered solid, as that 5.69 million is the very high end of consensus range. The March number, due in April, should be even more interesting, as at that point, the data will have clearly been impacted by what is intended to be a tightening cycle.
10:30 - Oil Inventories (Weekly):API +4.5 million, Last Week -237,000 barrels.
10:30 - Gasoline Stocks (Weekly):API -4.9 million, Last Week -3.1 million barrels. The numbers released by the American Petroleum Institution only served to further complicate market prices in the space. There was some initial overnight support for WTI Crude that seemed to abate somewhat as the morning evolved. That said, it has been a volatile morning. Both the size of the headline build and the gasoline draw were greater than expected, and now traders turn to the EIA for confirmation. Today's data will impact the overall marketplace upon its release.
Sarge's Trading Levels
These are my levels to watch today for where I think that the S&P 500 and the Russell 2000 might either pause or turn.
SPX: 2366, 2358, 2345, 2337, 2327, 2319
RUT: 1363, 1356, 1349, 1342, 1332, 1327
Wednesday's Earnings Highlights (Consensus EPS Expectations)
Before the Open: (PERY) - Get Report ($0.61), (WGO) - Get Report ($0.44)
After the Close: (CTAS) - Get Report ($1.07), (FIVE) - Get Report ($0.89), (PVH) - Get Report ($1.25)
You're Invited ...
Wall Street Goes to Washington. In the first of a series of conversations with President Trump's economic advisers, acclaimed author and columnist Michael Wolff will sit down with Trump insider Anthony Scaramucci, co-founder of private-equity firm Skybridge Capital. They'll discuss the Trump administration, Scaramucci's thoughts on the policies and regulations under debate and his outlook for the next four years. Join us for this cocktail party on Monday, March 27, at The Metropolitan Club in New York. The event is free, but seating is limited and reservations are required. For more information or to RSVP, email events@thestreet.com.
At the time of publication, Stephen Guilfoyle had no positions in the stocks mentioned.