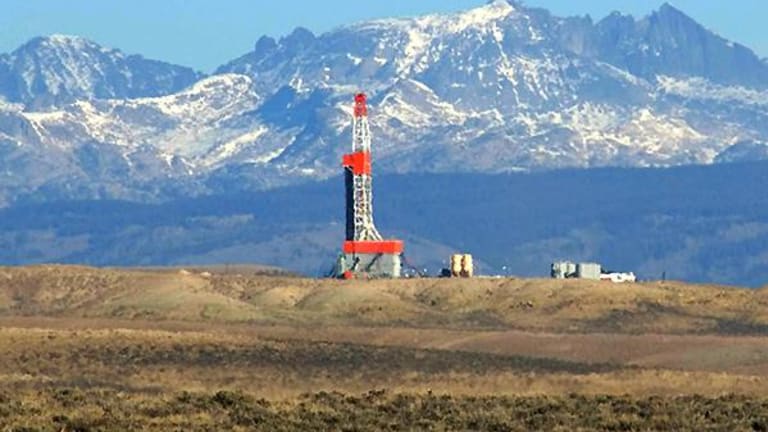 Market Recon: The Direction of Oil Has Been Somewhat Shocking
Black gold hasn't moved how you would think.
"When coal came into the picture, it took about 50 or 60 years to displace timber. Then, crude oil was found, and it took 60, 70 years, and then natural gas. So it takes 100 years or more for some new breakthrough in energy to become the dominant source. Most people have difficulty coming to grips with the sheer enormity of energy consumption." -- (Current Secretary of State) Rex Tillerson
Direction
We are all familiar with stock market behavior since election day. The "Trump rally", "this market has gone sideways for a month", and "we remain range-bound" are terms and phrases that we hear thrown around in the financial media, and used by pundits nearly every day. Clearly, though, there is more going on than this glancing look would suggest. The truth is that on any six-month S&P 500 chart, the trend line that has acted as support actually begins in mid-October, only broken by a sharp selloff into the election that we now know was a risk-off head-fake in front of a high-impact news event. Even in this seemingly range-bound market, the chart is marked by successively higher lows that start in late December, and still carry on into the present.
The Beat-Down
Where am I going with this? I am pointing straight at the non-participant. The ultimate sideways move in these markets has been the oil market. Black gold (WTI) has traded back and forth between $51.70 and $56 (really $55) since early December, as energy traders have focused on production cuts by OPEC's membership, and those cooperating with the cartel. Every hint of adherence to the slowdown seems to outweigh the simple supply and demand equation. Today's inventory print will be the day's most important economic number, if only because the macro cupboard is bare this week.
Let's look at the space, though. Stocks in the energy sector have been beaten this year, badly. While there still seems to be enough interest to force something of a land grab in the Permian Basin, the Energy Select Sector SPDR (XLE) - Get Energy Select Sector SPDR Fund Report  ETF has given up close to 5.5% in a month's time. In fact, year to date, the sector is still running about -5%, while the broader market remains on the plus side (+2.4%). Big oil has not been the place to be so far in 2017. Exxon Mobil (XOM) - Get Exxon Mobil Corporation Report is off almost 6.5% in a month's time, the bulk of that pullback being prior to reporting earnings, and revenue that missed estimates on Jan. 31. XOM is the most heavily weighted name in the XLE ETF at 15.97%. Other heavily weighted stocks performing poorly this year would be Chevron (CVX) - Get Chevron Corporation Report , Schlumberger (SLB) - Get Schlumberger NV Report (which I am still long small), Pioneer Natural Resources (PXD) - Get Pioneer Natural Resources Company Report , and EOG Resources (EOG) - Get EOG Resources, Inc. Report .
The Path
Does crude move higher from here? Plenty of traders do think so. I will tell you this. If WTI sees a test of the $50 level, I want to be somewhere else until the test is passed. Items trading on something other than fundamentals are tough to price. If you must be in the space, natural gas seems to have less associated risk right now than oil, and Cabot Oil & Gas (COG) - Get Cabot Oil & Gas Corporation Report seems to be the name with a compelling story. Yes, the stock is already up big this week, after several upgrades in response to Friday's approval of the Atlantic Sunrise pipeline (on which Cabot already has contractually backed space). Cabot is currently sitting just below its 200-day simple moving average ($23.66), and not far from the $24 level. That level acted as support throughout the autumn, and a crack in the right direction would allow this name to approach prices between $26, and $26.50. Just my opinion.
On The Way
The Senate Environment and Public Works Committee will hold a hearing today. The scheduled topic of this hearing will be "Modernizing our Nation's Infrastructure". This comes after Senate Democrats have already unveiled a $1 trillion infrastructure spending plan of their own that include $210 billion on roads and bridges, as well as $180 billion on rails and public transportation. On paper, that plan creates 15 million jobs. Senate Republicans are also putting together their own plan, as are groups in the House of Representatives.
Infrastructure spending is coming, folks. It may take time, and traders may/will become impatient. You may even have to wait for the repatriation of corporate money held abroad, because though taxed at a "holiday rate", that tax revenue would simply be "found money" that would not have otherwise found its way home. The agenda is intact. Some of these stock may have pulled away from you. Worry? No. That's why the game takes nine innings, and you may end up getting four to five at bats. Discipline and focus will be your best weapons.
Macro
10:30 - Oil Inventories (Weekly):API +14.2 million, Last Week +6.5 million barrels.
10:30 - Gasoline Stocks (Weekly):API +2.9 million, Last Week +3.9 million barrels. Ever see a pea roll off of a table? That's what the after-hours pricing action in WTI crude looked like last night, after the API reported that enormous headline inventory build. This build is only slightly smaller in size than the last four weekly EIA builds combined, all of which were considered rather large. A confirmation of this very large weekly build by the EIA today could make for a very sloppy session. Remember, consistent support for WTI has been found around $51.70 for about 10 weeks now. Should that level become resistance, the $50 level then becomes vulnerable. If and when that gateway opens, I have other levels -- when you're ready.
13:00 - 10-Year Note Auction:Expecting $23 billion, January $20 billion worth. On Jan. 11, Treasury auctioned off $20 billion worth of 10-year paper at an awarded yield of 2.34%, which was down from the December auction. Bid to cover in January came in at 2.58, displaying the best demand since June as indirect bidders (foreign accounts, very likely central banks) took down about 70% of the issue.
Sarge's Trading Levels
These are my levels to watch today for where I think that the S&P 500, and the Russell 2000 might either pause or turn.
SPX: 1312, 2299, 2293, 2282, 2272, 2265
RUT: 1383, 1375, 1371, 1363, 1354, 1348
Wednesday's Earnings Highlights (Consensus EPS Expectations)
Before the Open: (ALK) - Get Alaska Air Group, Inc. Report ($1.40), (AGN) - Get Allergan plc Report ($3.74), (GT) - Get Goodyear Tire & Rubber Company Report ($0.87), (HUM) - Get Humana Inc. Report ($2.08), (TWX) ($1.19)
After the Close: (DNB) ($3.03), (FLT) - Get FLEETCOR Technologies, Inc. Report ($1.86), (PRU) - Get Prudential Financial, Inc. Report ($2.32), (WFM) ($0.39)
At the time of publication, Stephen Guilfoyle was long SLB, although positions may change at any time.