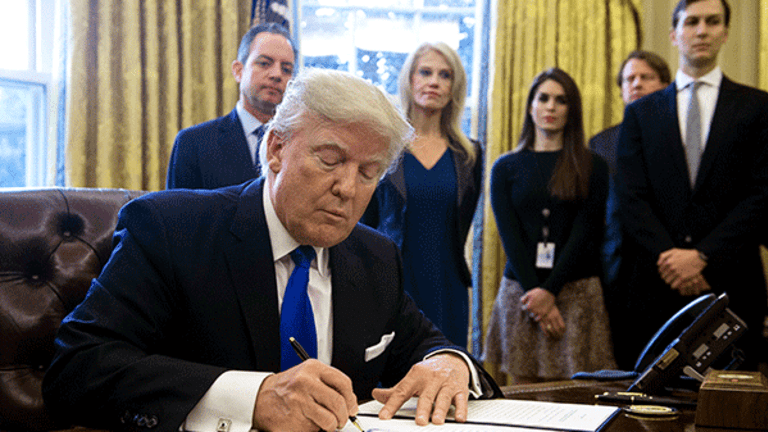 Market Recon: The President's Actions Renew Belief in the Agenda
Remember the old saying "the business of America, is business"? This is what we were all taught on the way up.
"Every man of action has a strong dose of egoism, pride, hardness, and cunning. But all those things will be regarded as high qualities if he can make them the means to achieve great ends." -- Georgos Seferis
Moving Parts
As you lift that melon of yours off the pillow this morning, you'll find the puzzle pieces moving. Buckle your chinstrap for this, because there's a lot. Global equities are in the green, almost across the board, and U.S. equity index futures are trading well above fair value as well. This will have the mainstream media all abuzz for a Dow Jones Industrial Average that ticks at or above 20,000 for the first time, but what's really cooking here? And why the lift yesterday?
More importantly, the S&P 500 closed at an all-time record, as did the Nasdaq Composite. You'll also notice coincidental pressure on U.S. Treasuries today, as well as global sovereign paper in general. Currencies are on the move. You'll notice a weaker U.S. dollar, and a weaker Japanese Yen. This would be a primary reason for the moves here and a primary reason why in percentage terms the Nikkei 225 is the planet's strongest major equity market this morning, and Japanese debt among the weakest.
The Why
Why? Why are interest rates on the move? Why has gold hit some resistance, even with a weaker U.S. dollar? It's seems simple, I think. We may not be off to the races for good. We'll hit a few walls along the way. Equity markets travelled sideways for a month as investors became concerned that the pro-business agenda of the new administration in the U.S. would be slowed down by how long things usually take in Washington. Market participants will become concerned again, as soon as the action stops. That's inevitable. That's when there will be more profit taking, and you see a pop in the VIX.
Decay
Remember the old saying "the business of America, is business". This is what we were all taught on the way up -- but somewhere along the way, this country got lost. This nation stopped building on a broad scale, this nation stopped being creative outside of tech. Basically, this nation stopped being a nation of street urchins selling newspapers on street corners, shoveling snow for a buck, and hustling over-burdened shoppers who looked like they could use a hand with all of their bags.
Actions Speak Louder Than Words
The actions of this new president over his first few days have renewed belief in the agenda. In just two days, the president has met 30 corporate leaders, large union leaders, and the heads of the big three auto makers. They all have deadlines to get back to him with their own ideas on repatriating not just cash, but the ability to manufacture here, in the U.S. The president and his team have touched on trade, tax reform, deregulation, and have even started planning for a large infrastructure improvement package. Today, he'll go after immigration.
This president often says or tweets things that make folks cringe. Those are words. Words may seem silly, or maybe they are meant to distract would-be opponents. Action is what counts with the market crowd. A laid-out plan, with an honest attempt at implementation, is something we can trade (banks, materials, energy, tech). So far, there has been a blatant attempt by the new president to live up to nearly every campaign promise that he made. That earnest effort is the engine behind recent dollar weakness, higher interest rates, and firmer equities.
Macro
09:00 - FHFA HPI (November):Expecting 0.4%, October 0.4% m/m. This is the less closely followed Home Price Index. That's because, unlike the Case-Shiller HPI, this one only covers single-family homes with mortgages backed by either Fannie Mae, or Freddie Mac. Though some economists are much higher on this one today, the consensus expectation is right on trend. Case-Shiller, which has been showing slightly lower growth on a year-over- year basis over the last few months, will hit the tape next Tuesday.
10:30 - Oil Inventories (Weekly):Expecting +1.4 million, Last Week +2.3 million barrels.
10:30 - Gasoline Stocks (Weekly):Expecting +700,000, Last Week +6.0 million barrels. The American Petroleum Institution (API) reported another surprisingly high inventory build last night for both crude and gasoline. The API released data showing a headline increase of 2.93 million barrels of crude and an increase of 4.85 million barrels of gasoline. WTI drifted lower in overnight trading. Keep in mind that last week, the Baker Hughes Rig Count showed the number of U.S. oil rigs currently in production popped by an astounding 29 rigs.
Sarge's Trading Levels
These are my levels to watch today for where I think that the S&P 500 and the Russell 2000 might either pause or turn.
SPX: 2305, 2293, 2282, 2272, 2266, 2258
RUT: 1383, 1376, 1370, 1365, 1357, 1352
Wednesday's Earnings Highlights
Before the Open: (ABT) - Get Abbott Laboratories Report ($0.64), (BA) - Get Boeing Company Report ($2.33), (FCX) - Get Freeport-McMoRan, Inc. Report ($0.33), (GWW) - Get W.W. Grainger, Inc. Report ($2.36), (HES) - Get Hess Corporation Report (-$1.08), (MKC) - Get McCormick & Company, Incorporated Report ($1.28), (NSC) - Get Norfolk Southern Corporation Report ($1.36), (UTX) - Get n.a. Report ($1.56)
After the Close: (T) - Get AT&T Inc. Report ($0.66), (EBAY) - Get eBay Inc. Report ($0.53), (MCK) - Get McKesson Corporation Report ($2.91), (QCOM) - Get Qualcomm Inc Report ($1.18), (URI) - Get United Rentals, Inc. Report ($2.30), (WDC) - Get Western Digital Corporation Report ($2.12)
At the time of publication, Stephen Guilfoyle was long FNMA, although positions may change at any time.