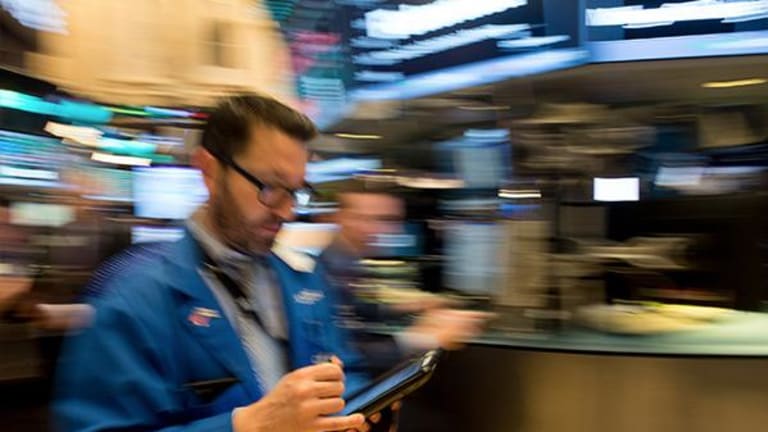 Market Recon: The French Election Is out of the Way; the Focus Returns to Earnings
Policy remains important, but earnings are where it's at, and they are easily quantifiable.
"If you aren't in over your head, how do you know how tall you are?" -- T.S. Eliot 
Avenue of Attack
That was some late Friday charge made by the broader indices, wasn't it? That run, made over the last 15 to 20 minutes of the day, without any kind of regard for technical resistance, perhaps indicated a final pricing in for equities of the results of this weekend's results seen in France. Futures markets seem bored by that result. Now, that that election has finally been put to bed, now that April "Jobs Day" is out of the way, now that a week heavy in earnings, and colored in by a steep sell-off across commodities markets has passed, where do we head from here?
Domestically, there are still quite a few balls in the air. First off, to our immediate front, there is still an earnings season to finish off. Then, there is the unfinished business of policy. The House passed that health reform bill last week that may or may not go anywhere in the Senate, but is almost certain to change dramatically as it continues to evolve. Then, there's tax reform. That hope remains, as much as earnings, to be among the biggest stories for the markets, and potentially the foundation of national confidence going forward. The ability of tax reform to punch its weight in small communities and grow the economy will be reliant upon the successful completion of health care reform. One avenue of attack becomes far less potent without proper use of the other. However, as long as these items do drag out, faith will persist. As long as faith persists, the market will remain difficult to short in the medium to long-term.
Performance
The pace of earnings season finally slows somewhat this week. A "mere" 41 companies that reside within the S&P 500 will report quarterly numbers by Friday. By Thursday, we will at last get to the retail sector, a group that traditionally brings up the rear of the season as far as timing goes. Like I've said, policy remains important, but earnings are where it's at, and they are easily quantifiable. Nothing is as important to a rising equity market as actually making money, or in many cases, the positive forward guidance that has come with the numbers. As we creep into the work week, 80% of the S&P 500 have already put their numbers to the tape for the first quarter.
Many investors cite valuations that seem stretched. I have often used the example of one growing into a "hand me down" T-shirt as representative of what was going on in the equity space. Earnings are on track to have gained 13.5% year over year at this point. If this performance hangs on throughout the remainder of the season, this will be strongest quarter in terms of yearly measurement for U.S. companies since 2011. You might recall that going into the season, analysts had cut consensus view for earnings growth over first quarter to a little above 9%, down from more than 10%.
There is quite a story being told by the data. Almost 74% of companies have beaten EPS (earnings per share) expectations. Those are easily managed by many companies, you say? OK, revenues are up 7.6% year over year for the quarter vs. expectations coming in of 6.9%. My notebooks are simply littered with results showing double-digit growth for revenue. It makes me look twice. That's something I really haven't seen ... well, since before I was the only one left doing this work with a pencil and a marble notebook. The beat rate for revenue growth is perhaps the most impressive slice of this data, running at a cool 67%. That is vs. a five-year average of 53%. Significant, when going over years worth of notebooks sporting minus signs.
Is 17.5x forward looking earnings still expensive? That multiple is off from almost 18.5x, and guess what? These aren't normal times. Interest rates remain, for now, too low even in this environment to really put the whammy on the stock market. You probably need to add another half point, maybe more to what the U.S. 10-year yields before this is truly an issue, and then there remains that faith that we already talked about. Not to mention that those higher rates will only help the financial sector in this environment. When faith in an increased pace of economic growth fades away, and only then, we will have seen our last record close for the broad indices for this cycle.
The Engine
Where has all this revenue growth come from? I thought you'd never ask. The answer is, mostly overseas. As you know, because we have repeatedly hit you over the head with this. In the U.S., hard data remain fare squishier than the soft data. Hope reigns supreme, but not consumer spending, nor wage growth. (You have seen recent data on revolving credit, right?) Public companies with foreign exposure are seeing earnings growth of more than twice the rate of domestically focused firms. This is due simply to better performing hard data across Europe and Asia, as well as an easier monetary environment in those corners of the globe.
Clear evidence of this is apparent in the performance of the Russell 2000. The small-cap index is often thought of as a market leader, and as we enter 2017, small-caps were as a group expected to be the chief beneficiaries of the new administration's agenda. After all, small caps do tend to pay a higher effective tax rate in general than do most larger firms. Well, the S&P 500 is up a crisp 7.2% year to date as you rise from that pillow this morning. The Russell 2000? Oh, that index is indeed higher on the year, but only 2.9%. Something to focus on and monitor going forward, and also the reason why those looking to the Russell 2000 for leadership have lagged the marketplace.
Macro
08:35 - Fed Speaker: St. Louis Fed Pres. James Bullard will speak from Fernandina Beach, Florida, on the impact of low interest rates. Bullard, who is not a voting member of the FOMC this year, spoke last week on cutting the Fed's balance sheet more than in half, and getting started on such management this year. No idea if he intends to go there today, but Bullard will take questions from the audience, which may force that issue.
08:45 - Fed Speaker: Cleveland Fed Pres. Loretta Mester will be in Chicago, Illinois to discuss policy, and growth across the broad economy. Mester, one of the more hawkish officials at the Federal Reserve Bank, does not vote on monetary policy this year. She will take questions from both the audience, and the media today.
10:00 - Labor Market Index (April):Expecting -0.2, March 0.4. This experimental measure of overall labor market health is really a composite index made up of 19 labor-related sub-components. Experimentally created by the Federal Reserve as a way to paint a picture of the labor market with one stroke, this item has never really caught on with traders. A number above zero indicates headline expansion here, and I think it might be of interest to note that March, which was considered by most to be a poor month for labor, actually ended up being the sixth consecutive print for this series above that zero-line. Consensus for April, considered by most to be a strong month, is for an end to that streak.
Sarge's Trading Levels
These are my levels to watch today for where I think that the S&P 500 and the Russell 2000 might either pause or turn.
SPX: 2426, 2415, 2404, 2398, 2390, 2385
RUT: 1413, 1407, 1400, 1392, 1386, 1377
Today's Earnings Highlights (Consensus EPS Expectations)
Before the Open: (FDC) - Get First Data Corporation Class A Report ($0.28), (NWL) - Get Newell Brands Inc. (NWL) Report ($0.29), (SYY) - Get Sysco Corporation Report ($0.52), (TSN) - Get Tyson Foods, Inc. Class A Report ($1.02), (WBT) - Get Welbilt Inc Report ($0.09)
After the Close: (HTZ) - Get Hertz Global Holdings, Inc. Report (-$0.84), (IFF) - Get International Flavors & Fragrances Inc. (IFF) Report ($1.52), (MAR) - Get Marriott International, Inc. (MAR) Report ($0.91), (P) (-$0.33), (POST) - Get Post Holdings, Inc. Report ($0.59), (RGR) - Get Sturm, Ruger & Company, Inc. Report ($0.98), (TSO) ($0.31).
Read More of TheStreet's Top Stories:
Why Tesla's Explosive Stock Price Deserves to Keep Plummeting
Verizon's NFL Streaming Deal May be Sign of Things to Come From Carrier, Tech Rivals
You Must Start Investing Now Because the Dow May Hit 100,000 By 2030
At the time of publication, Stephen Guilfoyle had no positions in the stocks mentioned.