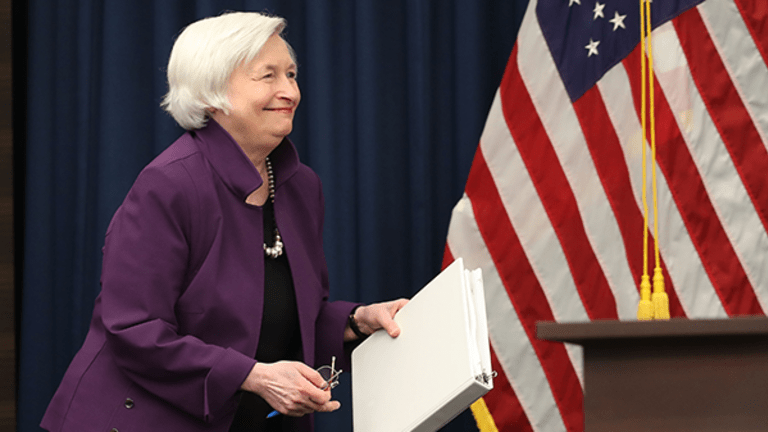 The Federal Reserve Is Too Optimistic in the Face of a Stealth Economic Slowdown: Market Recon
The good doctor thinks that the financial system is now safe.
"Development is an endurance exercise with incremental improvements." -- Sri Mulyani Indrawati
Clowns to the Left of me, Jokers to the Right
Talk about pressure from above, or should I say, out of left field (academia). First, ECB President Mario Draghi spoke on gradually removing stimulus from the eurozone economy. Not completely unexpected, but the comments did force the euro considerably higher against its competitors, as well as put upward pressure on European sovereign debt yields (which rolled on into the U.S.). The ball was now moving. As for American central bankers, the scene set resembled something out of a three-ring circus. San Francisco Fed President John Williams stepped to the plate in Australia, and incredibly said "The stock market seems to be pretty much running on fumes". Williams added "I am somewhat concerned about complacency in the market." You don't say, John? That's some heady analysis there. On to Federal Reserve Vice Chair Stanley Fischer, who told the IMF that price-to-earnings ratios were now in the top quintiles of their historical distributions (toward the top of their range, for you humans), and that this could only be partially explained by an improving economic outlook. By the way, yes, that's the same IMF (International Monetary Fund) that dropped their expectations for U.S. growth yesterday to 2.1% for this year and next, and then down to around 1.7% after that. What? The IMF talked up U.S. GDP expectations only in April? You're kidding me. No way.
So, Williams thinks he understands price discovery, Fischer states the obvious, and the IMF's annual review of the U.S. economy could probably be done by a handful of second year economics students without anyone really noticing. Hmmm. Guess, we'll see if the good doctor had anything to say. Fed Chair Janet Yellen said that the U.S. financial system is "safer and sounder" than it was before 2008. I should hope so; give yourself a pat on the back, Janet. Yellen also mentioned the FOMC's intention to continue to raise interest rates gradually, while starting to draw down the balance sheet, also gradually. I don't really agree with trying to both congruently, but I understand that this is her intention, and did not expect anything else. Yellen also acknowledged that the offshoring of middle class jobs due to globalization, as well as technological advance, has devastated many American communities. She referred to these developments as having been "quite harmful to a very large share of the population".
When asked about the financial crisis and the potential that we'll ever see another one like it (BTW, I think we're still in it to some degree), the Fed Chair said "I do think we're much safer, and I hope that it will not be in our lifetimes, and I don't think it will be." So, in short, the good doctor thinks that the financial system is now safe, and although much of the American middle class is in deep despair, it's a good time to double up on efforts to tighten monetary policy, (to stave off inflation ... oh wait, never mind) and we do not have to worry about another financial crisis in our lifetimes. Golly, Sergeant Carter ... we should probably tell those families that are in that state of despair that it's really all OK.
Shmotation
Twenty-four hours after creating the word "shmotation", it sure did look to this old dog that they (market forces) were flying out of tech and health care, and getting back into financials. Small wonder, actually. Aside from all of that drivel spit out by our central bankers, the markets had to deal with the European Union handing down that sizable fine to Action Alerts PLUS charity portfolio holding Alphabet (GOOGL) - Get Report , as well as a move in the right direction for the longer end of the yield curve. Not to mention a significant cyberattack that started out in Ukraine and Russia, but quickly spread beyond those countries' borders.
Just when you thought that all of those negative forces might just be managed by the marketplace in orderly fashion, the U.S. Senate pulled the rug on putting together a vote on the fancy new health care bill that is meant to replace the ACA. That was it; the floor fell out. Tax reform hopes were mentally filed away with UFO sightings, and close encounters with Sasquatch as something you might want to believe in, but wouldn't dare admit publicly.
Command and Control
The truth is that we really do not know the extent of this latest cyberattack. We know that both sides in Washington are full of it, but we do not know how this plays out for the health care sector, nor for forward-looking policy. We do not even know if Alphabet will appeal that fine. What we do know is that there is a significant sale going on in the tech space, and if you're like me, you go shopping in names that you like, but either missed, or under-represented yourself in. Remember, these names can do anything. They're volatile, so we take baby steps. We never jump in with both feet. It's not every day that the tech sector comes in 1.7%, nor every month that the sector comes in 2.3%. For that reason, I initiated long positions just before the close yesterday in NVIDIA (NVDA) - Get Report and Lam Research (LRCX) - Get Report . The semis were pounded harder than the rest yesterday, and I left plenty of powder dry if I need it. I also (unfortunately) keep Seagate (STX) - Get Report on my back book for the dividend. The recent price moves in that stock have made the yield as attractive as it is... less so. That said, I wrote covered calls against that one, just to soften the blow, and they can have that one if it bounces.
Macro
03:30 - Fed Speaker:San Francisco Fed Pres. John Williams finally made the last of three consecutive public appearances from Australia, this time from Canberra. This morning, Williams addressed the global slump in economic growth. At least he takes tomorrow off from public speaking.
08:30 - Goods Trade Balance (May): Expecting $-66.1 billion, April $-67.6 billion. The expectation is that we some improvement in this space for May. This item will not impact your trading day a great deal, but will matter down the road, as the complete report on the trade balance will have a significant effect on GDP. You'll get that number next Thursday. You will hear from Atlanta that day, but you'll hear from them twice before that, when we see consumer spending this Friday and the ISM manufacturing print on Monday.
08:30 - Wholesale Inventories (May-adv):Expecting 0.2%, April -0.5% m/m. Wholesale inventories, which are a major component of business inventories, have been in contraction for two months, with April printing at the largest month over month contraction seen since February 2016. Inventories have definitely been an obstacle to economic growth this year. The developed print for this space will go to the tape on 11 July.
10:00 - Pending Home Sales (May):Expecting 0.7%, April -1.3% m/m. This wildly volatile series is expected to bounce back from a rough April. That month was pretty tough on housing across the board. As for May, we were disappointed by housing starts and building permits, while both new, and existing home sales exceeded our expectations.
10:30 - Oil Inventories (Weekly):API +850,000 , Last Week -2.5 million barrels.
10:30 - Gasoline Stocks (Weekly):API +1.35 million , Last Week -578,000 barrels. The surprise builds reported last night for both crude and gasoline by the American Petroleum Institute put a negative pall over what had been a nice day for WTI, as the commodity managed to sneak back over $44 a barrel. A confirmation of these builds today by the EIA would likely put a serious dent in sentiment.
Sarge's Trading Levels
These are my levels to watch today for where I think that the S&P 500, and the Russell 2000 might either pause or turn.
SPX: 2440, 2432, 2421, 2411, 2404, 2397
RUT: 1426, 1420, 1409, 1403, 1397, 1390
Today's Earnings Highlights (Consensus EPS Expectations)
Before the Open: GIS ($0.71), MON ($1.74), PAYX ($0.53)
After the Close: SHLM ($0.66), PIR (-$0.05)
More of What's Trending on TheStreet:
Apple's iPhone Triggered Mind-Blowing Changes to How Investors Trade Stocks
Amazon Could Easily Own Whole Foods and Rite Aid or Express Scripts, This Top Analyst Says
What's Hot On TheStreet
The stock market may be overvalued: Now may be the time to pay extra attention to red-hot tech stocks such as Apple (AAPL) - Get Report and Facebook (FB) - Get Report . As TheStreet first reported Tuesday afternoon, asset valuations are somewhat "rich" by standard metrics, Federal Reserve Chair Janet Yellen said in London during a conversation about economic issues with British Academy President Lord Nicholas Stern. Yellen's comments on equity valuation and bank strength closely mirrored Fed Vice Chairman Stanley Fischer's from an IMF event held earlier in the day.
The iPhone has changed how you make money: TheStreet's Scott Gamm is out with a piece that will really get you thinking. Apple's iPhone will turn 10 years old on Thursday. The device not only turned Apple into one of the world's most valuable companies, helping to boost its stock price more than 700%, it also changed the way we invest and trade stocks Gamm points out.
In fact, the original iPhone -- and the current versions -- have an internal stocks app, allowing users to check the broader market indexes and individual stock prices. Having this in your pocket was a big deal 10 years ago.
"I think it's actually made the life for a typical investor much easier," Angelo Zino, an analyst with CFRA Research, told TheStreet. "I think they've been able to tap news flows much quicker."
Apple and Facebook are holdings in Jim Cramer's Action Alerts PLUS Charitable Trust Portfolio. Want to be alerted before Cramer buys or sells AAPL and FB? Learn more now.
Visit here for the latest business headlines.
Read More Trending Articles:
The 14 Worst Cruise Ships on the CDC's Sanitary Inspection List
When Walgreens Finally Acquires Rite Aid, It Will Be a Terrifying Drug Selling Monster
At the time of publication, Stephen Guilfoyle was long NVDA, LRCX, STX, short STX call options, although positions may change at any time.