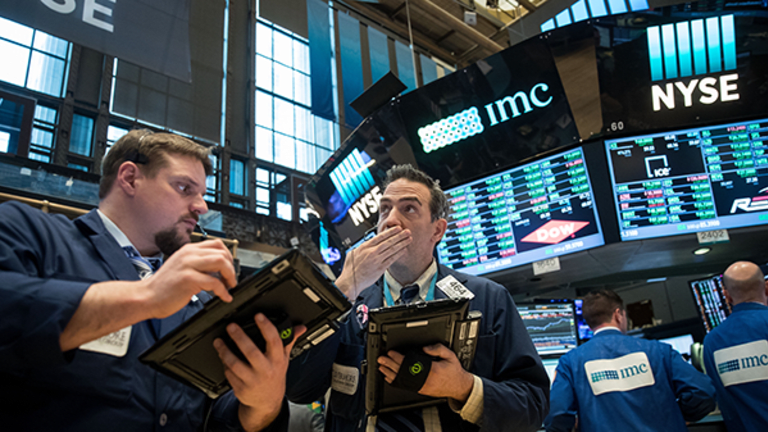 Market Recon: The Fear Gauge Is So Tiny, It's Adorable
But investors should not take that as a sign it's a good idea to hedge by buying the VIX.
"Perfection is not attainable, but if we chase perfection we can catch excellence." ... Vince Lombardi
Adorable
Isn't it just adorable? Cute little fella. The incredible, shrinking CBOE Volatility Index, also known in some circles as the fear gauge, kissed levels below 10 during yesterday's session. This, for those of you keeping score at home, was the lowest level for the "VIX" since February 2007. French elections? No fear. U.S. budget deal? No fear. Geopolitical risk? Not buying it. Domestic policy uncertainty? Been there, done that, learning to live with it.
Just how relevant is the VIX in the modern era? Oh, I'm sure the next time you need to buy the VIX on the cheap, you won't be able to. How many traders actually take positions in VIX options to hedge their portfolios against market risk? I used to. I have not lately, and I have not in at least three years. Logically, doing so seems on the surface to make sense. However, purchasing protection in this way, will erode capital over time, perhaps significantly. Writing VIX options could work for a while, until the day you get your face ripped off. Face-ripping stinks. I find that using the options market in a far more targeted way that provides revenue works better for me, at least in this marketplace.
Read Barron's this past weekend? More specifically, did you read Steve Sears? If you are in this business, let's hope that is a habit. Steve opined on the VIX this week, and the second line of his article simply nailed it. Sears wrote "If more people realized the VIX is basically designed to move in the opposite direction of the Standard & Poor's 500 Index, the cottage industry that breathlessly comments on the fear gauge would implode under the weight of its own nonsense." Just wow... and excellent. Sears goes on, and I am not going to simply rewrite his article, but he illustrates just how difficult hedging one's portfolio in this way actually is. Read the piece.
Bottom line? The VIX is still in some way relevant. At least strategically. Awareness of VIX behavior is important. Analytically, I still consider it one of my four horsemen of doom, along with Gold, Treasuries, and Utilities. Tactically, however, I have just found better ways to hedge the positions on my book that do cause me concern.
Double Whammy
Elevated equity valuations are mentioned nearly every day in the media. Are they sustainable? Where do we go from here? Do we grow into them? Do we drive ourselves right off a cliff? Well, these elevated valuations have caused two major unexpected consequences. For one, corporate buybacks are suffering. Authorizations for corporate buybacks among S&P 500 companies this year are running at the lowest level seen since 2012. Not only are those authorizations off some 15% year over year, but actual execution of this order type is down a rough 20% across the marketplace. What gets this ball rolling again? Tax reform that produces not only growth, but mass repatriation of foreign held profits. This item is, in my opinion, certainly not dead. Firms with cash on hand and/or the ability to borrow cheaply know that when you lack a good idea, this is how you boost earnings per share, and that your shareholders will never complain about a large buyer entering their crowd.
On top of that, mergers and acquisitions have ground to a near-standstill on the global stage. Global deals targeting publicly traded companies are also down a rough 20% year over year, and now are on a pace that would close the year with the lowest level of activity in this space since 1998. The culprits here would be high valuations and uncertainty, given the corporate landscape in both the United States and the United Kingdom, as well as, to a lesser degree, the European Union. This too, will pass.
Trader Focus
This may be "Jobs Week", and this may be "Fed Week". Both of those facts of the economic calendar are of headline level importance, and probably, to some degree, reliant upon each other. We see Treasuries being sold in the early going this week, and we know that the financials love that; but you and I both know that in the immediate, technology is the game we play. The sector was top dog again yesterday. Go back a week, a month, three months, or year to date. Tech, Tech, Tech, and Tech. You have to go back to the post-election euphoria to find a timeframe when another sector led the way.
This will remain your focus, in all likelihood, at least until Friday morning, and then beyond. Growth over value. The verdict is in, for now. What will change this? Hard news (good or bad) regarding tax reform and repatriation, or simply a lack of forward-looking hope regarding domestic economic growth. We are not there yet.
Macro
All Day - Total Vehicle Sales (April):Expecting 17.1M, March 16.6M Annualized. Something of a bounce in the annualized pace of auto sales is expected for April, after a March number that could only be described as a scary slowing of the pace. This number is released piecemeal throughout the morning, so there will be no profound market impact, other than for the individual manufacturers. That said, the impact of this item on headline April Retail Sales in two weeks is where traders will focus.
08:55 - Redbook (Weekly):Last Week 1.7% y/y. We all know that retail is dead. Right? Yet this measure of chain store health has shown at least some renewed strength all year, and seems to be picking up some momentum. Even when measured on a month-over-month basis, we are starting to see signs that retail has bottomed.
Sarge's Trading Levels
These are my levels to watch today for where I think that the S&P 500, and the Russell 2000 might either pause or turn.
SPX: 2404, 2397, 2391, 2384, 2377, 2369
RUT: 1420, 1413, 1407, 1401, 1393, 1384
Today's Earnings Highlights (Consensus EPS Expectations)
Before the Open: (AET) ($2.35), (MO) - Get Altria Group Inc Report ($0.74), (ARCH) - Get Arch Resources, Inc. Class A Report ($1.95), (ADM) - Get Archer-Daniels-Midland Company Report ($0.62), (BDX) - Get Becton, Dickinson and Company Report ($2.23), (BP) - Get BP Plc Report ($0.07), (COH) ($0.44), (CMI) - Get Cummins Inc. Report ($1.80), (CVS) - Get CVS Health Corporation Report ($1.10), (HLT) - Get Hilton Worldwide Holdings Inc Report ($0.30), (LL) - Get Lumber Liquidators Holdings, Inc. Report (-$0.20), (MLM) - Get Martin Marietta Materials, Inc. Report ($0.57), (MA) - Get Mastercard Incorporated Class A Report ($0.95), (MRK) - Get Merck & Co., Inc. Report ($0.83), (PFE) - Get Pfizer Inc. Report ($0.67), (SMG) - Get Scotts Miracle-Gro Company Class A Report ($2.89)
After the Close: (APC) - Get Anadarko Petroleum Corporation Report (-$0.25), (AAPL) - Get Apple Inc. Report ($2.02), (MDLZ) - Get Mondelez International, Inc. Class A Report ($0.50), (PZZA) - Get Papa John's International, Inc. Report ($0.74), (PLNT) - Get Planet Fitness, Inc. Class A Report ($0.16), (TWLO) - Get Twilio, Inc. Class A Report (-$0.07), (WTW) - Get Weight Watchers International, Inc. Report (-$0.06).
Don't miss these top stories on TheStreet:
Top 10 Cheap Classic Cars to Invest in for Big Gains With Your Delayed Tax Refund Check
These 5 Major Fast Food Restaurants Are About to Be Whacked by Soaring Chicken Prices
At the time of publication, Guilfoyle was long AAPL, although positions may change at any time.