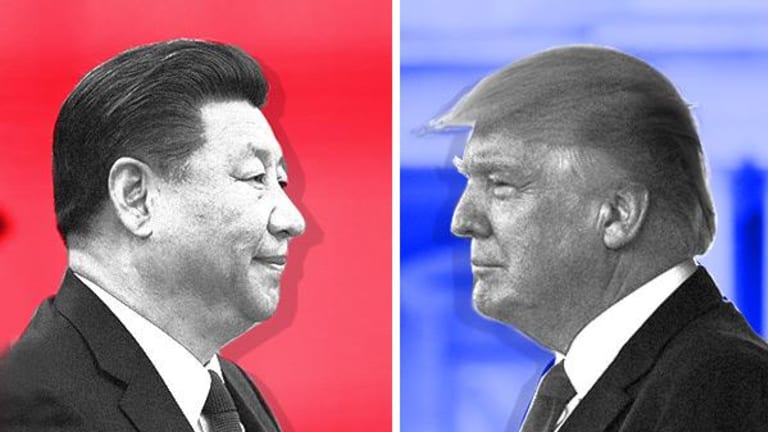 Market Recon: The Deal With China Has the Potential to Be a Breakthrough
Watch a big meeting on trade in China, along with the bulk of their April economic data.
"The most important thing a father can do for his children is to love their mother." -- Theodore Hesburgh
Happy Mother's Day, gang. Sarge
The Deal
Commerce Secretary Wilbur Ross was quoted last night as saying: "US-China relationships are now hitting a new high, especially in trade". Ross is an obviously brilliant, direct guy, who does not usually mince words. We all know that Donald Trump campaigned for the presidency partly on promises of leveling a badly lopsided trade environment. We all know that the U.S. and China have looked for ways to cooperate on diplomatic problems such as North Korea, and that President Trump and President Xi of China appeared to at least get along well with one another when the Chinese leader visited the U.S. president at his Florida home earlier this spring.
Well, there is a potentially significant story developing here. Last year the U.S. trade deficit with China reached $347 billion. The two nations made what appears to be a joint announcement late yesterday that addresses bilateral trade between them, and it comes ahead of the huge "One Belt, One Road" Summit" in Beijing that will see 28 heads of state visit the Chinese capital.
What changes may we expect? There are several. Chief among them would be a reopening of the Chinese beef market to U.S. ranchers. This is a $2.5 billion market that is only growing, and has been closed to the U.S. ever since the 2003 "mad cow" disease scare. There are also caveats in this plan that would improve the climate for US liquefied Natural Gas (LNG) exports (kind of huge), expedite access to the Chinese market for US biotechs, as well as U.S. electronic payments firms such as Visa V, and MasterCard MA, both of whom have been unable to access China despite years of trying to break through.
In exchange, the U.S. will agree to open up U.S. poultry markets to China, as well as allow for more direct Chinese investment within U.S. borders. This deal, which is hoped to begin to be implemented by July, does have the potential to improve the balance of trade, which in turn could dress up headline GDP. How this develops, given years of broken promises and national security concerns in both directions, will obviously be an ongoing story. Make no mistake, though. This has the potential to grow into a breakthrough deal.
What the heck is "One Belt, One Road"? This has not gotten a lot of press in the States, but this is huge. As the TPP has faded into oblivion, China has moved to fill the void. In simple terms, this would be a large, Chinese-led infrastructure build that would make easier land routes across central, and southern Asia (think Silk Road), accessing Persian, and European markets. Increased spending on maritime routes connecting China with Pacific, and Africa is also part of this idea. In March, Chinese data on GDP, retail sales and industrial production all showed some improvement, but those lines have all been in slow decline for a number of years. The most recent PMI data suggests that this recent hat trick may be tough to replicate this Sunday night, when the world receives the bulk of China's macroeconomic data for April.
What we know is that the Chinese government loves to use fiscal spending as a tool of economic growth. They also have been moving toward a tighter monetary policy. So, this idea will require international investment, which is an opportunity for many, but there will have to be some kind of allowance for post-construction participation. This plan, if realized in a big way with China perceived as the leader would cement China's place at least as regionally dominant. The U.S. is sending a high-level representative, but 28 nations including Russia are sending their heads of state. I think the most interesting response, which will likely be negative, will come from India, whose growing economy, growing middle class, and place as a key regional player could be threatened. Or enhanced. That response will be in focus. This will be the story of the weekend, and oddly may go under-covered by the U.S. media.
Anchors Aweigh (Away)
Is the death of the American department store an exaggerated story? I would think that in their current form, the answer is easily, no. Some of these firms will fight on, and some of them will survive. You've seen comparable store sales. Whoa. You saw yesterday's blood-letting across the space. Wow. Macy's M, Kohl's KSS, Dillard's DDS, all hit the tape with their data yesterday, and this time, the tape hit back. Multi-line retail as a sub-component of the consumer discretionary sector took more than a 5% beating as a group during yesterday's regular trading session led by that 17% hollowing out of Macy's market cap. What these businesses look like several years down the road will depend on several factors.
1) Mall Traffic. You no longer have to wait in line at the food court.
2) Shopping Patterns. Nobody browses. People buy what they need, at the best price, and they usually do it from home. Suggestive selling is dead. Shopping is not considered an experience, and you don't do it with friends.
3) Competition. These businesses are fighting over the last dollar, while closing locations, and reducing payroll, it is only the ones that compete directly against the online retail industry -- Amazon AMZN -- that will even have time to evolve.
Two quotes that I read from the retail space have struck me as interesting. First, I noticed that Macy's CFO Karen Hoguet said: "Don't count us out, we're not dead". Granted, Karen... you're not dead, but I'm really not quite sure how to value your stock, and thus, I'm not going to. Then I noticed that Sears SHLD CEO Edward Lampert had written: "The past year will be remembered as one of the most challenging periods for 'brick and mortar' retailers". That would most definitely be true, and like almost everything on planet Earth made me think of baseball.
Once upon a time, the Brooklyn Dodgers were well-known for winning the National League pennant fairly regularly, and then would usually lose the World Series to the New York Yankees. Their fans were well known for the saying "Wait 'til next year". Then, one year (1958), for those fans... there was no longer a next year.
Macro
08:30 - CPI (April): Expecting 2.3%, March 2.4% y/y.
08:30 - Core CPI (April):Expecting 2.0%, March 2.0% y/y. There had been some evidence of consumer level inflation earlier this year due to rising energy prices. Once spring hit, though, year-over-year comparisons, which is how Wall Street looks at inflation, became all that much tougher. If that wasn't enough, crude stopped helping. Then there's the persistent lack of wage growth. The most important component of this release will be the year-over-year core number. That measure of growth is expected to remain stagnant at the 2.0% seen in March, which was the lowest growth seen in the space since late 2015.
08:30 - Retail Sales (April): Expecting 0.5%, March -0.2% m/m.
08:30 - Core Retail Sales (April):Expecting 0.4%, March 0.0% m/m.
08:30 - Control Group (April): Expecting 0.4%, March 0.5% m/m. This data should show a significant bounce from March. For one, vehicle sales will be coming off of a lower base as far as month-over-month data would be concerned. Secondly, the weather, and the Easter season should not be the drag that they were last month. This will be a big day for second-quarter GDP forecasts, as the Atlanta Fed has quickly ratcheted down their forecasts for the quarter from an absurd 4.3% to a still lofty 3.6% in recent days. This release will impact equity markets, and will be especially watched closely as the retail sector has started going to the tape with their quarterly numbers this week.
09:00 - Fed Speaker:Chicago Fed Pres. Charles Evans will be in Dublin, Ireland to discuss current economic conditions and monetary policy. Evans has been one of the more dovish officials at the Fed for many years, but has recently backed away from that position. Evans is outspoken, is considered to be somewhat influential, and is a voting member of the committee this year.
10:00 - Business Inventories (March):Expecting 0.1%, February 0.3% m/m. This is a March number, so we are still talking about the first quarter as far as this number is concerned. On Tuesday, we saw March Wholesale Inventories (a major component of this release) revised much higher. I believe that this puts an upside surprise alert on the 0.1% m/m growth expected by the street here today. Should you see a print of 0.3% or so in this space, that could require a mild upside revision to that awful headline first-quarter GDP (0.7% q/q SAAR) number.
10:00 - U of M Consumer Sentiment (May-adv):Expecting 97.2, April 97.0. The expectation is that this survey will show some stabilization at April levels. Though a bit off the 2017 highs, these are considered very optimistic levels for this item, and is part of the soft-data / hard-data story. Equity markets do often react to this series.
10:30 - Fed Speaker: Chicago Fed Pres. Charles Evans will still be in Dublin, but he had agreed to be interviewed live on Bloomberg TV by Manus Cranny. I would expect that economic and policy will primarily be discussed, and that he will stick to his story from this morning.
12:30 - Fed Speaker: Philadelphia Fed Pres. Patrick Harker, voting member of the committee this year will give his outlook for the U.S. economy for the city of brotherly love. Earlier this year, Harker was quite hawkish, but has not been as vocal of late. It will be interesting to see what his current thoughts are. Both the audience and the media will be permitted to ask questions.
13:00 - Baker Hughes Rig Count (Weekly):Last Week total 877. oil 703. There seems to be no slowing of the growth of at least this oil number as WTI crude continues to trade in the mid $40s per barrel. Production in the Permian may not be enough to fully offset cuts made by OPEC in production, but they can produce more cheaply than can anyone else. This item will continue to show steady growth.
Sarge's Trading Levels
These are my levels to watch today for where I think that the S&P 500, and the Russell 2000 might either pause or turn.
SPX: 2415, 2405, 2399, 2391, 2382, 2376
RUT: 1407, 1400, 1392, 1385, 1377, 1367
Today's Earnings Highlights (Consensus EPS Expectations)
Before the Open: (JCP) - Get J. C. Penney Company, Inc. Report (-$0.23)
______________________
Cocktails & Cramer
Join Jim Cramer on May 23 for an exclusive party at Bar San Miguel, his Brooklyn tavern.
You'll get to watch a screening of Mad Money, after which Jim will arrive fresh off of the CNBC set to mingle, pose for photos and answer your investing questions.
Participants will enjoy dinner, drinks, an autographed copy of Jim's book Get Rich Carefully and a free one-year membership to Action Alerts PLUS, Cramer's VIP club for investors. (Current AAP members will receive one extra year of membership for free.)
When: Tuesday, May 23, 6 p.m.-9 p.m. EDT
Where: Bar San Miguel, 307 Smith St., Brooklyn, N.Y.
Cost: $375 per person
Space is very limited, so click here to reserve your ticket to this exclusive event today.
Read more stories on TheStreet:
At the time of publication, Stephen Guilfoyle was long AMZN, although positions may change at any time