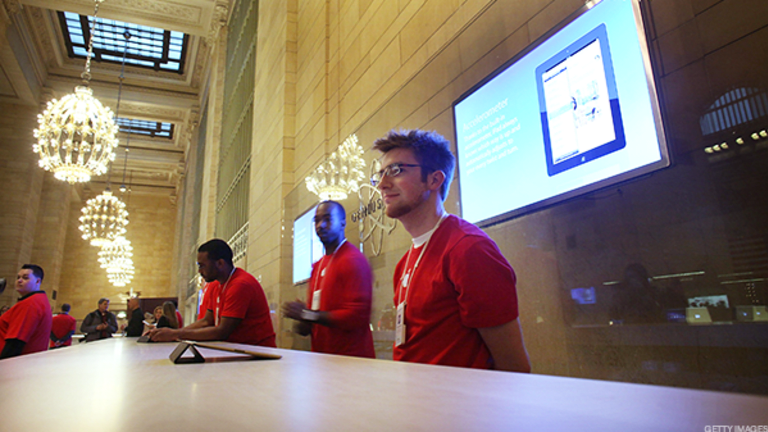 Tech Stocks Aren't Dead, They Are Alive Baby: Market Recon
The highly publicized rotation out of tech took a serious breather.
"Whatever you are, be a good one." -- President Abraham Lincoln
Off they went together. Tech stocks. Bang! What rotation? Health Care. Much of the sector picked up full percent gains for the day, across several industries. Financials. Despite a flatter yield curve than most would consider optimal. How interesting. The financial sector SPDR ETF (XLF) - Get Financial Select Sector SPDR Fund Report is up more than 5% over the last month, top dog among sector ETFs. Did a lot of folks see this strength in the financial space coming? To be honest, someone must be doing the buying, but I only held onto some of my holdings in the space for the sake of diversification. I have been patiently waiting for a sustained steepening of the yield curve.
Expectations for growth and inflation blossoming from the administration's pro-business agenda have all but faded into the future. There is the Fed, and there is a softer regulatory environment. Those forces do matter. A Treasury Department looking to loosen regulation without going through Congress is a big deal for investors. Yields are another story. There is undeniable support for longer-dated U.S. debt. The 2yr/10yr curve is back down to 0.803% this morning and threatening to go lower. The yield curve is where bankers butter their bread. That's where their collective margin resides. Otherwise, they are left to make money through transaction fees and trading. There is some thought that this reliance upon the yield curve is more prevalent among smaller than it is larger banks. They have volume behind them. We will certainly know more by July 14, when the big banks start cranking out their quarterly earnings numbers again.
Meanwhile, the highly publicized rotation out of tech took a serious breather, as that sector saw its best daily performance of 2017 yesterday led by names such as Apple (AAPL) - Get Apple Inc. (AAPL) Report and Facebook (FB) - Get Facebook, Inc. Class A Report . Looks to me that the "buy the dippers" whose presence was so recently questioned are indeed alive and well. The sector, though not among the leaders over the last month, is our year-to-date leader, and this may have just been the chance for traders to reload.
Apple, Facebook and Adobe are holdings in Jim Cramer's Action Alerts PLUS Charitable Trust Portfolio. Want to be alerted before Cramer buys or sells AAPL, FB and ADBE? Learn more now.
Policy Error?
All Fed speakers matter -- some more than others. New York Fed regional district president William Dudley is one of the ones that matters more, and he spoke publicly yesterday. Dudley really tried to mirror Janet Yellen's message that she presented last week, which was somewhat expected of him. Dudley indicated that he believes that the U.S. labor market is doing well. Check. He admitted that inflation was running cooler than the central bank would like. Check. He expressed optimism that both wages and inflation would pick up over the next couple of years. Heard that song before. Then he took something a little further. Dudley feels that rising interest rates had not yet significantly tightened financial conditions, and that putting a halt to the tightening cycle now could imperil the economy.
Well, that last bit was probably part of the impetus for the move in the financials yesterday, but the bond market does seem to be indicating policy error on behalf of the Federal Reserve. Maybe you don't have to completely stop tightening monetary conditions, but do you really have to keep on hiking the fed funds rate continuously while attempting to begin to whittle down the balance sheet. Could you maybe show a little more finesse? If there is policy error being made that will adversely impact this economy and the lives of average Americans, who are precisely where our concern should be, this is it. I am no dove, mind you; not even close. My preferences for less quantitative easing and earlier rate hikes were well documented. I just don't love reckless aggression after years of policy inertia when there has been no significant improvement in broad conditions at the human level. The obviously rushed preparation for an economic shock may very well be what brings about one.
Steel My Heart
Well, gang, we may just be days away from the Commerce Department's report on their own investigation into the dumping of cheap steel imports, and if that dumping is indeed a matter of national security. If so, the Trade Expansion Act of 1962 gives the U.S. president the power to impose tariffs and quotas on imports. Let's not forget that the U.S. is the world's largest importer of steel, so this is huge.
Canada, Brazil and South Korea are the top sources of steel imports into this country, but there is a belief Chinese steel has been coming in via other avenues despite steps already taken to avoid Chinese dumping. Officials from all of these quarters, as well as Germany, the Netherlands, and Mexico have been making noise in an attempt to lobby U.S. officials, including the Secretary of Defense on this matter. Word is that the mood among our trading partners is to retaliate should the president take action. The president has indicated that he will follow through on his campaign promise to protect the U.S. steel industry should this report indicate that national security has been threatened. The G20 meets in Hamburg next month. This, if action is indeed taken, will be a (the) hot topic. In the meantime, I think I'll, stay long the space just in case.
Reminder
MSCI will make an announcement at 04:30 am in Hong Kong on Wednesday morning, which happens to be 16:30 this afternoon in New York for you civilians. This decision will decide if Chinese A shares are to be included in MSCI's emerging markets index. This attempt at inclusion comes as a scaled back (from 448 stocks to 169) fourth attempt. (Currently 0-3). Last year, MSCI indicated that its clients would benefit from liberalized rules of foreign ownership of Chinese equity, as well as the repatriation of capital. The creation of Shenzhen-Hong Kong Stock Connect was meant to address the lack of foreign investment issue since that denial.
The odds of inclusion are now probably greater than 50/50, and would likely oblige the investment of something along the lines of $210 billion into these A share over time. I would still worry about the ability to repatriate, however. Stay tuned on this.
Macro
03:15 - Fed Speaker:Federal Reserve Vice Chair Stanley Fischer spoke this morning from Amsterdam, Kingdom of the Netherlands. Fischer, who obviously is a voting member of the FOMC, did not touch on U.S. economic conditions, nor monetary policy. He instead focused on economic stability and called on governments around the planet to install banking stress tests as a way to prepare for and manage any future collapse in housing prices.
08:15 - Fed Speaker:Boston Fed Pres. Eric Rosengren is also in Amsterdam to speak on financial stability in low interest rate environments. In late May, Rosengren expressed his preference to see a total of four interest rate hikes in 2017. Bear in mind that late last year, when Rosengren did have a vote, he erratically changed his mind on policy meeting to meeting around the election, the only Fed official to do so.
08:55 - Redbook (Weekly):Last Week 2.1% y/y. Growth in this space has been better over the last three months on a year-over-year basis than it had been for quite some time prior to this spring. The series does appear to have stalled at these levels however. Those who trade the retailers would likely need to see a week sporting growth that starts with a 3-handle to take notice at this point.
15:00 - Fed Speaker:Dallas Fed Pres. Robert Kaplan will be in San Francisco to discuss economic conditions and monetary policy. Kaplan has been hawkish in his rhetoric, and is a voting member of the FOMC this year. No word on a possible Q&A session at the conclusion of this event.
Sarge's Trading Levels
These are my levels to watch today for where I think that the S&P 500, and the Russell 2000 might either pause or turn.
SPX: 2486, 2474, 2462, 2448, 2442, 2436
RUT: 1433, 1426, 1419, 1411, 1405, 1398
Today's Earnings Highlights (Consensus EPS Expectations)
Before the Open: (LEN) - Get Lennar Corporation Class A Report ($0.79)
After the Close: (ADBE) - Get Adobe Inc. Report ($0.79), (FDX) - Get FedEx Corporation Report ($3.87), (KFY) - Get Korn Ferry Report ($0.59), (LZB) - Get LaZBoy Incorporated Report ($0.46), (RHT) - Get Red Hat, Inc. Report ($0.53)
Visit here for the latest business headlines.
Read More Trending Articles:
Tesla Could Explode to Record Highs As Company Reportedly Comes Closer to Making Cars In China
Costco Sees an Extremely Damaging Flush In Aftermath of Amazon's Big Whole Foods Deal
Intel Just Got Smoked By AMD In the Race to Unleash a Super Chip
At the time of publication, Stephen Guilfoyle had no positions in the stocks mentioned.