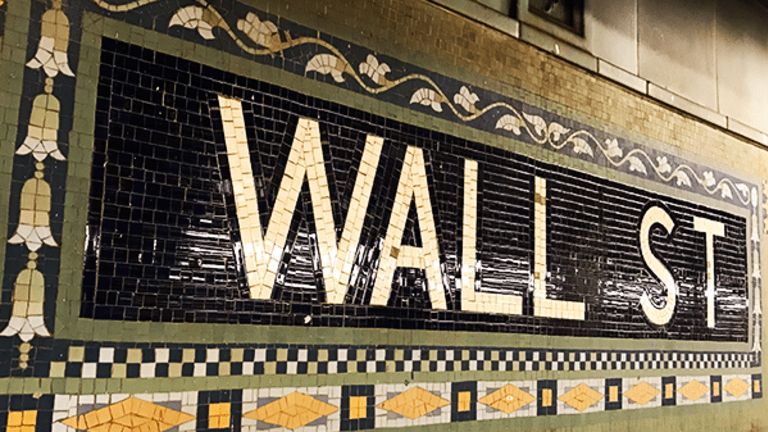 Publish date:
Market Recon: Small-Caps Are Forming a Base
That was quite the 6-hour recovery in the markets.
That was quite the 6-hour recovery in the markets.
"Avoid cynical and negative people like the plague. They are killers of potential."
--Rick Pitino
The Mojo
That was quite the six-hour recovery that U.S. equity markets laid down yesterday, as a quiet optimism on turning the page on the nation's agenda seemed to take hold. After opening in a technically oversold condition, it was the health-care sector that led the way back. That may have been expected, but just as interesting to those who study the marketplace was the leadership from the transports (both the airlines and railroads were higher), and the small-caps. Although financial names still finished in the red (I put some dough back into that space yesterday morning), the banks also put together one heck of an intraday recovery. What does it all mean?
Well, let's take a look at those small-caps. The Russell 2000 closed in the green for the third consecutive day, and is net higher since the close of business after last Tuesday's equity market smack down. Wait, you mean the above-average effective tax rate, domestic in nature, small-caps are forming a base? Exactly.
The markets started to believe in this evolution of the administration's agenda last Wednesday. The transports? Well, gang, if money is going to start moving, so are goods, and commodities... not to mention business people. Are we close? Of course not. Three or four days does not make a trend, especially when the moves were minute in nature. Still, you'd be neglectful if you at least did not watch this minor outperformance for further development.
New Sheriff
Crude prices are a bit higher this morning, commodities traders having regularly respected support for WTI above that $47 level. Crude seems to trade oblivious to dollar valuations, even in unison with the greenback, which at least for now, is odd. More importantly in the short term for crude's market price will be the ability, or inability, of OPEC to impact inventories through an extension of their production cuts, and the ability, or inability, of U.S. producers in the Permian basin to bring OPEC to its collective knees.
OPEC will have to decide on such an extension, or enhancement by May 25. The cartel's current deal cut their aggregate production by 1.8 million barrels a day. U.S. production hasn't made all of that up, but clearly the move to make up that ground is underway. Last week, 24 more rigs produced oil in the U.S. than in the week prior -- to bring the total of rigs in operation devoted to crude up to 652. That was the tenth consecutive week that U.S. production ramped higher, and suddenly lower prices have not appeared to slow the effort all that much.
Oil can be produced far more cheaply in the Permian basin, particularly in the Delaware (not in Delaware) sub-basin. Of U.S. rigs in operation, 315 are in the Permian. How far can these producers push it? How far are they willing to go in order to put the whammy on the competition? Wasn't it just a year or two ago that we were asking the same questions about the Saudis? Funny thing it is, when the worm turns.
Infestation
Beware of our central bankers, gang. They're all over the place this week, like a plague of locusts. There were two speakers out and about yesterday. There are four that I am aware of today. There are nine events that I am tracking, spread over the rest of the week -- and that's not even counting television.
Yesterday, Chicago Fed President Charles Evans, the former perma-dove who turned hawkish with most of the FOMC this year, spoke openly about the trajectory of monetary policy for the rest of the year. Evans indicated that he sees three rate hikes for the year, but that two to four were a possibility. Great try, Charles. Thanks for coming out. Remember, nobody leaves here a loser, and there's a prize at the door for every contestant. He did say that to see four hikes, he would have to see much more inflation than we currently see. What a hero.
Here's a suggestion for our mighty central bankers when asked about monetary policy. Tell the public that you would like to normalize policy, but you are not yet seeing the kind of growth that you need to see in order to stay aggressive. Tell us that if the new administration's agenda succeeds in kick-starting growth and inflation, that you will act accordingly, but will err on the side of caution so as to not force a recession. Hmmm. Let us know what your plans are to manage the balance sheet, and what will likely trigger that management. If you are at a loss, be honest. Don't opine on rate hikes going forward over an extended time. Those predictions have never been accurate, and only make you look even more foolish. Just behave responsibly, and for crying out loud... Speak less. Listen more.
Macro
08:30 - Goods Trade Balance (February):Expecting $-66.7B, January $-69.2B. This number surprised to the downside in January, which had a negative impact on first-quarter GDP expectations. Traders don't usually watch this item all that closely, but given how close GDP expectations are running to zero, they just might today. If expectations for growth go any lower, the Fed's entire trajectory for monetary policy expectations will also come into question.
08:30 - Wholesale Inventories (February-adv):Expecting 0.2%, January -0.2% m/m. The expectation is that wholesale inventories will show some bounce for February. Inventories at this level, which had been the source of what strength there has been in headline business inventory building, collapsed in January, and that data point had to be carried into headline expansion by the retailers of all industries.
08:55 - Redbook (Weekly):Last Week 1.2% y/y. This measure of chain store sales has actually been growing nicely on a year over year basis since early February, yet consistently contracts when measured on a monthly basis. We continue to look for 1%-plus growth here.
09:00 - Case-Shiller HPI (January):Expecting 5.7%, December 5.6% y/y. Growth in home prices, as measured by this -- the more highly focused-upon of our HPIs -- managed to gap higher in December, showing the kind of year-over-year unadjusted growth that was customary earlier in 2016. The gains are still regional, with the northeast still largely left behind, but overall, the higher prices are encouraging.
10:00 - Consumer Confidence (March):Expecting 113.8, February 114.8. the Conference Board's survey for Consumer Confidence printed at it's -- including questions covering current, and future, prospects for employment, which had been a bit of a laggard. A slight tempering of the public's enthusiasm is expected for March.
10:00 - Richmond Fed Manufacturing Index (March):Expecting 16, February 17. Richmond is expected to complete another manufacturing sweep for the five major Federal Reserve districts that release manufacturing surveys. Assuming that Richmond can throw up a number greater than zero, this will be the fifth consecutive month that New York, Philadelphia, Kansas City, Dallas, and Richmond all display headline expansion, giving further evidence to the fact that the manufacturing base in this country has, at least for now, found a bottom.
12:45 - Fed Speaker:Kansas City Fed Pres. Esther George will speak on the economy, and monetary policy today from Midwest City, Oklahoma. George does that not vote this year, but is well known as an inflation hawk. I would expect that now the committee has moved her way, she will not be changing her tune. The audience will be given a chance to ask questions at the conclusion of this event.
12:50 - Fed Speaker:Federal Reserve Chair Janet Yellen is set to speak from Washington, D.C. on workforce development in low-income communities. Obviously, though monetary policy is not central to this speech, given Yellen's place at the central bank, this event has the potential to change the direction of today's trade.
13:00 - Fed Speaker:Dallas Fed Pres. Robert Kaplan, who is a voting member of the FOMC, will speak for the second time this week. The increasingly hawkish Kaplan will take part in a discussion on foreign relations (kind of odd) from Dallas, and will answer questions from the audience.
14:30 - Fed Speaker:Federal Reserve Board Gov. Jerome Powell, a permanent voting member of the FOMC, will speak from Morgantown, West Virginia. Powell is expected to give a history lesson on central banking in the U.S. and explain how that central bank is structured. It is likely that he steers clear of policy in this speech.
Sarge's Trading Levels
These are my levels to watch today for where I think that the S&P 500, and the Russell 2000 might either pause or turn:
SPX: 2359, 2351, 2344, 2336, 2327, 2321
RUT: 1371, 1364, 1358, 1349, 1341, 1335
Tuesday's Earnings Highlights (Consensus EPS Expectations)
Before the Opening: (CCL) - Get Report (0.23), (DRI) - Get Report (1.28), (MKC) - Get Report (0.74)
After the Close: (PLAY) - Get Report (0.59), (SONC) (0.15)
At the time of publication, Guilfoyle had no positions in the stocks mentioned.