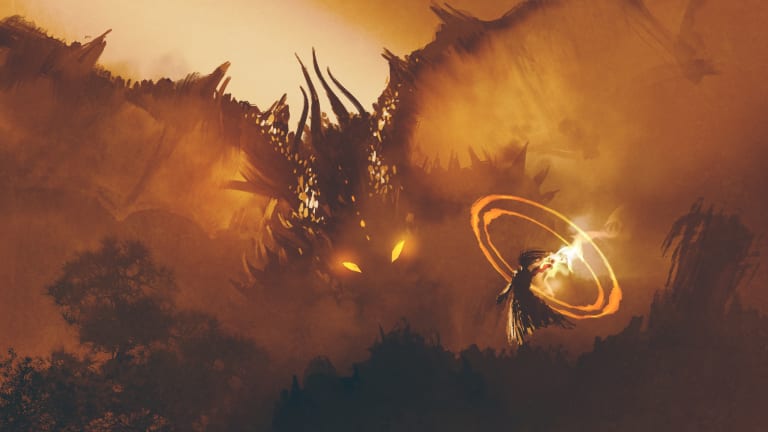 Amazon Could Rip the Face Off People Holding Retail Stocks, Again: Market Recon
Is traditional retail absurdly cheap here, or simply a baited hook?
Prime Directive: a guiding principle of the United Federation of Planets prohibiting the protagonists from interfering with the internal development of alien civilizations. -- Star Trek
Not That Prime Directive
Happy Amazon Prime Day! You probably witnessed the Tech sector lead the markets yesterday. If you did, then you probably also witnessed multi-line retailers get their faces ripped off across the industry as well. Yesterday's catalyst? Amazon (AMZN) , the tech retailer, of course. Perhaps it was the fact that many shoppers had waited for Prime Day to make purchases that they knew they needed to make. Perhaps it was the news that Abercrombie & Fitch (ANF) will not be selling itself. Could they, even? If not, what's behind door number one and door number two? Perhaps the fear was behind door number three. News broke that Amazon will be directly competing with the likes of Best Buy's (BBY) Geek Squad installation and repair services. Ouch.
So, on a day when as a sector consumer discretionary stocks squeezed out small gains, ANF was surrendering 20%, and BBY 6%. Macy's (M) , Kohl's (KSS) , Walmart (WMT) , Foot Locker (FL) , Nordstrom (JWN) and  TJ Maxx (TJX) -- a stock in the Action Alerts PLUS portfolio, which Cramer co-manages as a charitable trust -- and a host of other retail names all gave up multiple percentage points.
Who's afraid of the big, bad wolf? Oh, I think we know who. Since May 2015 -- which, by the way, is not so long ago -- total enterprise value of the top 20 retailers has dropped from $1.1 trillion to $870 billion, according to FactSet. Total enterprise value, for those curious, combines market cap and a firm's net debt. That data was compiled prior to yesterday's blood-letting, too. Where does this all go? Is traditional retail absurdly cheap here, or simply a baited hook?
Prime Day serves to attract more potential customers to plunk down the $99 for an annual subscription. Each new customer represents gained market share for Amazon, and permanently lost revenue for bricks-and-mortar retail. How many of these names simply disappear? Many of these names, despite obvious value and for the time being at least, dependable dividends have to be considered speculative investments at this point. Now, gang, Prime Day extends into new markets such as China and India. Should Alibaba (BABA) start to worry? There will be blood.
Trap, Crackle & Pop
Though the name may be off of most your collective radars at this point, I though it interesting that Credit Suisse analysts lowered their price target for Snap Inc (SNAP) yesterday from $30 to $25, citing concerns over user growth and the coming end to the restricted period allowing insiders to sell the shares. The stock closed at $16.99 last night, down 1.1% on the day and one penny below the IPO price back in March, meaning that if at any point since the issue went public you bought the shares in the secondary market, did nothing to lower your cost-basis and still own those shares, then you went home in the red last night.
Blue Apron (APRN) ? Yeah, that cute little guy went to market at $10 less than two weeks ago. Keep in mind that three weeks ago, this crew still thought that they were going to get $15 to $17 for these shares. Yesterday, these shares had to rally to close at $8.14, but as Jim Cramer has told you, costs are rising faster than sales. Market cap? Wrong way on a one-way street.
For comparison's sake, the S&P 500 is up a crisp 8.4% year to date. According to Dealogic, 2017 tech IPOs in aggregate are up 19%, while 2017 listed IPOs in general are up 11%, so this performance is company-specific.
Armored Pinata
In other news, Saudi Aramco chief executive Armin Nasser warned of -- surprise, surprise -- an oil shortage thanks to reduced investment in exploration and development projects. Poor, poor Armin. Only a few hours after making that announcement, the EIA (Energy Information Agency) made their own announcement. The EIA suggests that global investment in oil and gas is likely to rise a tad for full year 2017 thanks to a 53% increase in investment by U.S. shale producers alone. Oh, well. Nice try, anyway. How many whacks can a pinata take before it gives up the candy, anyway?
Macro
06:00 - NFIB Small Business Optimism Index (June):Actual 103.6, May 104.5. While small business optimism obviously remains strong, there are a couple of weakening components within this report. Most alarmingly, both current inventories and plans to build inventories weakened dramatically. On top of that, both earnings trends and plans to expand softened from where they were. These two items are in areas that could snowball if policy items like tax reform are not enacted at some point this year. Keep your eyes on the evolution of this survey.
08:55 - Redbook (Weekly):Last Week 2.7% y/y. This item has definitely trended higher on a year-over-year basis for some time now. Still, I'll feel better when we see a number that starts with a 3, and then another. That's when we'll know that we are finally in different ballpark.
10:00 - JOLTS (May):Expecting 5.965 million, April 6.044 million. This particular item is not very closely watched by traders, partially because it comes with a time lag and partially because it does not actually predict hiring trends. Economists do watch these numbers, though. Many wonder why openings are racing ahead of payrolls. It can really only be one of two factors. Either there is a serious skills gap between what is required and what is possessed, or firms are holding off on actually hiring for open positions due to uncertainty regarding forward looking policy.
10:00 - Wholesale Inventories (May):Flashed 0.3% m/m. This item is rebounding off an especially nasty April, which saw a -0.5% m/m print in this space. This is one major component of the headline level business inventories that will be released by the Census Bureau on Friday, alongside information on consumer level inflation, industrial production, and retail sales.
12:30 - Fed Speaker:Federal Reserve Gov. Lael Brainard is set to speak on the normalization of the Fed's balance sheet from New York City. Brainard, who as a governor does vote on policy, softened her hawkish stance somewhat last month in the face of weak consumer levels inflation. Keep in mind that Brainard was considered by most to be the most dovish member of the committee until this year.
13:20 - Fed Speaker:Minneapolis Fed Pres. Neel Kashkari is expected to speak on the economy in general from Minneapolis. Kashkari, a voting member of the FOMC this year, has regularly been the lone dissenter versus the Fed's decisions to raise the fed funds rate. There will be time allotted for questions from the audience at this event.
Sarge's Trading Levels
These are my levels to watch today for where I think that the S&P 500, and the Russell 2000 might either pause or turn.
SPX: 2449, 2442, 2434, 2427, 2420, 2412
RUT: 1427, 1419, 1413, 1405, 1398, 1390
Today's Earnings Highlights (Consensus EPS Expectations)
Before the Open: (PEP) ($1.40)
After the Close: (AIR) ($0.43), (HCSG) ($0.29)
What's Hot On TheStreet
Watch out, Apple: Louis Vuitton Tuesday unveiled its first smartwatch coined the Tambour Horizon in a bid to cut into Apple Inc's (AAPL) hold on the wearables market, TheStreet reports.
The watch was made in conjunction with Alphabet's (GOOGL) Google and Qualcomm Technology (QCOM) and starts at a lofty $2,450. It works with both Apple and Android devices, and is the first Android Wear smartwatch that functions in China.
Yes, it's Amazon Prime Day: Although many probably have Amazon (AMZN) Prime Day fatigue right now, that doesn't mean they won't be spending aggressively on big digital deals. Amazon stands to ring up more than $2 billion in sales worldwide during the 30-hour sale known as Prime Day, Internet Retailer predicts. The gain would mark about a 21% increase from a year ago. U.S. sales alone are pegged at $1.56 billion, up 20% from last year, TheStreet reports.
Bitcoin has crashed: Traders that have rode the wave higher in Bitcoin via cryptocurrency plays such as Advanced Micro Devices (AMD) and Nvidia (NVDA) may want to reconsider their bullishness. Bitcoin prices entered into bear market territory Tuesday, TheStreet reports, as an embarrassing legal case kicked off in Japan and experts continue to squabble over key changes to the cryptocurrency's infrastructure.
Bye-bye regulations: President Trump late Monday nominated former Treasury official Randal Quarles as the Federal Reserve's top bank supervisor. As TheStreet's Ron Orol reports, the nomination could lead the way to a dismantling of many Obama Administration bank regulations and is one that is expected to send a positive signal for now to big and regional bank stocks. Orol points out that the appointment could boost bank stocks such as Bank of America (BAC) , Wells Fargo (WFC) , Citigroup (C) and Goldman Sachs (GS) in the near-term.
TJX Companies, Alphabet, Apple and PepsiCo are holdings in Jim Cramer's Action Alerts PLUS Charitable Trust Portfolio. Want to be alerted before Cramer buys or sells TJX, GOOGL, AAPL and PEP? Learn more now.
Visit here for the latest business headlines.
Get Morning Recon delivered directly to your inbox each market day. Click here to sign up for e-mail delivery of Stephen "Sarge" Guilfoyle's Morning Recon, Jim Cramer's Daily Booyah! or other great free newsletters from TheStreet.
Eat, Drink and Talk Money with Jim Cramer
Meet Jim Cramer at an exclusive reception at his Bar San Miguel in Brooklyn, N.Y., on Tuesday, July 25, from 6:30 p.m. To 9 p.m.
The evening will start with a screening of Jim's CNBC show Mad Money. Afterwards, Jim will join the party fresh off of the CNBC set to mingle, take photos and answer your investing questions.
Tickets include dinner, drinks and an autographed copy of Jim's book Get Rich Carefully.
Click here for more information or to buy tickets.
Where: Bar San Miguel, 307 Smith St., Brooklyn, N.Y.
When: Tuesday, July 25, 6:30 p.m. to 9 p.m.
Cost: $395 per person
At the time of publication, Stephen Guilfoyle was long Koho's and Walmart, although positions may change at any time.