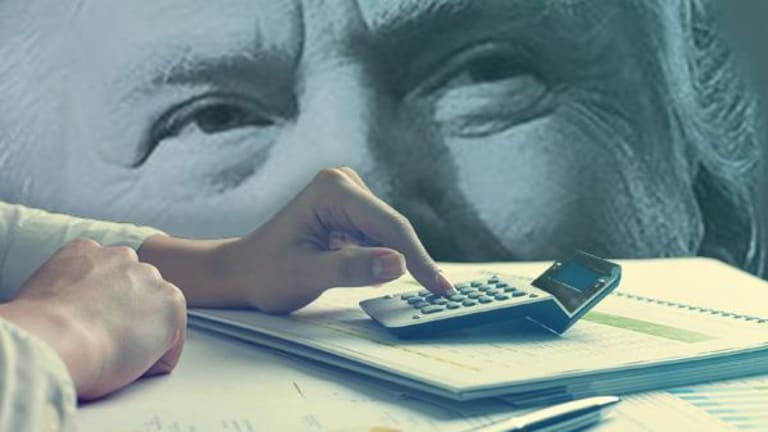 Market Recon: 'Phenomenal' Tax Cuts Promise Lights Fire Under Market
Love this president? Hate this president? When it comes to making money, we remove all things political.
"There is no art which one government sooner learns of another than that of draining money from the pockets of the people." -- Adam Smith, The Wealth of Nations
Did Somebody Say "Tax Cuts"?
The dictionary defines anything phenomenal as "highly extraordinary, or exceptional". President Donald J. Trump met with airline executives yesterday, and airline stocks "soared". That could have been somewhat expected. What was most definitely not expected was the president's reference to his coming tax plan, a plan that he referred to as "phenomenal". As a bonus, we were told that the plan should arrive within three weeks or so. That was all markets needed. Off to the races went the financial sector. Banks, capital markets, and consumer finance all took off on the comments. In fact, the whole equity market found its way to record highs. The whole market, that is, with the exception of utility stocks. Bonds did not act so well. Neither did the bond proxies, as those whose values are at least partially derived from their dividend yields react poorly when yields rise on U.S. Treasuries. That's competition.
The president's economic agenda rests upon several pillars to provide overall growth, including some deregulation (some bumps in the road), and repatriation of foreign funds (providing for tax revenue that will help fund any fiscal spending on infrastructure and defense, also slow). It's those across-the-board tax cuts that everyone has been waiting to hear more on -- everyone from corporate leaders, to small business owners, to average Americans. The word phenomenal, and the implication of nearly imminent movement, were exactly what investors were looking for.
Grow Up
Love this president? Hate this president? When it comes to making money, we remove all things political. Your inner mercenary knows that this agenda has been, and continues to be, tradable. Consuming mass quantities of financial media every day, I hear a great deal from my "professional" colleagues about high levels of uncertainty. Sorry, I just don't remember anything resembling certainty. Can't handle the uncertainty? Grow up, or get out. The market has never been for the faint of heart. You have clearly defined intent on economic, fiscal, and monetary policies. Every party involved has told you what they are trying to do. Maybe you figure out what you are trying to do. Should we spot you the day's closing prices as well?
Play Nice
The president will meet today with Japanese Prime Minister Shinzo Abe. A joint press conference is planned for 13:00 ET. This event will at the very least cause some volatility in currency markets; the yen softened last night, allowing the Nikkei 225 to run almost 2.5%. How this impacts this meeting will be very interesting. The U.S. remains committed to its alliance with Japan, as that nation remains critical to geo-political stability in the region. On the Japanese side, the U.S. is their number one customer in terms of exports, and largely their big brother in terms of defense.
I don't see any serious rocking of the boat from that side. Abe needs to try to protect a nearly $60 billion bilateral trade surplus with the U.S., while not having to spend an enormous percentage of GDP on national defense. The two will spend the weekend at the president's vacation home in Florida, so this afternoon's Q&A with the press will not be the last snippet of news coming from this corner in the immediate future. Likely, I think that Abe makes some kind of vague promise to allow the yen to appreciate vs. the dollar, and allows for Japan to assume a greater share of the defense costs. Japanese firms already hire U.S. workers on U.S. soil in dome pretty serious size, so I don't know how much the U.S. president can push for in that space.
Macro
08:30 - Import Prices (January):Expecting 0.3%, December 0.4% m/m.
08:30 - Export Prices (January):Expecting 0.1%, December 0.3% m/m. Import prices are expected to have outpaced export prices again in January, as they did in December. Originally meant as a measure of cross-border demand, this series has devolved into a measure of fuel prices vs. agriculture prices. As of December, fuel imports had seen a 25% year-over-year increase in price. That measures up poorly against a year-over-year decrease of 0.5% for agricultural exports. Excluding those two main components leave us core prices that show imports at -0.1% y/y and +1.3 y/y for exports. That disparity could have more to do with currency exchange rates than anything else. Though highly interesting, do not look for these numbers to move equity index futures at the time of their release.
10:00 - University of Michigan Consumer Sentiment (February-pre):Expecting 98.1, January 98.5. Consumer sentiment has improved for three months in a row since the U.S. election. According to this survey, American consumers were more optimistic in January than at any time since January 2004. That's 13 years, gang. At these high levels, the likelihood of a continuing increase clearly abates somewhat, and it will be interesting to see just how much erosion there might be. Consumer based surveys can be market movers, so keep your helmets on.
13:00 - Baker Hughes Rig Count (Weekly):Last Week total 729, oil 583. The last three weekly reports in this series have shown a surge in producing oil rigs all the way from 522 to that 583 count that you see above. Would I be surprised to see the rig count continue climbing like this? I would be surprised if it did not, given the modern profitability in parts of the U.S. business, and the stubborn support for WTI crude above the $50 level. On top of that, rising U.S. supplies do not seem to be a factor in pricing at this time.
14:00 - Federal Budget Statement (January):Expecting $38 billion, December $-27.5 billion. Over the last four years, January has been kind to the U.S. budget. Twice over that span, the government has run a monthly surplus, and twice a smallish deficit. You'd have to go as far back as 2012 to find a truly ugly January. The expectation, if realized, would be the largest monthly surplus in this space since February. Your trading session will not feel immediate impact from this data-point.
Sarge's Trading Levels
These are my levels to watch today for where I think that the S&P 500, and the Russell 2000 might either pause or turn.
SPX: 2328, 2317, 2311, 2299, 2294, 2283
RUT: 1394, 1388, 1378, 1371, 1362, 1355
Friday's Earnings Highlights (Consensus EPS Expectations)
Before the Open: (AXL) ($0.67), (AON) ($2.49), (CPN) (-$0.12), (IPG) ($0.67), (VTR) ($0.44)
After the Close: (KNL) ($0.44)
At the time of publication, Stephen Guilfoyle had no positions in the stocks mentioned.