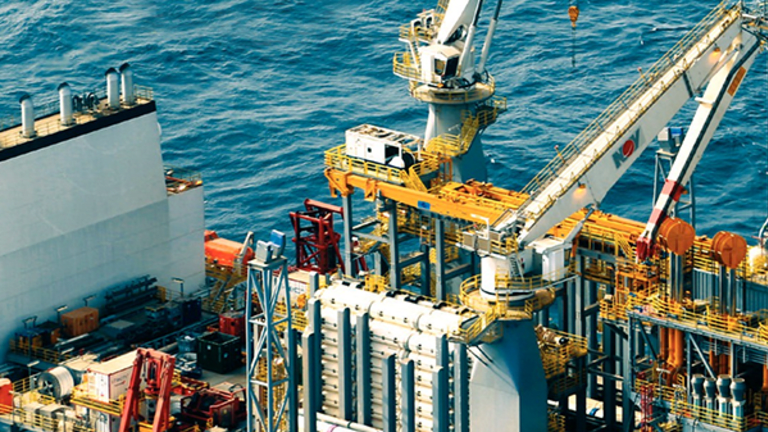 Market Recon: Oil Prices and the Fed Are the Market's Guides Today
U.S. oil producers are becoming more important in any calculation about oil prices.
"You will never do anything in this world without courage. It is the greatest quality of the mind next to honor." -- Aristotle
OPEC Song and Dance
Crude prices are all over the place this morning. As OPEC oil ministers took a break from their duties in Vienna, several of them, notably representatives for Saudi Arabia, Kuwait, Iraq, and Iran, spoke to the press. In a few minutes' time, WTI had traded from $52 down to nearly $50.50, and then back up close to $51. As the morning develops, you can expect crude to continue to trade with an edge, and at least for now, for the broader equity index futures to be volatile as well.
According to the representatives of the nations involved in these negotiations, at least the ones that did speak to the media this morning, most seem just fine extending last year's production cuts for anywhere from six to twelve months. Any rising disagreement apparently seems to stem from the idea of increasing the size of the already existent cuts, and just how long it will take for oil markets to "re-balance". There will be an announcement at some point today (the latest reports are that OPEC agreed to extend the existing cuts by nine months). Whether or not this announcement sparks a "sell the news" event is what we, as traders need to figure out.
The Saudi Story
Saudi Arabia seems to be the most eager to extend these cuts in production. The Saudis have been the drivers behind extending this united move to force up crude pricing. They are the cheerleaders -- and why wouldn't they be? The deal there is the planned Saudi Aramco IPO. Those forward-looking plans have the Saudi government taking as a much as 5% of their state-owned oil company public sometime in early 2018. Hopes are that this 5% stake could be valued at as much $2 trillion (dreaming). That lofty valuation will be dependent upon the market price of oil, and the market price of oil is precisely why the Saudis need to raise money. Their plan is to transform their economy so that it is less reliant upon this single commodity, and they are willing to sell some of that risk to you. How nice. Ahh, the circle of life.
The U.S. Story
U.S. oil production is expected to approach 10 million barrels a day in 2018. That number currently is running at close to 9.3 million. Last November, the OPEC cartel and their pals agreed to cut oil production by 1.8 million barrels a day. Since then, American production is up 750,000 barrels a day. Other non-participating players have also increased production. Yes, OPEC is balancing this market, but with this rising production from within the U.S., particularly from the Permian basin, this process is proving to be long and painful.
What gives? Drillers in the Permian have refined and improved the hydraulic fracturing process. It really is that simple. Production costs have gone lower. The more that rivals -- and that is what OPEC represents to this Permian crowd -- cut back on production, U.S. producers only see opportunity to take market share. They have, and they will. Most victims never see the shark that hits them until they have been hit.
Depending on where in the U.S. the oil is being dragged from deep in planet earth, the breakeven point is seen as anywhere from a low of $35 a barrel to somewhere in the mid-$50s. Compare that to the Middle East, where entire economies have been built upon the expectation of advantage. Advantage? Yes, the advantage afforded a group monopoly in this space. Well, gang, all of that reliant government infrastructure take breakeven points up to levels in the $90s per barrel. Good luck with that, fellas. Sounds to me like you've got a problem.
Just a Minute
What did we learn from yesterday's Fed Minutes? We already knew that the committee felt driven to take the fed funds rate one step higher on June 14. The probability of that hike, as displayed on the CME's website, now stands at 83%. We did learn a bit more about how this group plans to go about managing their massive balance sheet.
Of course the plan is vague, and there's no mention of what will actually trigger it's initiation. That said, the FOMC, it appears, would like to gradually reduce the balance sheet by introducing a series of increasing caps on the dollar amount of securities that would be permitted to run off each month. Understand? Okay, what this means to you is that only the amount of repayments that exceeds these caps will be reinvested. Got it now? Baby steps. These caps will be increased over time until said caps reach a monthly level where the Fed is comfortable.
Remember, these guys live behind textbooks. Their comfort level and yours may not be the same thing. Then the program will run uninterrupted until the size of the balance sheet reaches some magical level that our policy makers will consider "normalized". The truth is that whatever "normalized" is, probably is not what anyone older than 25 would ever consider normal.
Sounds groovy. Markets apparently liked it yesterday. Stocks moved higher. Interestingly, bonds moved higher as well, and the strongest sectors within the equity market came from what are known as "bond proxies".
My take: In theory, increasing the fed funds rate while reducing reinvestment in Treasuries and mortgage-backed securities should place upward pressure on yields (interest rates). That, however, was not the market's original verdict. That's fine with me; I'm primarily an equities guy. Part of the market's reaction may be rooted in the weaker macro that we've seen of late. Perhaps the markets do not trust that the Fed will show an ability to carry on with policy beyond a June rate hike. You'll note that the financial sector, particularly the banks, again underperformed the broader marketplace in response to this news. The bottom line here is simple. One question. Do you trust the Fed to pull this off? Cubs fans have reason to believe that anything can happen. The rest of us remain skeptical.
Macro
08:30 - Initial Jobless Claims (Weekly):Expecting 238,000, Last Week 232,000. From both a market and macro perspective, this is the one with the least potential to move the marketplace, given that the other two tend to budge GDP. The entire range of opinion on this one today spans just 5000, from 235,000 to 240,000. 
08:30 - Goods Trade Balance (April):Expecting $-64.7 billion, March $-64.8 billion. The deficit in the trade of goods has printed smaller than expected for two straight months. This ended a four-month streak of greater than expected deficits in the same space. Does it matter? Well, yes. The markets will not react to this number today, but second-quarter GDP expectations most certainly will, and there will likely be significant policy decisions reliant upon seeing an improvement in second-quarter growth over what we saw in the first quarter.
08:30 - Wholesale Inventories (April-adv):Expecting 0.2%, March final 0.0% m/m. This item, which is a significant component of the headline level data-point known as business inventories, printed flat in march after very decent growth in February. Inventories, of course, also impact GDP expectations. The Atlanta Fed is scheduled to revise its expectations for second-quarter GDP on Friday after April durable goods orders hit the tape. Currently, that projection stands at a surprisingly robust 4.1% annualized.
10:00 - Fed Speaker:Federal Reserve Gov. Lael Brainard is set to speak from Washington, DC. This is her second public appearance of the week. Earlier this week, Brainard wondered aloud whether or not the U.S. economy was operating at full employment. Let me help her out a bit. When the participation rate, and capacity utilization both run three to four percentage points below what was normal prior to 2009, then the economy is not quite there yet. That said, nice try. Thanks for coming in today.
10:30 - Natural Gas Inventories (Weekly):Expecting +65 billion, Last Week +68 billion cubic feet. This series appears headed for an eighth consecutive weekly increase. Though well off the May highs, Nat Gas has repeatedly found support in the high $3.20s all month. A break below $3.25 could allow this commodity to approach $3.15.
11:00 - Kansas City Fed Manufacturing Index (May): April 12. After disappointments that were dished out regionally by the New York and Richmond Federal Reserve districts, this release, and next Tuesday's numbers out of Dallas, will take on greater significance prior to May's ISM prints.
22:00 - Fed Speaker:St. Louis Fed Pres. James Bullard will be in Tokyo, Japan, to discuss the U.S. economy and monetary policy. Bullard does not vote on policy this year, but that has never stopped him from making a lot of noise. Most recently, last Friday, Bullard led the charge from the dovish side calling the Fed's expected path for interest rate hikes "too aggressive".
Sarge's Trading Levels
These are my levels to watch today for where I think that the S&P 500, and the Russell 2000 might either pause or turn.
SPX: 2425, 2414, 2405, 2397, 2387, 2378
RUT: 1399, 1392, 1386, 1380, 1372, 1367
Today's Earnings Highlights (Consensus EPS Expectations)
Before the Open: (ANF) (-$0.71), (BBY) ($0.40), (BURL) (#$0.70), (DLTR) ($1.00), (GCO) ($0.37), (HRL) ($0.40), (MDT) ($1.31), (SHLD) (-$0.72), (SIG) ($1.68), (TD) ($1.24)
After the Close: (COST) ($1.31), (GME) ($0.50), (TDW) (-$1.30), (ULTA) ($1.82)
____________
Meet the Millennial Media Moguls
Planning to be in New York on Tuesday, June 13? You're invited to join us for an evening of cocktails and conversation with three dynamic young CEOs whose companies have found big news audiences and good markets. How have they done it? What have they learned? Meet Chris Altchek, CEO and co-founder of Mic; Shafqat Islam, co-founder and CEO of NewsCred; and Kathryn Minshew, the CEO and co-founder of TheMuse. Our panel discussion will be led by Ken Doctor, media analyst and columnist for TheStreet. The event, from 6 to 8 p.m. is free, but space is limited and reservations are required. Please click here to RSVP and get more information.
Read More Trending Articles:
25 Wealthiest States: What They Export, Whom They Employ
At the time of publication, Stephen Guilfoyle had no positions in the stocks mentioned.