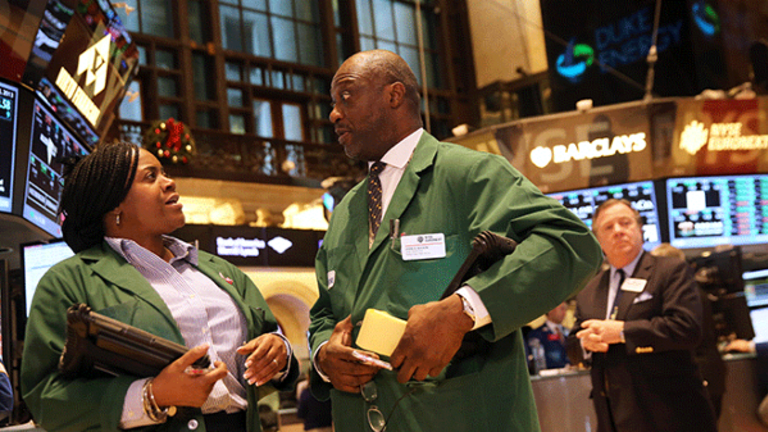 Market Recon: Most Unusually, We're Seeing Safe Haven Investing
Stocks continue to go higher, but look at the sectors that have taken top honors.
What exactly is a safe haven? Common sense tells one that a safe haven is an investment that is expected to retain its value in times of market turbulence. Is it different this time? Is the worm about to turn? Or maybe a rally just broadens.
Safe Haven
Traders are seeing and sending mixed signals. On one hand, there's an equity market that appears to just not quit. Day after day, record close after record close. Just look not only at the last hour of trade of Friday, but the last minute, when the string of market victories was in serious jeopardy. The algorithms were hungry. Still hungry. The nature of the beast has changed, though. The utility sector was easily the best performing sector within the S&P 500 on Friday. Second and third place went to telecom and real estate. That was not just for the day, either. Those three sectors also took top honors for the week. What does that represent to me? Safe haven investing, that's what, while stocks continue to go higher. Most unusual.
Another thing. Over the last month, the financial sector is still outperforming the S&P 500, so it's not like traders took their most obvious profits to get into these safer vehicles. Some money came out of energy, but that doesn't account for all of this. FYI, the Utilities SPDR ETF (XLU) - Get Utilities Select Sector SPDR Fund Report is up 6.6% over the last month, and only one its components, SCANA Corp. (SCG) is in the red over that time. Meanwhile, three components, Nextera Energy (NEE) - Get NextEra Energy, Inc. Report , Edison International (EIX) - Get Edison International Report , and First Energy (FE) - Get FirstEnergy Corp. Report are all up more than 9% over the same time period.
It's not just those sectors that we refer to as "bond proxies", either. U.S. Treasuries are hot, as are their corporate counterparts. The yield on U.S. 10-year paper has recently threatened 2.3% resistance, competing with levels not seen since December 2015, and after that particular bond yielded more than 2.6% just two months ago. Looks to me like somebody either doesn't trust the Fed, despite all of the "March is on the table" rhetoric, or they don't trust the reflation trade, despite an economy that is showing evidence of improvement ahead of the new administration's agenda -- an agenda that is still stuck in the hopes and dreams phase. By the way, the gold trade has also been a significant benefactor of this push into safe havens. (Gold is up about $20 from the Feb. 9 edition of Market Recon that raised our sample allocation for that space from 6% to 7.5%.)
Generally Good News
Maybe the markets don't really need the President's agenda to happen right here, right now, as long as investors believe that we'll get there. Earnings are on the markets' side, and that ball started rolling before the change in leadership even became believable. Earnings Season is now in its final throws. You will still hear from a few retailers this week. As we stand, the S&P 500 is running at a 74% beat rate for EPS and revenue beat rate of 53%. Not spectacular beat rates, but still in line with what we've seen over the better part of a decade. This was largely without the benefit of greatly reduced expectations across a broad swath as well. Profits grew again. Plain and simple. The macro is better, and there seems to be a bid under every asset class -- for now.
Sticks and Stones
"They" say that words will never hurt you. Well, when "they" invented that little adage, "they" weren't thinking about Fed speak, or the president's sort of almost "State of the Union" address. Tomorrow alone, three of this week's 10 scheduled public appearances by Fed officials take place ahead of that presidential speech. On top of that, from a macro perspective, we'll likely see a revision to fourth quarter GDP that puts that quarter above the 2% line when annualized and seasonally adjusted. Then, Wednesday morning, the Bureau of Economic Analysis will release its January PCE data, which, we all know by now, is the Fed's preferred measure for consumer level inflation. Like its CPI cousin, this item is expected to come in hot. Does that detract from the recent dovish moves in the bond market? The possibility would be that strong data here put upside pressure on Treasury yields, while giving the "Trump" stocks a positive shove. Should. That is if words don't get in the way. Oh, and speaking of those words, the Federal Reserve will put the Beige Book to the tape on Wednesday afternoon.
Macro
08:30 - Durable Goods Orders (January):Expecting 1.7%, December -0.4% m/m.
08:30 - Dur Gds Orders ex-Transportation (January):Expecting 0.5%, December 0.5% m/m.
08:30 - Dur Gds Orders ex-Defense (January):Expecting 1.6%, December 1.7% m/m.
08:30 - Core Capital Goods (January):December 0.8% m/m. A decline in military aircraft orders masked what was truly a better-looking report for December than the headline data would suggest. At the core, we saw slow and steady growth; ex-defense the month was also strong. Perhaps most important was the growth in core capital spending, a category beneath the surface that best covers business investment. It usually takes traders a few seconds to sort all of this data, but this set of stats comprise your most important numbers of the day.
10:00 - Pending Home Sales (January):Expecting 1.1%, December 1.6% m/m. The best thing about this under-followed series is that pending home sales usually do turn into existing home sales. Although there is no tight correlation with a defined lag, it does show up in trend. Pending sales had a very nice three-month run from March through May 2016. Existing sales showed a similar pop from May through July. These numbers are followed more closely by economists and the housing market than they are by the stock market.
10:30 - Dallas Fed Manufacturing Survey (February):Expecting 24, January 22.1. Dallas seems to be on a roll, printing comfortably in headline expansion in each of the three last months. Expectations are for a fourth, coming off of the strong data put up by New York, Philadelphia, and Kansas City. Richmond reports tomorrow. All five of these regional district manufacturing surveys have printed above zero in every month since October. Traders tend to watch Dallas area manufacturing as a proxy for the energy sector.
11:00 - Fed Speaker:Dallas Fed Pres. Robert Kaplan will be in Norman, Oklahoma to discuss the economy and monetary policy. Kaplan is a voting member of the FOMC. Kaplan has been outspoken about moving on rates soon, as opposed to being forced to raise rates rapidly down the road. This is the first of at least 10 Federal Reserve speaking engagements this week.
Sarge's Trading Levels
These are my levels to watch today for where I think that the S&P 500, and the Russell 2000 might either pause or turn.
SPX: 2389, 2377, 2367, 2360, 2351, 2344
RUT: 1411, 1405, 1396, 1390, 1384, 1378
Monday's Earnings Highlights (Consensus EPS Expectations)
Before the Open: (AMT) - Get American Tower Corporation Report ($1.34), (BID) - Get Sotheby's Report ($1.17)
After the Close: (HTZ) - Get Hertz Global Holdings, Inc. Report (-$0.52), (PCLN) ($14.17), (THC) - Get Tenet Healthcare Corporation Report ($0.22)
At the time of publication, Stephen Guilfoyle had no positions in the stocks mentioned.