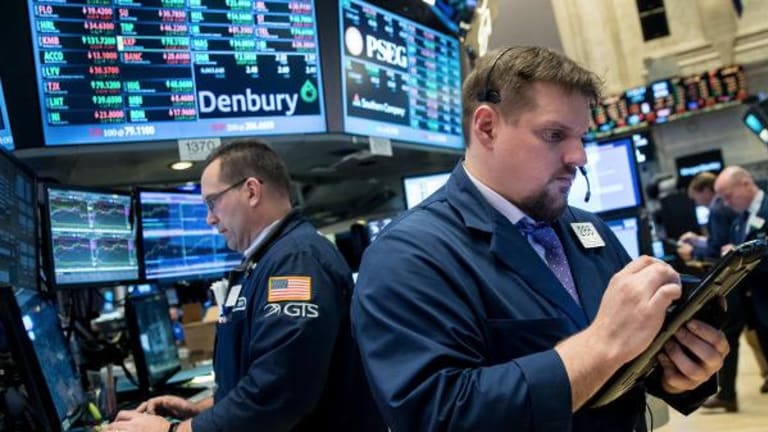 Market Recon: Look at Whether the Poor Macro Is a Blip, or a Trend
The Fed is data dependent. In the context of weak inflation and retail sales, it bears repeating.
"Diamonds are only lumps of coal that stuck at it no matter how much heat or pressure they faced." -- Jeffrey Fry
Pressure
You felt it on Thursday afternoon. I know you did. The overwhelming feeling of unease in your gut, as traders predictably took risk off at an increased rate over the last 45 minutes of trading going into a long weekend. Even though widely expected, and even with several decades of experience in such matters, the gut never finds comfort in the vibes of a risk-off market. That late push was a bit exaggerated, but the reasons behind it were, and still are, very real. The spiraling war in Syria, the "less than one week away" French elections, and the most current geo-political risk to the marketplace, which is North Korean saber rattling. They sure do have a knack for close order drill, don't they?
The markets dislike unease on the Korean peninsula very much. The S&P 500 gave up 1.1% last week in four trading sessions, most of which was indeed on Thursday. Safe-haven assets, such as gold and U.S. Treasuries have been on the receiving end of the "warm and fuzzy" treatment, as have specific sectors of the equity market that compete with bonds or would be less exposed to uncertainty, such as utilities, real estate and the staples.
Macro Beat-Down
It is true that first-quarter earnings are expected to show marked improvement, and the banks that reported last week did put up some decent numbers. Is that going to be enough? Broad markets indices have meandered lower ever since peaking about six weeks ago. Pro-growth, pro-business policy changes seem to be delayed at best, unreachable at worst, and then there's the fading U.S. macro.
In case you missed it, on Friday, March CPI missed badly, contracting at both the headline, and the core. At the same time, March retail sales, already expected to be poor, shocked to the downside, and brought a sizable downside revision to February with them. Needless to say, there were downside adjustments made to first-quarter GDP projections across the board. The Atlanta Fed is now at 0.5% for the quarter, annualized.
Need good news? China beat projections last night for first-quarter GDP, as well as March retail sales and industrial production. Oh, Huzzah.
The Fed's Plan (Uh-Oh)
But wait; the economy is improving, right? At least that's what the Fed keeps telling us. It would now appear that the Fed has been tightening policy, either into weakness, or actually causing the weakness. Was it not James Grant that called the Fed both arsonist, and fireman? Seems fitting. It appears that the Fed has been working on a plan to manage their balance sheet. Well, thanks for doing your job, gang. I did warn on national television, and in print, that the balance sheet should be addressed before tightening the benchmark even began. I know a lot of practitioners who agreed.
I understand wanting to normalize policy before the next crisis. Makes perfect sense. Maybe, just should have started working on this in 2013. Now, you're stuck in the middle of your cycle, the balance sheet is still titanic in size (though the average composition is much shorter in duration than it was a couple of years ago), and you are left hoping that economic growth and consumer level inflation re-assert themselves going forward.
The risk of pushing this economy to the brink of recession is more realistic than anyone in economics is willing to admit, if the FOMC should insist on raising the benchmark two more times this year, and then moving toward halting the reinvestment (which is actually continued quantitative easing) of maturing securities. Remember that the Treasuries purchased by the Fed are bought ex-auction, and that portion still comes to a rough 18% off all issuance. That means that should the Treasury need to continue to borrow as expected without its pal sitting there on the bid side, the supply side of the monthly auctions would have to grow by just that much.
Food for thought, gang. My thought: The Fed has to abruptly halt, or slow its plans to continue normalizing policy before we see two more hikes. We'll need to see if this shockingly weak macro is a blip, or a trend.
Oil's Well That Ends Well
You may have missed some quotes that made the oil space interesting over the weekend. Iranian Oil Minister Bijan Zanganeh said "Iran also supports such a decision (extension of production cuts by OPEC) and if others comply, so would Iran." OPEC meets on May 25, and the Saudis, and Kuwaitis seem on board with an extension to the cuts already in place.
Amin Nassar, CEO of Saudi Aramco, spoke at Columbia University. The short of what he said was that oil markets were closing on a successful rebalancing. Nassar sees rising demand, yet a lower ceiling for production capacity due to a lack of long-term investment that will leave the market in a state of shortage. Nassar was also dismissive of any idea that demand for crude could abate any time in the near, or even distant future. Is he right? Probably partially. I think demand could eventually ebb somewhat in coming decades. In the meantime, this all smells like a scared kid talking tough, and victory in Permian to me.
Macro
08:30 - Empire State Manufacturing Index (April):Expecting 15.1, March 16.4. This item, as it is every month, will be our first look at the manufacturing space for April. At the headline level, the New York region is expected to show a sixth consecutive month of expansion. The key sub-components known as New Orders, Shipments, and Unfilled Orders are what traders watch most closely in these reports. In March, the Empire State creamed across the tape with gaping improvement in all three. The market would probably react more negatively to a shocking drop in these areas than it might in the headline, which can occasionally mislead.
08:30 - NAHB Housing Market Index (April):Expecting 70, March 71. Homebuilder optimism has been very strong, as has just about every other confidence survey in our national economic universe. Broken down by region, only the northeast remains weak, as that area trails the rest of the country very badly. In fact, the northeast by itself has averaged only 48 over the last three months, and the rest of the nation steams along. Bottom line: there is strength here, but it is lumpy and probably running at such a level that it won't take much to see some cracks appear in the armor.
16:00 - TIC (February):Expecting $15.7 billion, January $6.3 billion. Net cross border investment squeezed into the plus column in January, after a net negative December. Still, the number disappointed. In fact, two of the last five months have printed in the hole, and three out of those five disappointed expectations. The January data showed Japan net adding to its overall holdings, while China was net-subtracting.
17:00 - Fed Speaker:Federal Reserve Vice Chair Stanley Fischer will speak on central banking from New York City. Fischer is a voting member of the FOMC and has been quite hawkish. His term as Vice Chair ends next year, and there is ongoing speculation regarding his future. Fischer will take questions from the audience at the conclusion of his speech.
Sarge's Trading Levels
These are my levels to watch today for where I think that the S&P 500, and the Russell 2000 might either pause or turn.
SPX: 2352, 2345, 2338, 2327, 2320, 2311
RUT: 1367, 1361, 1351, 1341, 1335, 1327
Monday's Earnings Highlights (Consensus EPS Expectations)
Before the Open: (JBHT) - Get J.B. Hunt Transport Services, Inc. Report ($0.85)
After the Close: (CE) - Get Celanese Corporation Report ($1.72), (NFLX) - Get Netflix, Inc. Report ($0.37), (UAL) - Get United Airlines Holdings, Inc. Report ($0.38).
(What will move markets this quarter and how should investors position themselves ahead of time? Jim Cramer sat down with four of TheStreet's top columnists recently to get their views. Click here to listen to his latest Trading Strategies roundtable with them and read their advice for stocks, bonds, forex and gold.)
At the time of publication, Stephen Guilfoyle had no positions in the stocks mentioned.