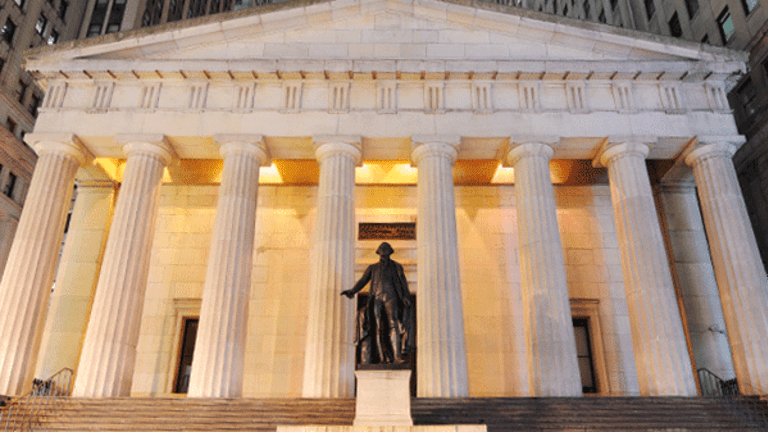 Market Recon: King Dollar and a Hawkish Fed
The likelihood of another increase sometime in the first quarter of 2017 is very real. Here's how to win in this environment.
"Change is inevitable -- except from a vending machine."
--Robert C. Gallagher
Iceberg
The Dow Jones Industrial Average gave up 118 points yesterday. The beating was slightly more severe across the broader market, and most especially for the small-caps. It does all seem akin to throwing a deck chair off of the Titanic in order to reduce drag, as far as I am concerned. This could, in fact, end up being a turning point, but it does make sense that equity markets would at least digest the massive moves made since election day.
Charts do not move in just one direction, and this can only be seen as healthy. That said, there will still likely remain a certain percentage of supply that stays out of the marketplace until 2017 due to tax implications, unless that money gets scared. Right now, that money remains very far from scared.
King Dollar
There are significant changes in our investment landscape this morning. One is the surge of the U.S. Dollar. It was not very long ago that the U.S. dollar index (DXY) had trouble holding any level above $101.50. Bruce Kamich of TheStreet'sReal Money premium service told us in early November that a trade for the DXY above $102 would likely signal the next leg up for the dollar. Well, guess what? One euro now buys you less than $1.05, and one U.S. greenback will now get you more than 118 yen for the first time since last winter. This matters.
Higher dollar valuations will at some point injure forward-looking earnings for U.S. multinationals, and will put the whammy on commodity prices. Crude is it's own animal right now, trading on headline risk, but just take a look at gold. The yellow stuff has also dialed it back to last winter.
The Ramp
The changing landscape obviously also includes interest rates. Not the Fed Funds rate, but the rates provided by the bond market. The market always has the final say on such matters, though decisions made by the FOMC can certainly be the underlying catalyst. In this case, we will look at the yield for the U.S. 10-year note. This number has ramped above 2.63% while I bang out this note. Why? Because the FOMC decided to increase the Fed Funds rate by a quarter of one point? Uhm, no.
This is directly due the FOMC's increase in the number of similar increases anticipated for 2017. That expectation moved from two to three yesterday. There will be a point where higher rates hurt the economy, and the equity markets, in general. That spot would seem to me to be somewhere between a 3.25%, and 3.5% yield for the 10-year. We are not close yet, but this has to be in your peripheral vision even if you do not trade debt products.
Ever Vigilant
Let's put this in perspective. Those at the Federal Reserve are the same bunch of "gurus" who told you that they were looking forward to four increases in 2016, and then had to go 99 yards in the last two minutes of the game to squeeze in just one.
Those at the Fed do not know. Get that through your heads. They simply do not know. Everything depends on growth, and inflation. Growth in proportion to policy makes everything better than a young mother's kiss on a toddler's scraped knee. Inflation would force the Fed to act more often.
Excel in the environment provided. Right now, there is this one hike just announced, and I would say that the likelihood of another increase sometime in 1Q is very real. Beyond that, you're still looking at the unknowns of lower corporate taxes, less regulation, repatriated money and fiscal spending. The degree to which all of these factors impact the economy, and the timing of that impact, remain unpredictable. So, therefore, is the trajectory of monetary policy. Play on the field in front of you. For now.
Macro
08:30 -- CPI (November):Expecting 0.2%///1.7%, October 0.4% m/m/// 1.6% y/y.
08:30 -- Core CPI (November):Expecting 0.2% ///2.2%, October 0.2% m/m///2.1% y/y. Consumer-level inflation is among the most important items to watch in any economy wrestling with the trajectory of forward-looking monetary policy. Those at the FOMC have chosen to follow the PCE price index, but almost everyone else follows the CPI -- and I am sure that the FOMC members look at it, too. The number to watch will be the year-over-year Core number. The volatility of energy prices, though they impact your life, disqualify the headline print from being the focused-upon print in this space. That Core print has hit the tape at 2% or more for 12 consecutive month. Expect to see a slight rebound after last month's dip, especially after yesterday's PPI prints came in hot.
08:30 -- Initial Jobless Claims (Weekly):Expecting 256,000, Last Week 258,000. After increasing over the last couple of weeks to get to what are still ultra-low levels, this item looks to return to the consistency that has become its hallmark. That is also the reason that traders do not look to this weekly release as a market mover. The four-week moving average, which is how economists look at first time Jobless Claims, now stands at 252,500.
08:30 -- Philadelphia Fed Manufacturing Index (December):Expecting 9.4, November 7.6. Philadelphia printed in headline expansion for the fourth consecutive month in November. The beauty of this report is that the strength was in New Orders... again. Philly is starting to cook with gas, as Shipments have also been consistently strong. Last month, Inventories and Pricing also joined in. This is the most important of the regional Federal Reserve district manufacturing surveys. The CPI will get the headlines over this release today, but traders will get around to looking at this data. This is close to being a "red star" item.
08:30 -- Empire State Manufacturing Survey (December):Expecting 3.4, November 1.5. The New York region barely snuck into the win column last month, supported by a sudden expansion in New Orders. There is nothing in this space without those. Inventories, Delivery Times, and Employment have all remained problems for the Empire State. This item will be overshadowed by Philadelphia.
09:45 -- Markit Manufacturing PMI Flash (December):Expecting 54.0, November final 54.1. Hidden in a sea of macroeconomic data points on a busy day, this one will slide on by with hardly a glance. On occasion, due to the fact that the ISM data does not flash, you can catch some notice with this one, but not today. Next.
10:00 -- NAHB Housing Market index (December):Expecting 63, November 63. This one is also known as the "Homebuilder Optimism Index," and it has now come in at very strong levels for three (going on four) consecutive months. That headline number is quite deceiving, however. When broken down regionally, homebuilders out west are just killing it. Those down south are also outperforming the rest of the nation, but things remain sluggish in the Midwest, and just brutal across the Northeast -- a long-term, extremely ugly kind of brutal in the northeast.
10:30 -- Natural Gas Inventories (Weekly):Expecting -85 billion, Last Week -42 billion cubic feet. We expect to see a fourth weekly draw in this space, after having snapped that 15-week streak of inventory building. The projection here is for a larger draw than was seen with any of those fifteen consecutive weekly builds. Caution: if you are trading the space, I have seen some guys looking for a draw of well over -100 billion cubic feet for this one, today. There could be some risk in this item, today.
16:00 -- TIC (October):Expecting $100 billion, September $-26.2 billion. September saw heavy selling of U.S. Treasuries, led by Chinese accounts, that in aggregate sold a net $28.1 billion worth. The expectation for today is for the largest positive cross border inflow since July. The equity pop came in November, so the likely strength here may be in government agency bonds. Then again, the forecast in this space has often had very little to do with the actual print.
Sarge's Cash Levels
SPX: 2271, 2264, 2257, 2249, 2242, 2235
RUT: 1378, 1369, 1363, 1356, 1349, 1339
Thursday's Earnings Highlights
After the Close: ADBE (0.86), JBL (0.64), ORCL (0.61)
At the time of publication, Guilfoyle had no positions in the stocks mentioned.