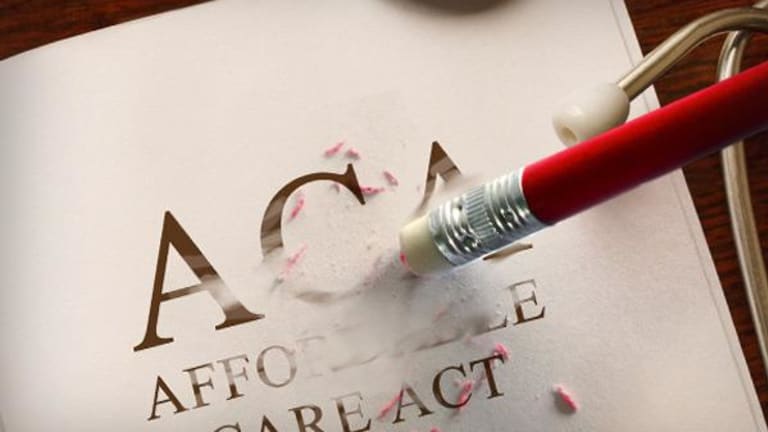 Publish date:
Market Recon: Investors Hang on Congress 'Do or Die' Vote
We know that the markets have been skating on thin ice all week.
We know that the markets have been skating on thin ice all week.
"Uncertainty is the worst of all evils until the moment when reality makes us regret uncertainty." -- Alphonse Karr
Do or Die
It would appear that the President of the United States is done. Done playing games, that is. Through budget director Mike Mulvaney, the president delivered an ultimatum to House Republicans: Either pass ACHA (Trump-Ryan Care) on Friday, or leave the ACA (Obama Care) in place and move on with the business of governing. A vote on the bill, as you all know by now, was postponed on Thursday with roughly 30 Republican legislators still in opposition. Without any kind of help from Democrats (which does not seem to be in the cards), the GOP cannot lose more than 22 of their own votes.
In order to win over resistant conservatives, negotiations were extended on removing the requirement under the ACA that all health insurance policies cover 10 specific and expensive "essential health benefits" such as maternity care and mental health care. The point being that not all folks need all services. Simultaneously, in order to win over moderates, a provision was put on the table that would leave in place at least part of Obama Care's taxes in order to help lower-income, pre-Medicare patients pay for coverage. In the original ACHA these taxes would have been retroactively repealed going back to the start of the year. It seems at first glance that, instead of drawing in conservatives and moderates, these two items only weakened the resolve of both groups.
We know that the markets have been skating on thin ice all week, and that ice even cracked a bit on Tuesday. We also know that yesterday, when news broke that this vote was being postponed, markets immediately showed some algorithmic-driven weakness. At first, reports circulated that this "do or die" vote would take place sometime between 2pm and 4pm ET today, though it now seems to make sense that the vote will be pushed out to later than that, so that at least the marketplace will be closed if lawmakers are not confident in the tally's outcome.
On That Note ...
Did anyone else notice the overwhelming strength in the German manufacturing numbers this morning and their service sector? On top of that, the French data? In fact, overall eurozone flash PMI numbers looked pretty good. Should U.S. markets continue to react, or maybe even not react to headline risk in Washington, there is a place to go with your dough. In other words, if investors think that the pro-growth, pro-business agenda is temporarily (or permanently) off the rails, there's direct competition staring the U.S. in the face. Outflows have already started, and a failure to maintain the perception that this train is still on the tracks will exacerbate this developing reality.
Slip Sliding Away
Money is already on the move, kids. Since the U.S. equity market's lofty highs only about three weeks ago, the S&P 500 has contracted 2.3%. Remember those small-caps that I kept telling you would benefit the most from a stronger dollar, and lower corporate taxes? Well, the Russell 2000 is now 4.6% lower for the month, if you need to know where confidence in the president's agenda has gone. Ever hear of EPFR? If you're in this business, you should know who they are. EPFR Global (Emerging Portfolio Fund Research) data released late yesterday showed that withdrawals from U.S. stock funds in the week ending Wednesday totaled about $9 billion. For those of you keeping score at home, this would be the largest move in that direction since last June (Brexit). It should then come as no surprise that the S&P 500 has closed lower in five of the last six sessions.
Domestically, the money has been moving into Treasuries and bond proxies, such as utilities, not to mention that old standby, gold. Should faith in the U.S. economy's ability to expand take a hit, how long can it be for the bulls to stop believing that earnings can eventually justify the high valuations currently placed on stocks? Especially when there seems to be a place to run, with a strengthening currency. We'll know a lot more in 12 hours or so, but you may not be able to react until equity index futures open on Sunday night. The good news is that baseball season is just around the corner.
The Clown Car
As a heads-up, just in case you don't read the lower half of my notes, you will be up against an absolute plethora of Fed speakers today. One by one, they will crawl out of their little cages and likely tell you how nicely the economy is coming along. Oh, they'll opine on full employment and whether three or four rate hikes are appropriate this year, even while the economy struggles to grow at all right in front of their eyes, and with not just the future trajectory of the marketplace, but faith in the entire pro-growth agenda evolving in the center ring.
I am not a dove. I do, however, like you, live in a changing environment. All those involved, especially our central bankers, have to give the impression that they understand the implications of reality-driven directional changes in policy. Without the ability to think on your feet, you are useless. If you are useless, then pipe down. Data driven? Fine, but then you are just another lagging indicator. I would simply just love to hear one or two of them act like they've been paying attention. Maybe we will. Then again, I'd love to win the lottery, and live in a chocolate castle.
Macro
08:30 - Durable Goods Orders (February):Expecting 1.2%, January 1.8% m/m.
08:30 - Ex-Transportation (February):Expecting 0.7%, January -0.2% m/m.
08:30 - Ex-Defense (February): Expecting -0.9%, January 1.5% m/m.
08:30 - Core Capital Goods (February):January -0.4% m/m. The bottoming and ensuing bounce for U.S. manufacturing is expected to finally manifest itself in the durable goods data for February. Today's headline number is expected to sport back-to-back growth of respectable month-over-month size since July and August of 2015. Unfortunately, this February print is expected to be carried by defense spending, which was not the case in January. Traders will also look for a bounce in core capital goods orders as evidence of business investment.
08:30 - Fed Speaker:San Francisco Fed Pres. John Williams is set to discuss the natural rate of interest at the Brookings Institution. Williams is not a voting member of the committee this year, but is considered influential and thought to have a place at the Fed Chair's inner circle. Williams took an extremely hawkish stance just yesterday. He indicated that depending on the data, the Fed could raise rates three or more times this year, and may even start to tackle the balance sheet toward year's end.
08:30 - Fed Speaker:Chicago Fed Pres. Charles Evans will speak at a Federal Reserve Research Conference through a pre-recorded message. Evans is a voting member of the FOMC and is on board with the current trajectory of monetary policy, despite having an extremely dovish past.
09:05 - Fed Speaker:St. Louis Fed Pres. James Bullard will speak from Memphis, Tennessee. Bullard does not vote on policy this year and has often drastically changed his mind on policy trajectory in the past. Of all the Federal Reserve speaking engagements on today's docket, I would think that this is the one that traders would have to worry about the least.
09:45 - Markit Manufacturing Flash PMI (March):Expecting 54.9, February 54.2.
09:45 - Markit Services Flash PMI (March):Expecting 53.9, February 53.8. The only thing we know for sure is that these two will not impact your day as a trader. If you are following these for some other reason, fine, but the crowd focuses on the ISM data and will not respond to these flash prints.
10:00 - Fed Speaker:New York Fed Pres. William Dudley is set to speak from Queens, NY at York College. Dudley, a permanent voting member of the FOMC, will take questions from the students. He has been on board the "three rate hike" bus all year, as far as I can tell, but has only spoken on regulation in recent weeks.
13:00 - Baker Hughes Rig Count (Weekly):Last Week total 739, oil 631. With crude seemingly persisting at sub $50 levels, North American rig counts are in decline despite a rapid increase in the U.S. It will be interesting to see what the crew in the Permian does should WTI fail to recover any time soon.
13:00 - Fed Speaker:San Francisco Fed Pres. John Williams will speak from the Brookings Institution for the second time today. This second speech is intended to cover monetary policy. This is the speech of the two that carries the most market risk.
Sarge's Trading Levels
These are my levels to watch today for where I think that the S&P 500, and the Russell 2000 might either pause or turn.
SPX: 2366, 2358, 2349, 2342, 2336, 2327
RUT: 1371, 1362, 1356, 1349, 1342, 1333
Friday's Earnings Highlight (Consensus EPS Expectations)
Before the Open: (FINL) ($0.70)
At the time of publication, Stephen Guilfoyle had no positions in the stocks mentioned.