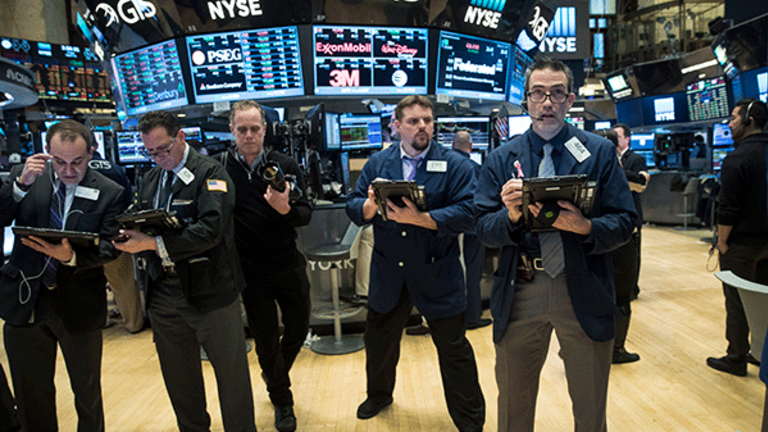 Market Recon: Illinois Reminds You of the Thin Line Between Love and Hate of Yield
If you're in a fund that invests in municipals, then you are probably in this one, as managers search for potential yield.
"If you put the federal government in charge of the Sahara Desert, in five years there'd be a shortage of sand." -- Milton Friedman
Casey Kasem
Equities moved higher on Thursday. Wow! Did they ever. The S&P 500, the Dow Jones Industrial Average, and the Nasdaq Composite all closed at record highs. All 11 sectors closed in the green, led by the financials, health care, and materials sectors, but this was broad, real broad. The "underperforming" (only for a day) tech sector still moved to the upside by almost a third of a percentage point. See the close? Heck, take a look at the S&P 500 on a one-day chart. The index pressed up against the 2417 level until it snapped, and went straight to 2426, then scraped along the underbelly of that level until that level snapped. The index closed without finding next resistance, which should appear close to 2434. If you read this note, you had those levels well before they mattered. Let's look under the hood, shall we?
1) Financials, under the gun all week (month, quarter, year), found footing as Federal Reserve Governor Jerome Powell seemed to be unmoved by recent weakness in consumer level inflation. On top of that, San Francisco Fed Pres. John Williams seemed rather confident in the U.S. economy, and spoke not of two to three rate hikes this year, but incredibly, three to four. Williams may have appeared to be outside of reality with those expectations, but financials, particularly the banks, capital markets, and consumer finance types really dig that kind of talk.
2) Energy stocks found a bid. Though sharp reductions in U.S. inventory levels allowed market prices for crude to open far higher than they closed, equities populating the space did not come off of their highs nearly as sharply. This story could change this morning, as crude futures pricing has just gone through a rough overnight session. If this is your space, you still need your helmet, and flak jacket.
3) The Small Caps. The Russell 2000 posted its best day in three months, rising 1.9%, which easily beat broader market performance. What is different about small caps is their lack of exposure abroad and their higher effective tax rates. That means that this group truly would be a Trump trade. After suffering along well below larger multi-national corporate performance all year, did small-cap investors find some reason to be positive in the president's announcement yesterday afternoon? Or was it the ADP jobs number? Either way, this group has new life.
4) Transports. Another group that has lagged the broader markets. Another group that could be called part of the Trump trade. This group could be reacting somewhat to reduced overhead (fuel costs) going forward, but is truly reliant upon the hopes for increased economic growth. Remember, when the economy grows, goods and materials move more, and so do business people. This may be a reaction to the Atlanta Fed simply revising second-quarter GDP expectations higher after the ISM number yesterday as well as the unbridled optimism of our already mentioned Fed speakers.
5) Treasury yields. This was all done without any kind of dramatic pop in yields at the long end of the curve. In fact, the spread between the two-year and the 10-year saw further compression. Though this type of action allowed for further accumulation of bond proxy-type stocks, there was no harm done to the type of stocks that usually suffer from this kind of activity. Game on. I can hardly wait for the opening bell.
Remember, I told you last week that if S&P 500 2405 were to be taken and held, we would get some lift. I don't know if the 2465 level that I gave you happens, but we are surely seeing some technical movement here.
Don't Say It
Illinois. There, I said it. The funny thing is that I just went through my entire bond portfolio (a pain in the neck) to make sure that I had little to minimal exposure to Illinois. I knew it was bad. Did not know that it was this bad. Yesterday -- in case you spend your free time watching videos of kids cracking up on skateboards and other childish drivel -- Standard & Poors, as well as Moody's, dropped Illinois to just one level removed from a "junk" rating. Many states are finding themselves unable to balance budgets due to the weight of their pension plans and other entitlements. Illinois is front and center among them.
This state is special. Illinois has not had a budget for two years, becoming the first state to go more than a year without one since the end of "the Great Depression". What does this mean to you? Well, kids... if you're in a fund that invests in municipals, then you are probably in this one, as managers search for potential yield. You may also be in Puerto Rico and some other states that may be teetering on the brink of the big ugly. Thin line between love and hate.
Now, let's be clear, Illinois is not yet "junk". This is more like a warning shot to the state's legislators to get their tails in gear and pass some kind of budget. Without one, hiring stops, new construction stops, public education slows, and the state government may have to send folks home. This could possibly end up being a greater story than the amount of coverage that is getting across the media.
Pulling Out of Paris
I don't think that there is any doubt that the Paris Accord was done poorly from a U.S. point of view. Why anyone would agree to put themselves at a competitive disadvantage and then ship money to competitors that aren't cutting back on emissions nearly as much in order to help them, is simply beyond me. The president is not wrong to want to disengage from such a deal. That said, in educating myself on the topic, I learned that not only do the countries set their own rules, the entire deal is non-binding, meaning that it's just a group hug, almost nothing more. However, each nation must submit new plans and live up to them every five years. That mean that we, the U.S., are pretty much locked in until 2020, under the guidelines set forth by President Obama.
To me, this makes yesterday's actions by the president either pointless, or a negotiation ploy of some kind. Even if the president plans for the U.S. to simply fail to live up to the former president's guideline, there is no mechanism for enforcement in this accord. The entire planet is simply on the honor system here, further illustrating just how silly the whole Paris Accord really is. Bottom line is that the Paris Accord is meaningless, and so is yesterday's move by our president.
I am not a climate change denier. I simply do not see that the Paris Accord has any power over any signatory. I also so not see why the current president had to do anything at all to accomplish his goals. For now, the president's actions yesterday mean nothing. This will not change anything that any U.S. corporation is doing, and only becomes actionable if Donald J. Trump were to be re-elected. In other news, today is "Jobs Day" and that is far more important than is this story.
Jobs Day
Thought I forgot, didn't you? Not likely. The CME Group's website is currently displaying the probability of a June rate hike at 91% as being priced in by the future markets. This is more important in the immediate term than Illinois or Paris. Probably not more than Casey Kasem, though. More on this at 08:31 ET, kids. Rock and Roll.
08:30 - Employment Situation (May)
Non-Farm Payrolls:Expecting 181,000, April 211,000. Do we ramp up expectations for this number, now that the ADP report for May hit the tape well above consensus? If you spun the wheel two months ago, you lost. For March, ADP similarly printed at 263,000 (later revised to 255,000) on an expectation of 184,000. The BLS went to the tape that Friday with nonfarm payrolls totaling only 98,000 (later revised own to 79,000) on consensus view of 174,000. I'm feeling a strong number today, but I wouldn't bet the farm. Not on this series. Not this year.
Average Hourly Earnings:Expecting 0.2% (2.6%), April 0.3% m/m (2.5% y/y). This item may have jumped 0.3% on a month-over-month basis in April, but the year-over-year comparisons have been unkind over the last few months. That is where the markets will likely focus this morning. Expectations are for a small rebound in the space, which would be fine. Another decrease in the yearly rate of increase could be taken poorly by those watching closely for inflationary pressures.
Average Workweek:Expecting 34.4, April 34.4 hours. This tertiary measure for the demand side of the labor equation moved back up to 34.4 last month from 34.3. Just so you know, for most of 2015 and 2016, this series ran between 34.5 and 34.6 hours, so as payrolls have generally moved higher over time, hours available to those working have declined. But, I guess if you pay enough attention to be reading stuff like this, you already knew that. This is also a primary reason the failure of the Phillips Curve in the modern era.
Participation Rate:Expecting 62.9%, April 62.9%. Although participation remains at historically low levels and ticked lower in April, this item is still hanging around the high end of a roughly four-year range. A second consecutive tick lower for May would put a negative pall over any optimism that might be generated by the higher profile data.
Unemployment Rate:Expecting 4.4%, April 4.4%. The headline unemployment rate has come in for three consecutive months, dropping rather dramatically from 4.8% to 4.4% over that short time. This is with a participation rate which, like I said, is better than it was. Now, of course I don't believe that the actual unemployment rate is 4.4%, but I do acknowledge that this item is rapidly improving. For comparison's sake, Gallup reported U.S. May unemployment at 5.3% (unadjusted), down from April's 5.5%.
Underemployment Rate:April 8.6%. Also known to the BLS as U-6, this item is also showing rapid improvement. The 8.6% reported in April is down from 9.4% in January, and if we take out the seasonal adjustment, the apparent decline in this rate is even more dramatic. As for Gallup, the reported 13.9% of the U.S. labor force as underemployed in May, down from April's 14.0%.
Casey Kasem? Young folks probably never heard of him. Folks my age and older know that all he did back in the day was play hit record after hit record.
Other Macro
08:30 - Balance of Trade (April):Expecting $-45.9 billion, March $-43.7 billion
08:30 - Exports (April): March $191 billion
08:30 - Imports (April):March $234.7 billion. The trade balance for April is expected to have worked its way back toward the wider end of the recent range, after last week's gap for the goods component of the trade gap came in wider than expected. This will likely be taken as a negative for second-quarter GDP projections. Speaking of such projections, the Atlanta Fed just yesterday revised their second-quarter snapshot back up to 4.0% after May's ISM manufacturing index helped more than April's collapse in Construction Spending did harm.
12:45 - Fed Speaker:Philadelphia Fed Pres. Patrick Harker will be in Reading, Pennsylvania to discuss his outlook for the economy. Harker is considered hawkish, and is a voting member of the FOMC this year. There will be opportunity for the audience to ask questions.
13:00 - Baker Hughes Rig Count (Weekly):Last Week total 908, oil 722. The number of rigs engaged in the production of U.S. oil increased by only two last week, which surprised me a little. Anything from another small increase to less would be taken as supportive of softening crude prices, especially after this week's large contraction in inventory for both crude and gasoline.
13:00 - Fed Speaker:Dallas Fed Pres. Robert Kaplan is set to speak from Dallas. Economic development is expected to be the topic of choice. Earlier this week, Kaplan, who is a voting member of the committee this year, seemed disappointed in the economy's prospects for growth, yet also seemed determined to charge ahead tightening monetary conditions. Can't make this stuff up, kids. Kaplan will open himself up to questions at this event.
Sarge's Trading Levels
These are my levels to watch today for where I think that the S&P 500, and the Russell 2000 might either pause or turn.
SPX: 2358, 2446, 2434, 2426, 2417, 2410
RUT: 1418, 1410, 1399, 1392, 1386, 1378
Today's Earnings Highlights (Consensus EPS Expectations)
Before the Open: (GOOS) - Get Canada Goose Holdings, Inc. Report (-$0.20), (HOV) - Get Hovnanian Enterprises, Inc. Class A Report (-$0.03)
---------------------
Meet the Millennial Media Moguls
Planning to be in New York on Tuesday, June 13? You're invited to join us for an evening of cocktails and conversation with three dynamic young CEOs whose companies have found big news audiences and good markets. How have they done it? What have they learned? Meet Chris Altchek, CEO and co-founder of Mic; Shafqat Islam, co-founder and CEO of NewsCred; and Kathryn Minshew, the CEO and co-founder of TheMuse. Our panel discussion will be led by Ken Doctor, media analyst and columnist for TheStreet. The event, from 6 to 8 p.m. is free, but space is limited and reservations are required. Please click here to RSVP and get more information.
Read More Trending Articles:
16 Stocks to Own as the U.S. Economy's Expansion Turns 8 Years Old
At the time of publication, Stephen Guilfoyle had no positions in the stocks mentioned.