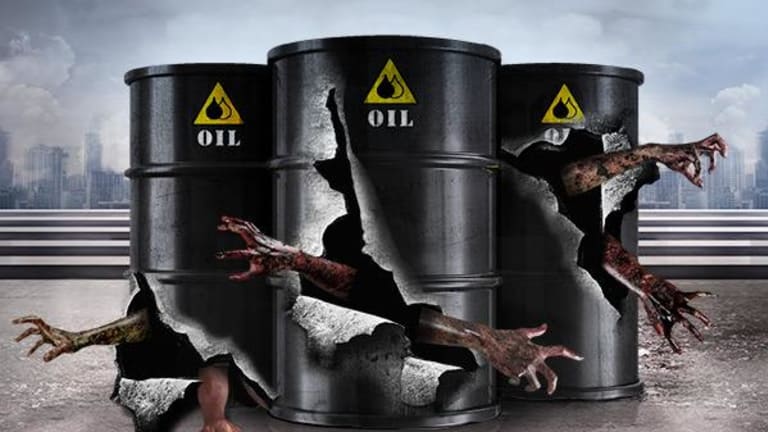 Market Recon: I Don't Really Trust the Oil Rally
Energy is one sector that I am avoiding going into the early part of 2017.
"Death and its associates, after the initial shock, produce callousness."
-- R.K. Narayan
Quite an observation, made by a man that died fifteen years ago.
Oil, That is, Black Gold
Let's talk about crude. Why? Oh, I don't know ... maybe because the energy sector has run the table in 2016, beating all competitors, including the resurgent financial sector. Do you trust it? I really do not. WTI crude has been repeatedly stopped in its tracks in the $53 to $53.50 range. Is $60 oil simply a bridge too far? Could be. Let's wait for OPEC. Oh wait, that news is already out. Then let's wait for the non-OPEC producers, we'll see if they go along with the freeze/cut in production. But that's already old news too. Are you telling me that all of the good news is already out, and now we're just waiting to see who cheats on the agreements made, and how much the U.S. producers kick up their game?
The strong dollar isn't going to help here, either. This won't happen today, but I think we'll get at least one more serious test of the $50 level, and if that cracks, it could crack hard. We'll be talking $44 oil. This is one sector that I am avoiding going into the early part of 2017. The space was one of my personal top performing areas early in 2016, so staying away is not easy. I just don't like it here, but I don't dislike it enough to go the other way.
The Sun Came Out?
The Bank of Japan has now met, and you have probably noticed that the Nikkei 225 is easily outperforming the rest of the Asian equity space this morning. What gives? Well, Japan's central bankers kept short-term rates negative. That was expected. They left the 10-year target at 0%. That was expected, too. The central bank even intends to keep buying Japanese government bonds at the same rate (80 trillion yen/year).
The change was simply an improved outlook for the Japanese economy. BOJ officials went as far as to refer to the nation's economic recovery as "moderate". I'd call it a 25-year "death march", but, hey that's just me. The improvement is simply based on the yen's weakness vs. the U.S. dollar. Let's see how eager they are to leave policy in place when the JGB 10 year makes another run at 0.1%.
'Tis The Season
Those reliant upon earnings releases to try to make something happen do not get many chances like what they see today, when outside of what is traditionally considered "earnings season". About a dozen firms report today, with most of them being what I consider household names. This morning you'll hear from CarMax (KMX) - Get Report , a name that appears to be coming into earnings close to technically overbought, and Navistar (NAV) - Get Report , a heavy industrial name that has benefited from the Trump rally. This evening gets real interesting. Traders will receive numbers from the day's crown jewels, FedEx (FDX) - Get Report , a pricey stock running at a lower multiple than rival United Parcel Service (UPS) - Get Report , and the "Dog of the Dow" Nike (NKE) - Get Report , a stock that seems mired in quicksand. I wrote a piece on getting ahead of those NKE earnings for TheStreet just yesterday.
Keep your eyes on the S&P 500 2267 level. Like a moth to the flame, the index has been drawn to this level for three consecutive days now. Going into last night's close, when the index slipped for just a second below the 2260 support level, the algorithms became suddenly aggressive on the buy side into the close. 2267 seems to me to be where the next battle will be fought. A break and hold there may allow a test of those early December highs and get the Dow 20,000 crowd all fired up.
Macro
08:55 - Redbook (Weekly): Last Week 1.0% y/y. This measure of retail chain store sales remained closer to the top of the year over year trend as it has throughout the fourth quarter. We usually look at 0.5% y/y growth as acceptable, but I think anything less than 0.7% would be seen as disappointing right now.
Sarge's Cash Levels
SPX: 2284, 2278, 2267, 2260, 2254, 2248
RUT: 1392, 1383, 1378, 1369, 1364, 1356
Tuesday's Earnings Highlights
Before the Open: BBRY (-$0.01), KMX ($0.71), CCL ($0.58), DRI ($0.64), GIS ($0.87), NAV ($0.28)
After the Close:
FDX ($2.90), NKE ($0.43), SCS ($0.31)
At the time of publication, Stephen Guilfoyle had no positions in the stocks mentioned.