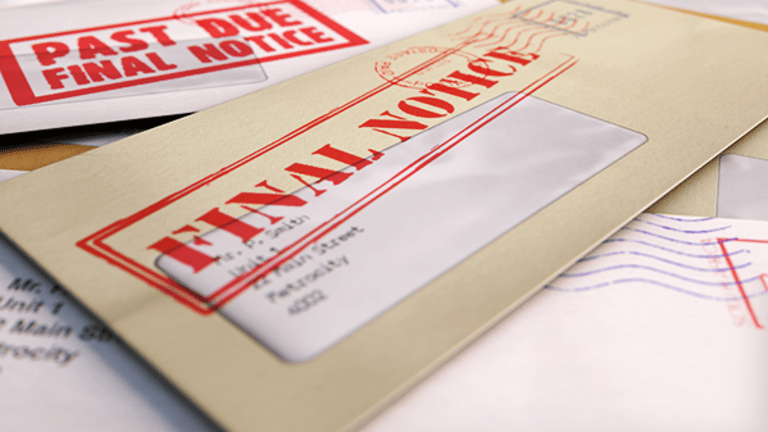 Market Recon: Household Debt Jumps, but How Scary Is It?
Americans are servicing their debt far better than they were in the past.
"In order to carry a positive action we must develop here a positive vision." -- Dalai Lama
Hold Everything!
The S&P 500 rallied 0.37% yesterday, or roughly eight points off Wednesday's beheading. Significant? Normally, no. We do not get very fired up about small moves in the broader market indices. It did feel significant though, didn't it? Perhaps that was because the panic selling seen late Wednesday afternoon had evaporated into thin air. Maybe in this era of algorithmic trading it's not really fair to call it panic trading. Algos don't panic. While they can serve to reduce volatility on more normal days, they can also pile up on one another and then end up exacerbating any directional move.
The U.S. dollar strengthened. Downward pressure on yields abated somewhat, and 10 of the S&P 500's 11 sectors tip-toed into the green. Bandage applied. Bleeding controlled. Why were the markets tamed after a tumultuous day, where it seemed all hope in government might be lost? For one, OK, make that two, the global economy is in decent shape, and poof! First-quarter corporate performance is quite simply there. That said, it did not hurt one bit that the government went about business as usual, putting the administration's agenda back in the news.
In one day, the rhetoric went from "no hope for the agenda" to:
1) Treasury Secretary Steve Mnuchin testifying before the Senate Banking Committee and holding his ground on his opposition to breaking up the banks.
2) Chairman of the House Ways & Means Committee Kevin Brady talking about "going bold" on tax reform.
3) The Trump administration getting the ball rolling on NAFTA renegotiation.
Doesn't sound like a group that's been defeated, now, do they? Oh, headline risk will certainly persist. There will be more days like Wednesday. As long as corporate earnings are "there", and as long as the domestic and global economies are able to provide opportunity, then finally, as long as the administration in D.C. seems to be playing ball, well then there will still a ballgame to play.
Assassin
You may or may not have noticed this week's announcement made by the New York Fed on U.S. household debt. Well, that number hit a record of $12.725 trillion in the first quarter of 2017, ramping up a rough 14%. Scary? I guess, but I think one key point here is that Americans are servicing their debt far better than they were in the past. We've heard a lot about a rise in defaults in recent months, but I'm not sure all the data plays along with that theme. Some does. For comparison, in the first quarter of 2017, mortgages made up 68% of all household debt, this is vs. 73% in 2008. So far this year, sub-prime (sub 620 credit scores) make up only 4% of mortgage originations. That share was more like 15% prior to the housing collapse. Don't go anywhere. I do have some bad news.
Auto loans and student debt have exploded. This will have to be watched closely. Only 3.4% of all outstanding household debt was considered seriously delinquent (90 days late) in the first quarter. Huzzah! However, that delinquency rate is rising across the credit card, auto loan, and student loan arenas simultaneously. Uh oh.
I believe the biggest slice of this debt to worry about will be student debt; 10% of all student debt is already in the seriously delinquent category. We already have a generation of young people displaying great difficulty in affording a middle-class lifestyle on their own. What if the Fed does succeed in raising interest rates? What if the economy eventually sputters into recession? At some point, during the lifetime of this generational debt, it will. Does an entire generation lose confidence at once? The mindset of an entire nation will one day hinge on this. On that day, does our famous "American ingenuity" become American dependency? I hope not. Probably past time for folks to realize that we are being stalked.
From the Burning Ashes of Retail ...
... will rise a champion. Walmart (WMT) - Get Walmart Inc. Report ! Who doesn't love when an underdog shows up for a fight? Beats EPS expectations. Meets (my) revenue expectations, which grew 1.4% year over year, despite a delay in tax refunds. Oh, 1.4% is also the growth seen in comparable sales. The strength of the report? A 63% improvement in ecommerce. Do I like Walmart? You could say that. I like anybody who's supposed to get their tail kicked, but instead tapes on the foil, and turns around to face their oppressor. Reasons? Yeah, I've got reasons to like what Walmart is doing?
1) Store Number 8: The investment arm of the firm. Developing ideas as a venture capitalist would in the realms of artificial intelligence, machine learning, and robotics.
2) Code 8 Project: The firm recently named Jennifer Fleiss to run this project where the goal is ultimately a unique one-on-one shopping experience. Is this great? A lot of folks are fired up about it.
3) Walmart Labs in San Francisco: Always working on the development and evolution of new concepts in retail.
4) Acquisitions: We all know that the firm bought Jet.com in order to bolster their e-commerce performance (I think that went well). Less publicized is the fact that the firm purchased Shoebuy, Moosejaw, and Modcloth in an attempt to go after clients not normally served at the firm's brick-and-mortar locations. The firm has also been linked with at least two other well-known internet businesses in recent articles.
5) Pickup Discount Program: Not only removing the last few miles of delivery costs from the consumer, but offering an actual discount on products. One million products should be available to this program by July. What does this do? Drive online sales, while also increasing foot traffic on location. Amazon (AMZN) - Get Amazon.com, Inc. Report can't do that!
You might call me enthusiastic. I appeared on CNBC's Closing Bell program with Kelly Evans & Wilfred Frost yesterday where I raised my target price from $77.10 to $79.25. Unbeknownst to me at the time, my colleague here at TheStreet, Lindsay Rittenhouse (almost at the same time) published a very interesting article on just what Walmart is doing in Asia. You can read that here.
Macro
09:15 - Fed Speaker:St Louis Fed Pres. James Bullard is set to speak from St. Louis on both the economy and monetary policy. Early last week, Bullard said that demand for safe havens was keeping interest rates low. Wonder what he thinks now. Bullard has a penchant for often changing his mind, so he is always interesting. He does not vote on policy this year.
13:00 - Baker Hughes Rig Count (Weekly):Last Week total 885, oil 712. Market prices for WTI crude have stabilized in the high $40s per barrel. At that level, I see no reason that the consistent advance in operational oil producing rigs will stop, or even slow. With no other data available today, this number could get more market focus than it would otherwise.
13:40 - Fed Speaker:San Francisco Fed Pres. John Williams will speak from El Camino High School in San Francisco. Policy is expected to be the theme, and Williams will take questions from the audience. Not a voting member of the FOMC, Williams is thought of as influential at the Fed, and is thought to have the ear of Chair Janet Yellen.
Sarge's Trading Levels
These are my levels to watch today for where I think that the S&P 500 and the Russell 2000 might either pause or turn.
SPX: 2387, 2376, 2368, 2357, 2348, 2340
RUT: 1380, 1374, 1365, 1357, 1352, 1341
Today's Earnings Highlights (Consensus EPS Expectations)
Before the Open: (CPB) - Get Campbell Soup Company Report ($0.64), (DE) - Get Deere & Company Report ($1.66), (FL) - Get Foot Locker, Inc. Report ($1.38)
Read More Top News on TheStreet:
At the time of publication, Stephen Guilfoyle was long WMT, although positions may change at any time.