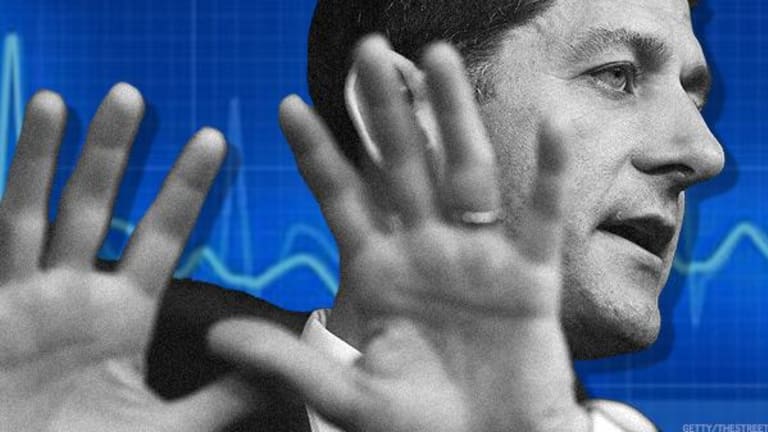 Publish date:
Market Recon: Health Care Reform Football Bounces Around on Dangerous Turf
Is this reform about to rise from the dead, like a movie monster that just won't die?
Is this reform about to rise from the dead, like a movie monster that just won't die?
"Anything that gets people to think harder about their financial security and take some responsibility is a good thing." -- Suze Orman
What Is
Energy shares led the way yesterday; in fact, the sector has led the way for a couple of days now. The primary underlying commodity, WTI crude, has suddenly shown life, increasing by almost 2.5% from where it was trading earlier this week. A little presidential deregulation, talk of extending OPEC production cuts and actual Libyan disruptions in production have all helped enforce what had been support above $47 a barrel and now has traders thinking about $50+ oil again. Actually, should this area above $49.75 become support (it could), a door allowing for prices as high as $53 likely opens. Step back though, and it's easy to see that for the sector, the month of March, in fact the whole first quarter, has been quite awful.
That said, let's look at just what is going on around us. What has worked so far year to date has been technology, consumer discretionary names and health care. Health Care? How 'bout dat? Not financials? Hmmm, no. That sector has largely gone sideways this year for investors that largely saw their massive gains prior to January, and sort of donated the last month back to the empire as the yield curve flattened throughout March. That action in the bond market has made a surprise winner out of the utility sector, which has performed rather well in what might be referred to as a "rising interest rate" environment. See that one coming? I must admit that I did not. 10-year paper? Trading about where it was in late December.
The Road to Victory
So let's pause and take the market's temperature. Just what has happened to our marketplace as this quarter has managed to wind down, and where are we headed?
1) Health Care Reform. Has the failure of the Republican-led legislature on this reform put the whammy on the president's entire pro-business, pro-growth agenda? Is this reform about to rise from the dead, like a certain hockey-masked movie monster that just won't die? Though the sector has performed well, I still think the football is bouncing around, and this is dangerous turf. If one must play the space, I would prefer to stay in (quality) health care tech names such as Becton Dickenson (BDX) - Get Report and Stryker (SYK) - Get Report and away from hospitals, insurers, and providers.
2) Tax Reform. One foot in front of the other. What you would think might be a bouquet of roses may come with some thorns: A controversial border adjustment, or worse yet, a value-added tax that will probably end up being the bane of our existence until long after they put us in the ground, and throw dirt on top, even with doubts swirling about the agenda's trajectory. I think you do need exposure to names that pay above-average effective tax rates such as small caps, as that's where the most benefit will be felt in the event that we actually cross the goal line on this item. ETFs that try to mimic the Russell 2000, such as (IWM) - Get Report and (VTWO) - Get Report accomplish this task without having to spend an entire weekend doing homework.
3) Deregulation. Voila! You're already seeing benefits across the energy space here and you'll likely see some help for the banks, as well as capital markets-type names before this party's over. Is energy still dangerous? Oh, yeah. We're only going there with the expectation that our bet may be somewhat speculative in nature, but we're sticking with quality service names (Schlumberger (SLB) - Get Report, Halliburton (HAL) - Get Report ) and we're staying in the Permian, because that's where the persistence will be, should the industry run off that $47 cliff.
4) Monetary Policy. The Fed seems to have a hawkish mandate from above. That's really all you need to know. If the justification is there, maybe even if it's almost there, this crew wants to normalize rates and get started on normalizing the balance sheet. The entire crew has been out and about, and have been making sure that market expectations allow for where they want to go. You can question their motives (I certainly do), but you cannot question their openness on this. The next hike or two will not come like a crowbar to the back. You'll see it happen. This is why I refuse to get completely flat the banks. I have traded down to very thin levels (last week), and reloaded (earlier this week), but I will not be flat the space until I know that the trajectory of policy has failed. I like JP Morgan (JPM) - Get Report as best in class. I am out of Bank of America (BAC) - Get Report , but willing to re-enter at some point. I also like Citigroup (C) - Get Report and loaded up on KeyCorp (KEY) - Get Report again at the bottom.
5) Fiscal Package. At some point, and to what degree, we really don't know how aggressive this will be. We do know that this type of stimulus will come later, after tax reform, as there must be a defined path to payment. Defense and aerospace, as well as materials, have already moved, and the need to get ahead seems less urgent, at least to me, at this time. If you watch a name in these areas and it gets cheap on one of the many pull-backs that we are sure to see ... well, that's why most brokers allow for GTC (good 'til cancel) orders. Know your levels.
6) Growth. Should all of the above fall into place, yes, we will see a higher level of growth than we have seen in a long time. That's why I find the recent positivity in the tech space (all year), and the transports so interesting. These types of names are almost completely dependent upon the preparation for, and expectation of growth. Progress depends on the techs. I like the chip makers, but have rotated to the back of the pack, and this economy goes nowhere if goods, commodities, and business people are not moving around. The rails are still a bit expensive for me (be patient), but the airlines have dropped into my wheelhouse, and I gotten myself long a couple of them.
Macro
08:30 - GDP (Q4 - final):Expecting 2.0%, previously 1.9% q/q SAAR. Expectations are that with Gross Domestic Income included, the final look at the fourth quarter will see a mild revision to the upside. This will not impact the marketplace as much as a change to first-quarter expectations might when the Atlanta Fed runs that model tomorrow, but a two-handle is a little easier on the eyes than anything less than two would be.
08:30 - Initial Jobless Claims (Weekly):Expecting 246,000, Last Week 261,000. More people filed for first-time unemployment benefits last week than for any week since December. Still, the number remains historically low for a multitude of reasons that are not all positive. This item has lost the ability to impact equity index futures markets due to its regularity. The four-week moving average now stands at 240,000.
09:45 - Fed Speaker:Cleveland Fed Pres. Loretta Mester is set to speak on banking and financial services from Chicago. The event is not open to the media and will not be recorded. On top of that, Mester, who is a hawk, is not a voting member of the committee this year. Therefore, I don't think this speech will have much impact on financial markets today.
10:30 - Natural Gas Inventories (Weekly):Expecting -76 billion, Last Week -150 billion cubic feet. We look for an eighteenth weekly draw in supplies of natural gas in the last 19 weeks. Traders who make a living in this commodity seem to have noticed, as market prices are now close to six week highs.
11:00 - Fed Speaker:Dallas Fed Pres. Robert Kaplan, who is a voting member of the FOMC this year, will speak publicly for the third time in four days from Washington, DC. I'm pretty sure we all know by now that he sees steady, uninterrupted rate hikes this year, and would like to start addressing the balance sheet toward year's end.
11:15 - Fed Speaker:San Francisco Fed Pres. John Williams speaks from New York City. Yesterday, Williams made the media rounds and clearly feels that the economy has achieved something very close to, if not "full employment". In fact, Williams warns that we could be looking at more than three rate hikes this year. Today's speech is not expected to touch on monetary policy. Thank goodness.
16:30 - Fed Speaker:New York Fed Pres. William Dudley speaks today on financial conditions, and the conduct of monetary policy from Sarasota, Florida. Williams, who holds a permanent voting slot on the committee, has made no secret of his preference for tighter policy going forward. The floor will open for questions at the conclusion of this event.
Sarge's Trading Levels
These are my levels to watch today for where I think that the S&P 500, and the Russell 2000 might either pause or turn
SPX: 2376, 2368, 2362, 2352, 2345, 2337
RUT: 1389, 1380, 1372, 1363, 1358, 1351
Thursday's Earnings Highlight (Consensus EPS Expectations)
Before the Open: (LNN) - Get Report ($0.38)
At the time of publication, Stephen Guilfoyle was long SLB, JPM, C, KEY, although positions may change at any time.