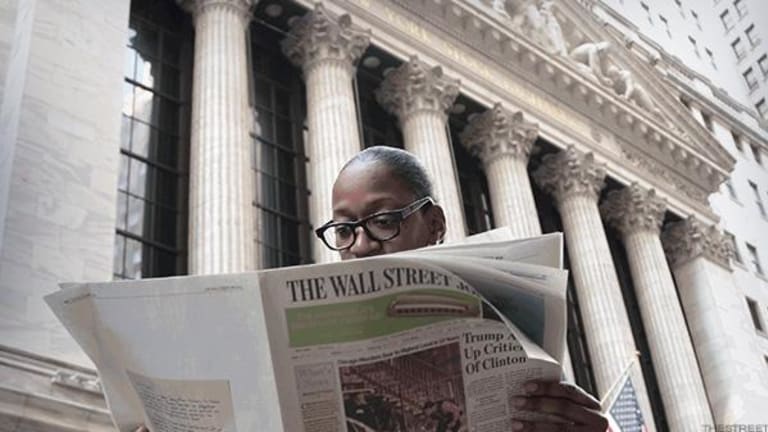 Market Recon: Danger Is Coming to a Market Near You
What do you do when the music stops? Are you the kid without a chair?
"The biggest - one of the biggest barriers to driving economic growth is the capital gains tax rate. I propose taking it to zero." -- Herman Cain.
"Now, that's an idea that I could live with" -- Stephen Guilfoyle
Musical Chairs
It's Friday, gang. The end of another week. Maybe this is when you take it easy for a couple of days. Maybe this is when you really dig in and get your homework done, the one you were too busy to do during the week. If you're up in the morning reading or watching financial media, then I know that you've already wondered: "What do I do when the music stops?" Are you the kid without a chair? Danger is coming to a market near you. Like so many others, this could be false prophecy. I am no fortune teller, but I know that a sharp move higher on top of a sharp move higher, on top of yet another sharp move higher, would be unusual.
Know your plan of action. Let me give you an example. I have liked banks, consumer finance and the railroads since the election. I write and speak about them often. Earlier this week, I took profits in the rail space. I was long CSX Transportation (CSX) - Get CSX Corporation Report and Norfolk Southern (NSC) - Get Norfolk Southern Corporation Report . I'm flat now, though I still like the space. I had set targets, and targets were exceeded. Do I want to get back in? Definitely, but not here. There will be a day when the transports puke up a percent to a percent and a half, and I will be there. As I also mentioned yesterday, I will get longer the financial space when I get my price. Discipline in entry and exit will cost you money. I surely could have made far more in CSX, but allowing my discipline to lapse would eventually cost me much more. Been there, done that.
I Am but a Man
That said, next week we start to hear more from the energy space. We also start to hear from big pharma. This week, the markets for the most part were able to take a break from macro-economic data. That stops today. This morning, you will get a look at fourth quarter GDP, with consensus around 2.2%. The truth is that there is no strong consensus. The range of professional expectations runs from well below 2% to well above 3%. Given that level of uncertainty, there is a chance that if the headline number prints awkwardly, we see a reaction in the bond market.
That brings us to the Fed. Almost forgot about them. The beauty of the week prior to a policy decision is that it forces these pretenders to shut their collective pie-holes for the week. They will, however, crawl out of their hive next week, and opine on things like trajectory. They will speculate on the next increase for the fed funds rate, when what they should do would be to remove the proceeds reinvestment program. In fact, this is what should have been done prior to screwing around with interest rates more than a year ago. A stealthier way to tighten, that can almost quietly be reversed if liquidity needs demand, but who am I?
FOMC Behavior
About the Fed, the CME's website suggests that only a 4% chance of a rate hike is being priced in for next week's announcement. Remember, there will be no economic forecasts made at the conclusion of this meeting, and there will be no press conference. We'll be reliant upon the text of the statement itself for forward guidance. Futures markets are pricing in an increase for the fed funds rate in June, and another one in November at this point, and if conditions justify, you can bet the Fed will act. Without core inflation, or perceived growth, justification is no sure thing. They wouldn't raise rates on forward looking confidence surveys, and high equity prices, would they? A life spent studying an ever-changing marketplace. So interesting.
Macro
08:30 - GDP (Q4 -p):Expecting 2.2%, Q3 3.5% q/q - SAAR. Most economists are around 2.2% for the fourth quarter, signaling a slowing of the pace of growth that we saw in the third quarter. Focused on here today will be Personal Consumption Expenditures and Goods Exports (largely agricultural). Those two areas have been strengths in recent quarters. Inventory building, as seen in yesterday's December Wholesale Inventories print, will likely be a new source of strength in this report. The Atlanta Fed raised their projection for the quarter up to 2.9% in response to yesterday's numbers. Though that is well above what the crowd is looking for, the highest projection I have seen is for 3.3%.
08:30 - Durable Goods Orders (December):Expecting 2.6%, November -4.6% m/m.
08:30 - Durable Goods Orders ex-Transportation (Dec):Expecting 0.5%, November 0.5% m/m.
08:30 - Durable Goods Orders ex-Defense (Dec): Expecting 0.5%, November -6.6% m/m.
08:30 - Core Capital Goods (December):November 0,9% m/m. The headline number here has been wildly volatile of late. November brought the second-weakest month over month print of the year, just after October had given us the second strongest. The bottom line is that ex-transportation orders, the expectation is for a fourth consecutive month of growth, and even ex-defense, we look for growth this month. The ex-defense print has seen an extreme version of the headline volatility over the last two months. Core Capital Goods spending has accelerated into year's end, which is a welcome example of the growing confidence now apparent across the economy.
10:00 - University of Michigan Consumer Sentiment (January-rev):Flashed 98.1. The preliminary version of the survey, though remaining very strong for the month, did level off some. The very similar Consumer Confidence Survey that is released by the Conference Board will print next Tuesday. These two items are peaking together, but can at time send off differing signals. This item took off only after the election, while the Confidence print actually started to improve as far back as August.
13:00 - Baker Hughes Rig Count (Weekly): Last Week total 694, oil 551. Last week, the number of U.S. oil rigs in production ramped up by a whopping 29 rigs. Yesterday was a prime example of domestic inventory numbers just not impacting market prices as much as the idea that OPEC and the participating non-OPEC producers have largely kept to their agreed upon production cuts. Due to this market resiliency, I don't know how much this print can move WTI prices beyond the knee-jerk.
Sarge's Trading Levels
These are my levels to watch today for where I think that the S&P 500, and the Russell 2000 might either pause or turn
SPX: 2324, 2313, 2305, 2294, 2282, 2272
RUT: 1394, 1388, 1383, 1375, 1370, 1365
Friday's Earnings Highlights (Consensus EPS Expectations)
Before the Open: (ABBV) - Get AbbVie, Inc. Report ($1.20), (APD) - Get Air Products and Chemicals, Inc. Report ($1.48), (AAL) - Get American Airlines Group, Inc. Report ($0.91), (CVX) - Get Chevron Corporation Report ($0.68), (CL) - Get Colgate-Palmolive Company Report ($0.75), (GD) - Get General Dynamics Corporation Report ($2.54), (HON) - Get Honeywell International Inc. Report ($1.74)
At the time of publication, Stephen Guilfoyle had no positions in the stocks mentioned.