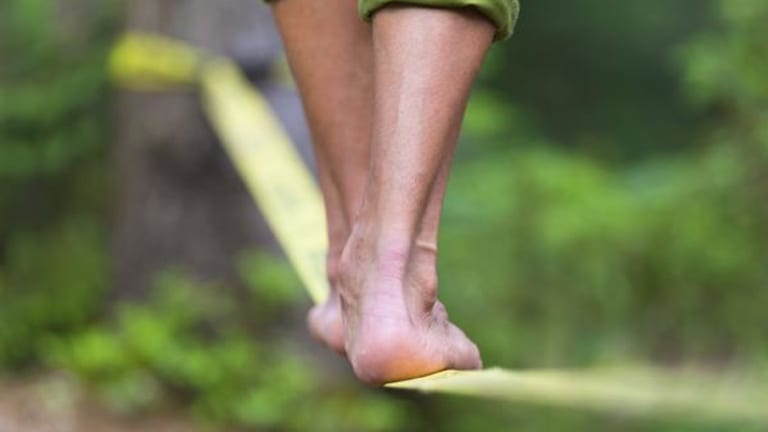 Market Recon: Crossed Wires? Hot Wire, Trip Wire, Live Wire
The consumer finally has some fun money to spare. That is the good news.
"That ability to take in your surroundings and sort out the important stuff, to be aware, to be vigilant. Then take all that information, put it together, and see if it makes sense to you." -- Paul Gleason
Hot Wire
Eureka! January consumer level inflation comes in hot, both at the headline, and the core. I know, I know... all of the gaudy numbers were in the energy space, but apparel prices also gained 1.4% month over month. Apparel! Thought that industry was dead. Core CPI hit the 2.3% level on a year-over-year basis for the third time in the last 12 months, once again equaling a post 2009 high.
January retail sales came in hot as well, at the headline, and at the core. Yes, gasoline sales led the way, but something very different happened here as well. Electronics and appliance stores saw a 1.6% month-over-month increase, and this next item will knock your socks off. The subcomponent of the Census Bureau's monthly retail sales report known as sporting goods, hobby, book and music stores saw sales increase by 1.8% m/m. You do understand what that means, right gang? Sporting goods. Hobbies. The Arts. Apparel. Hmmm.
That stuff represents what, in my day, we used to call fun money. The masses increased recreational spending in January. Period. That may not be proof that the economy is on its way, but it certainly does mean that Joe and Jane consumer are backing up all of those confidence surveys that we've seen since the election with some action. The game-winning drive has to start somewhere, and our team just picked up a crucial first down.
Trip Wire
Of course, the release of all of this optimistic and supportive data set off a few booby traps. U.S. Treasuries sold off again. Yields for U.S. 10-year paper poked above 2.5% yesterday, though there has been some early morning support in that space today. The key rate to watch here, for those uninitiated, would be that of the two-year. Short-term yields would be more sensitive to any changes in monetary policy that would be forced by inflation. That particular yield jacked all the way to 1.255% yesterday. For equities, that would mean that the bond proxies took it on the chin again. The Utility sector was led lower yesterday by Duke Energy (DUK) - Get Duke Energy Corporation (DUK) Report and Dominion Resources (D) - Get Dominion Energy Inc Report , both of which gave up more than one percent.
In the wake of this positive data, the Atlanta Fed lowered its first-quarter GDP forecast from 2.7% to 2.2%. They cited lower expectations for personal consumption (OK, their projections were probably too high to begin with), that nasty print for January industrial production (which, honestly represents a drop in Utility production due to a warm winter), and the trailing off in business inventories, particularly retail inventories (Should we tell the Atlanta Fed that yesterday's business inventories print was a December number, not part of the first quarter? Nah, let 'em go, dude, they're on a roll). You kids know what? That 2.2%, if it actually ends up being close, would still be a nice improvement over the fourth quarter of 2016. Another first down!
Live Wire
Perhaps the single best event for Thursday is no event at all. There is not a single Fed speaker on my radar for today. I think we all know that Fed Chair Janet Yellen wants to get the show on the road, after her twin testimonies on the Hill. We also know that Robert Kaplan of the Dallas Fed was hawkish on Tuesday, and that Richmond's Jeffrey Lacker sounded like he was ready for multiple fed funds rate hikes that day. Yesterday, Philadelphia's Patrick Harker (voting member) also towed the company line, while Boston's Eric Rosengren seemed to opine that three rate hikes this year might only be a starting point. Rosengren, mind you, does not vote this year, and changes his mind on policy trajectory almost as often as James Bullard.
So, is March a live meeting? I would have to say now that it indeed is. March comes packaged with a press conference and a fancy array of consistently incorrect Federal Reserve economic projections. The next policy meeting packaged with all of the goods like that after March comes in June. The FOMC meets over March 14-15, with the announcement made in the afternoon of the 15th. We will not see January PCE until March 1, but we will see February CPI, retail sales and industrial production on March 14. Bingo.
From my point of view, if the data released on the 14th is close to in line with the January data, then the FOMC is going to go. You want to go three times in 2017, you have to go in March. Simply justify the move. We know, and understand their intent. The Fed has already made this abundantly clear. Right or wrong? The trader does not care. Early or late? I have opinions on that. Strong opinions. I'm here if they ask for my advice, Otherwise, my bias only serves as an obstacle. Our job is to make money. So, adapt to your changing environment.
Macro
08:30 - Housing Starts (January):Expecting 1.228 million, December 1.226 million SAAR.
08:30 - Building Permits (January):Expecting 1.231 million, December 1.210 million SAAR. I've said it before. Building permits are nice, and you can't have housing starts without them. That said, I like to see broken ground in this space. Not to mention all of the ancillary spending and employment that housing starts bring with them. Last year was the strongest year in this space since 2007. Economists and traders alike will be watching for any impact on this momentum due to rising interest rate expectations. This will be the macro event of the day.
08:30 - Initial Jobless Claims (Weekly): Expecting 244,000, Last Week 234,000. Jobless claims continue to dwindle. Jobs continue to be created. Yet, in January, there was a clear lack of progress on wage growth. They still don't understand that an economy cannot reach full employment while the individual laborer remains underemployed. We are finally seeing some inflation, although that does have something to do with energy prices. The size and scale of part-time labor keeps this number, as well as headline unemployment, artificially low, and those living inside the castle continue to wonder why their theories only work in the text books. This data-point will not move the futures markets this morning, as traders no longer consider this series capable of surprise.
08:30 - Philadelphia Fed Manufacturing Index (February):Expecting 18.6, January 23.6. The Empire State got the regional Fed district manufacturing series off to a very nice start yesterday. I don't know how Philadelphia could improve on January's survey after hitting on all cylinders for last month. New orders hit a 26 shot into the upper deck last month. Improving on that would get the market's notice for sure, as Philly is considered the most important of the twelve districts when it comes to the manufacturing space.
10:30 - Natural Gas Inventories (Weekly):Expecting -134 billion, Last Week -152 billion cubic feet. This item heads for a likely thirteenth consecutive weekly draw. The commodity dangerously tested the $3 level yesterday. A break in that spot could technically allow Nat Gas to dive as low as 2.65, so this really is a gateway level to a different trading range.
Sarge's Trading Levels
These are my levels to watch today for where I think that the S&P 500 and the Russell 2000 might either pause or turn.
SPX: 2371, 2358, 2351, 2344, 2335, 2327
RUT: 1424, 1414, 1405, 1397, 1392, 1387
Thursday's Earnings Highlights (Consensus EPS Expectations)
Before the Open: (AVP) - Get Avon Products, Inc. Report ($0.10), (BCC) - Get Boise Cascade Co. Report (-$0.04), (CAB) ($1.22), (DF) - Get Dean Foods Company Report ($0.41), (H) - Get Hyatt Hotels Corporation Class A Report ($0.27), (SCG) ($0.88), (WM) - Get Waste Management, Inc. Report ($0.77), (WEN) - Get Wendy's Company Report ($0.09), (ZTS) - Get Zoetis, Inc. (ZTS) Report ($0.46)
After the Close: (ED) - Get Consolidated Edison, Inc. Report ($0.67), (DVA) - Get DaVita Inc. Report ($0.91), (NUS) - Get Nu Skin Enterprises, Inc. Class A Report ($0.80)
At the time of publication, Stephen Guilfoyle had no positions in the stocks mentioned.