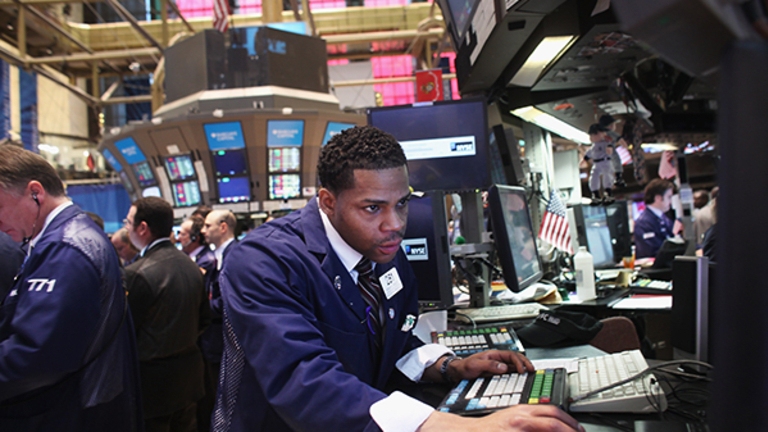 Market Recon: Corporate America Is Fundamentally Sound
Of firms that reported, 75% beat expectations for earnings per share, while 64% beat revenue projections.
"It's always a wake-up call to get beaten." -- Usain Bolt
Evolution
And so, now we must evolve. Do not fear. We have adapted before. There has been pain. There will likely be more. Sentiment. How important is sentiment? How do you value it? I know. April industrial production was solid, even very solid. But that's not enough hard data to convince me. The Atlanta Fed is currently projecting second-quarter GDP of 4.1% when annualized and seasonally adjusted. Very nice. That would indicate a more active consumer. Still, the soft data has been so much better than the hard data, for so very long.
We acknowledge that equity market reached lofty levels, as valuations were stretched. Did we grow into that oversized T-shirt? A bit, but not entirely. Close to 95% of the S&P 500 has now gone to the tape with their first-quarter numbers. Prettier than poetry on Sunday morning; 75% of these firms have beaten expectations for earnings per share, while 64% beat revenue projections. That's impressive. Nothing is more important than revenue, gang, except maybe having a solid bullpen and a good defensive catcher ready to go at AAA. Bottom line: Corporate America is fundamentally sound. Don't fight me on that. I'm right.
What Ever Happened To ...?
That does not mean you can get long on any old "dip" and go about your business. Bull market traders do that. Always end up wondering what happened to some of those guys. They were stars. Then, one day, they couldn't throw strikes. Some of you lost a lot of money on paper yesterday. Some of you probably did not realize how much until later in the day.
Technically, as ugly as yesterday was, the trend is still intact. Yes, the S&P 500 has been repelled at or slightly above the 2400 level now for three months. (Rappelling from a helicopter is about the most fun a young man can have. Seeing the stock market repeatedly repelled at the same spot as an old man, not so much). Yes, the index crashed through the 50-day simple moving average violently yesterday. On a six-month chart, relative strength is weak enough to attract support.
However, the moving average convergence divergence (MACD) has now seen a bearish crossover. You're not really getting buy signals from the Chaikin or full stochastic oscillators either. Basically, what I'm saying is that the broader indices are still on thin ice. Thin ice has a way of cracking.
Valuation
Headline risk is now paramount. Are we stopped at historically proper equity valuations? At least fundamentally, that argument makes sense. So what we are left with is the perceived overvaluation that was priced in due to sentiment. The longer that headline risk exists as a condition, the more that above average sentiment will erode. As this erodes, so will that already mentioned overvaluation of the equity markets.
The unfortunate reality here is that the turmoil surrounding this White House will persist longer than what an average investor will likely have patience for. Sentiment has almost certainly peaked. Now, should the inability of Washington to make progress on dreamy policy items such as tax reform, health care reform and infrastructure building persist past the point where corporate comparisons become more difficult (three to six months) ... well, I know that I am ahead of myself, but bear markets do happen.
Remember, I'm just a guy with an opinion. I'm still net long. Just saying that it wouldn't hurt to have some clean water and canned food in the garage. The gang in Washington still has time to unscrew this. I just don't think that they really want to. The Ugly Stick watches. The Ugly Stick acts. The Ugly Stick is never sated.
Interest Rates
The move in yields this week has been absolutely stunning. This particular item really matters a whole lot, though it is not part of the sentiment play. Certainly, rates are part of projected earnings, at least for the financial sector. That sector going forward, has priced in an entire rising interest rate environment. Probabilities for a June rate hike as priced in by the futures markets at the CME have been volatile, and dropped into the 50% to 60% range yesterday.
Still, that is the opinion of traders, not of central bankers. The central bankers appear to be on a mission. If they feel that they have to act ahead of a downturn, then they will. This gang will not understand that their actions may cause that downturn. They will see this as "courage to act". We may see it differently.
The Banks
Take away two more rate hikes, or throw in a bond market veto of the trajectory of monetary policy, and 2017 full year projected earnings for the financial sector (now +12%) become something much lower. Full year projections for the S&P 500 as a whole are still running in the 9.5% to 10% range, so this would be a drag on the broader market as well.
My reaction to this space? I remain long Citigroup (C) - Get Citigroup Inc. Report and KeyCorp (KEY) - Get KeyCorp Report . Both of these names traded at levels where I probably would have bought more yesterday. I did not buy more. I am grateful at this point that I sold my JP Morgan (JPM) - Get JPMorgan Chase & Co. Report just to get myself to an acceptable level of exposure to the space. I sold Bank of America (BAC) - Get Bank of America Corp Report above $25 earlier in the year, and had every intention of adding that name back to my portfolio if it ever traded below $23.25. It closed at $22.57 last night. I did not add BAC back to my book. At least not yet. I don't trust the banks right now. Why would I? Today, I will likely watch more than I will act. That's not a promise.
Macro
08:30 - Initial Jobless Claims (Weekly):Expecting 240,000, Last Week 236,000. One thing that you will not likely have to worry about today is the ability of this data-point to impact the marketplace. The four-week moving average is now 243,500, and the range of expectations for this number today spans just 6,000, from 239,000 to 245,000, with most economists at the low end of said range.
08:30 - Philadelphia Fed Manufacturing Index (May):Expecting 19.6, April 22.0. This will be your macro event of the day. Philadelphia has been strong, and is considered by economists to be the most important regional manufacturing survey that we'll see in the course of any given month. Extra focus may be placed upon this release today after April's data for capacity utilization gapped higher, but the regional numbers out of New York for May displayed weakness.
10:00 - Leading Indicators (April):Expecting 0.4%, March 0.4% m/m. This release will pass quietly, most of its components already having been priced into the markets. You will be able to focus elsewhere, as after more than three decades on Wall Street, I still look forward to the first time I have ever heard anyone mention this series as a reason for doing anything.
10:30 - Natural Gas Inventories (Weekly):Expecting +57 billion, Last Week +45 billion cubic feet. Natural gas has actually come in fairly hard this week. Guess a weaker dollar does not float all boats in the commodity space. We expect a seventh consecutive weekly inventory build to be reported this morning.
13:15 - Fed Speaker: Cleveland Fed Pres. Loretta Mester will be our first (if you can believe it) Fed speaker of the week. Mester does not vote this year, but she is well known as a policy hawk. For that reason, her words could carry more weight in the marketplace today than they normally might. She speaks from Minneapolis, and as far as I can tell, is not going to open herself up to questions.
Sarge's Trading Levels
These are my levels to watch today for where I think that the S&P 500, and the Russell 2000 might either pause or turn.
SPX: 2387, 2376, 2368, 2356, 2348, 2340
RUT: 1378, 1368, 1362, 1352, 1341, 1335
Today's Earnings Highlights (Consensus EPS Expectations)
Before the Open: (BABA) - Get Alibaba Group Holding Ltd. Report ($0.67), (BKE) - Get Buckle, Inc. Report ($0.34), (MBLY) ($0.24), (RL) - Get Ralph Lauren Corporation Class A Report ($0.78), (PLCE) - Get Children's Place, Inc. Report ($1.63), (WMT) - Get Walmart Inc. Report ($0.96)
After the Close: (GPS) - Get Gap, Inc. Report ($0.29), (MCK) - Get McKesson Corporation Report ($3.01), (CRM) - Get salesforce.com, inc. Report ($0.26), (AMAT) - Get Applied Materials, Inc. Report ($0.76)
More Trending News on TheStreet:
Former Fox News Chief Roger Ailes Is Dead at 77
At the time of publication, Stephen Guilfoyle was long C, KEY, WMT, although positions may change at any time.