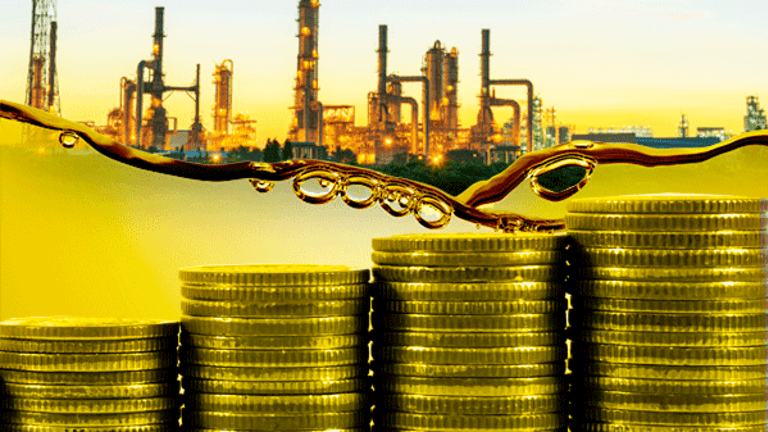 Market Recon: Brace Yourself, Big Retail Reports This Week
With Macy's, Walmart and other retailers reporting this week, steel yourself for the bad news.
"When you bring in multi-brand retail items into the country, you're not just bringing the products, but you're also harming local manufacturers." --Narendra Modi, Prime Minister of India
Ugly Stick at the Ready
Don't look now, but earnings season is far from over. In terms of the calendar, the season is nearing it's close, but we still have to get through some tough terrain. The macro has been better. Earnings appear to be pushing equity prices higher as much as confidence in an this slowly evolving economic agenda. Like a tropical storm at sea, here come the retailers. The most troubled of industry groups except maybe energy; we'll get to that.. The group is under pressure from not only a change in the way people shop, but from the way people live, in general. I've been in the malls. They're empty.
Many in this retail group have already warned, or at least made public, what turned out to be awful holiday sales. Does having a lowered bar lead to some minor victories? Maybe. Do I want to be long the space going forward? Not particularly.
More than likely, this week presents a series of tradable events. Some of these names sold off hard after the holidays, and have actually made up some ground going into their numbers. Macy's (M) - Get Macy's Inc Report  and Walmart (WMT) - Get Walmart Inc. Report would be prime examples. Home Depot (HD) - Get Home Depot, Inc. (HD) Report , also releasing this morning, has remained strong and does not fit the description. When you need a sump pump, the internet is not where you shop. If you're like me, you nibbled at the bottom, even if it seemed a little stupid at the time. Now you are actually looking at some money. I'll probably take partial profits in the places where I have them. I am not brave enough to hold through these numbers. That's just me.
Trading Oil and Energy
How interesting is the oil trade these days? WTI Crude is threatening the $54 resistance level this morning. This comes despite a U.S. dollar that has only strengthened versus its competitors throughout February. That level has been the top of the chart since early January. If, and when that level cracks, there's another one about $0.75 to $1 higher. From there, technically, it doesn't take much to push WTI to levels in the low $60s. Prices like that have not been seen since June of 2015. There seems to be plenty of reason for fundamental pressure on crude. A pressure that appears to have trouble manifesting itself beyond temporary knee jerks in response to weekly data points.
Members of the OPEC cartel have, as far as anyone can tell, actually cut production close to the levels agreed upon last year. That deal expires this June. Has it had OPEC's intended effect? US weekly oil inventories are at their highest ever recorded levels. The number of oil-producing U.S. rigs now in operation reached a 16-month high last week. Obviously, those not party to the OPEC and pals production deal have taken advantage of this environment to elbow their way to a beefier market share for themselves.
Yet, despite all of this, WTI presses up against resistance, and most professional traders are betting on price increases. According to data released by ICE, long position dollar values -- at least in the Brent Crude space -- far outnumber short interest dollar values, by something like an 11:1 ratio.
I see the reasons for lower oil prices. The energy sector seems to agree. You can screen the sector SPDR ETFs, and the  Energy Select Sector SPDR ETF (XLE) - Get Energy Select Sector SPDR Fund ReportLE comes in last place -- regardless of whether you take a five-day, 10-day, one-month, or three-month snapshot. Year to date, Hess (HES) - Get Hess Corporation (HES) Report is off almost 17%, while Marathon Oil (MRO) - Get Marathon Oil Corporation (MRO) Report , Chevron (CVX) - Get Chevron Corporation Report , Baker Hughes (BHI) , Occidental Petroleum (OXY) - Get Occidental Petroleum Corporation Report , Phillips 66 (PSX) - Get Phillips 66 Report , and even the mighty Exxon Mobil (XOM) - Get Exxon Mobil Corporation Report , are all down more than 5%.
Personally, I have trouble putting my money to work with the commodity testing resistance, professional opinion set up for perfection and the underlying sector sucking wind. I will take a pass, for now. Still, the tape is always right, and my opinion is only just that. For me, it's just that it may be better to miss what smells like it could be a limited upside move, than to catch a tiger by the tail.
Macro
08:50 - Fed Speaker:Minneapolis Fed Pres. Neel Kaskari is set to speak on "the role of the Fed" from Grand Valley, Minnesota. Kashkari, a voting member of the FOMC, has been outspokenly dovish since the last policy meeting, but has not been heard from in two weeks. January's CPI data has come out since then, and it would be nice to see if this has had an impact on his thinking. Kashkari will take questions from the audience.
09:45 - Markit Manufacturing PMI Flash February:Expecting 54.9, January 55.0.
09:45 - Markit Services PMI Flash February:Expecting 55.8, January 55.6. Traders do not really follow Markit's data on manufacturing or services all that closely. Today's numbers could get a casual glance, given that they are they only macroeconomic data releases on today's docket, and that the much more closely followed ISM numbers do not offer a flash look into the month prior to a month-end revision. These two will likely pass quietly, with the Fed speakers stealing the day.
12:00 - Fed Speaker:Philadelphia Fed Pres. Patrick Harker will speak on the economy from Philadelphia. Harker, who is a voting member of the committee, has been out and about over the last couple of weeks. He has spoken openly about the Fed being on track for three rate hikes in 2017, and on March being a live meeting. There will be a Q&A session following the address, which will be open to both the media and the audience.
15:30 - Fed Speaker:San Francisco Fed Pres. John Williams will be in Boise, Idaho, to speak to students about the Federal Reserve Bank itself. San Francisco will not vote on policy until next year, but Williams is considered to be influential, as well personally close to Fed Chair Janet Yellen. Williams has maintained that March was on the table for next increase for the Fed Funds Rate. Williams will take questions from the students.
Sarge's Trading Levels
These are my levels to watch today for where I think that the S&P 500, and the Russell 2000 might either pause or turn.
SPX: 2371, 2358, 2351, 2344, 2337, 2327
RUT: 1424, 1414, 1405, 1397, 1392, 1387
Tuesday's Earnings Highlights (Consensus EPS Expectations)
Before the Open: (AAP) - Get Advance Auto Parts, Inc. Report 1.09, (CBRL) - Get Cracker Barrel Old Country Store, Inc. Report 2.14, (DISH) - Get DISH Network Corporation Class A Report  0.67, (ECL) - Get Ecolab Inc. Report 1.28, (GPC) - Get Genuine Parts Company (GPC) Report 1.01, (HD) - Get Home Depot, Inc. (HD) Report 1.33, (LL) - Get Lumber Liquidators Holdings, Inc. Report -0.32, (M) - Get Macy's Inc Report 1.95, (MDT) - Get Medtronic Plc (MDT) Report 1.11, (WMT) - Get Walmart Inc. Report 1.29
After the Close: (DDS) - Get Dillard's, Inc. Class A Report 2.38, (FSLR) - Get First Solar, Inc. Report  0.99, (LZB) - Get LaZBoy Incorporated Report  0.45, (PZZA) - Get Papa John's International, Inc. Report  0.65
At the time of publication, Stephen Guilfoyle was long HD, although positions may change at any time.