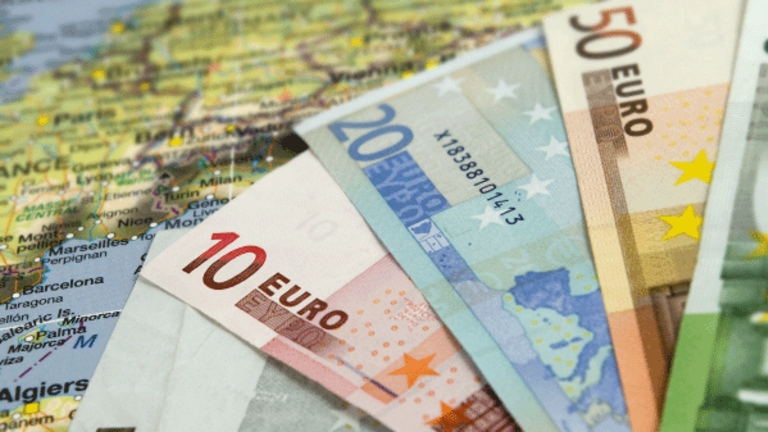 Market Recon: Banking Fun Returns to Europe
The sector has been taking kidney punch after kidney punch after kidney punch across the continent.
"To succeed today, you have to set priorities, decide what you stand for." --  Lee Iacocca
More Banking Fun
Wednesday has not been fun for banks across Europe. While most of you were sleeping, the sector has been taking kidney punch after kidney punch after kidney punch across the continent. Banca Monte dei Paschi, down 10%, has led Italian banks lower after Reuters reported that the troubled bank is down to a liquidity position of 10.6 billion euros ($11.02 billion, not a lot), which could last the bank as little as four months. Previously, they were thought to have close to a year.
Then there's Spain. Spanish banks are in the hole as well, led lower by Banco Popular Espanol (- 6%), after a court case was lost that could force several Spanish banks to have to repay billions of euros to mortgage customers. Ok, enough. Are we done here gang?
No. We most certainly are not. We'll just move on to Switzerland. At least four banks (mostly large international types) have been fined for their roles in either a Euribor cartel, Swiss franc interest rate derivative pricing, Yen Libor, or the Swiss franc Libor benchmark rate. Now, that's quite a menu. Other than liquidity issues, mortgage problems, and fines for a myriad of reasons, it's been a rather quiet day for the group.
Dow 20,000
Not even on my mind for a second. Haven't looked at the Dow Jones Industrial Average since high school. Besides, that would be a second lost that I could have spent being productive.
Trader Focus
The Materials sector is starting to look interesting. This group quickly ran with the leaders after the election, as visions of growth based on increased public spending danced in investors' heads.
That initial euphoria has started to fade a bit. The sector is only outperforming the broader market by a slight margin over the last month or so, and is actually underperforming the S&P 500 over the last few days, as the "Trump Rally" has broadened out.
Over the last 30 days, the Materials ETF (XLB) - Get Report is still up about 4.2%, or about what the S&P 500 has done over that time. We all seem to agree that the Transports (railroads) could be a place to be as Donald Trump's policies are implemented, and there are two names that stick out to me as underperformers.
Ball (BLL) - Get Report , and Sealed Air (SEE) - Get Report are two names that have not enjoyed the rally to the same degree as their sector. In fact, both have been dragged down by heavy selling in the miners, such as Freeport-McMoRan (FCX) - Get Report and Newmont Mining (NEM) - Get Report , for unrelated reasons.
The point is if trains, planes and automobiles are going to be moving products, you could see something resembling better performance moving forward, regardless of how well the holiday season is going. You may not see anything in this space until you see broad profit taking in other names. This may not be today's trade, but these are prospects for my "personal watch list".
Macro
10:00 - Existing Home Sales (November):Expecting 5.52 million, October 5.6 million SAAR. Existing Home Sales are coming off of an October number that printed at its best (seasonally adjusted, annualized) level since July of 2010. Expectations for today are for some cooling of that pace, but still a pretty hot number. Problem? Last Friday, November Housing Starts were also coming off of a multi-year high, and were also expecting a fairly hot print. Housing Starts, like most of our November macro to this point, severely disappointed. For that reason, and the fact that this is the largest slice of the housing pie, the markets will focus upon this release.
10:30 - Oil Inventories (Weekly):Expecting -2.4 million, Last Week -2.6 million barrels.
10:30 - Gasoline Stocks (Weekly):Expecting +1.4 million Last Week +500,000 barrels. Last night, the American Petroleum Institution reported large draws for both oil and gasoline. For crude, the API printed a - 4.15 million barrels draw, and for gasoline, the number was -1.96 million, which contrasts greatly with the consensus expectation in that space. Crude prices have reacted favorably overnight. With so little macro to go on today and less in the way of earnings, this could take on outsized significance in the minds of traders trying to make an impact ahead of a long holiday weekend.
Sarge's Cash Levels
SPX: 2286, 2279, 2273, 2267, 2260, 2254
RUT: 1402, 1392, 1383, 1377, 1369, 1364
Wednesday's Earnings Highlights
Before The Open: ACN ($1.49), PAYX ($0.56), WGO ($0.33)
After the Close: BBBY (£0.99), MU ($0.29), RHT ($0.58)
At the time of publication, Stephen Guilfoyle had no positions in the stocks mentioned.