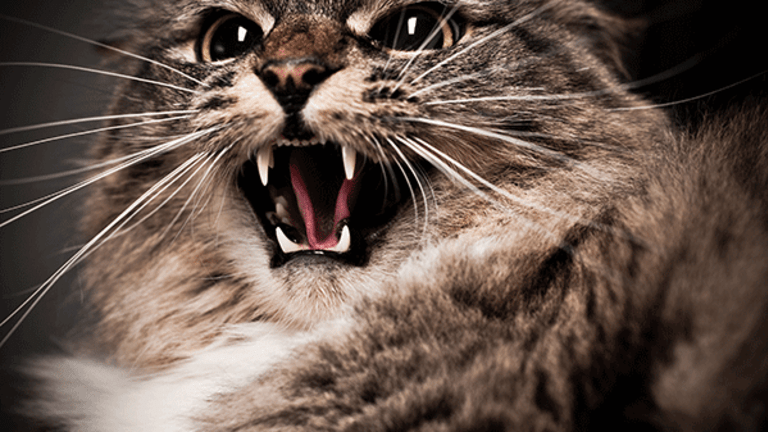 Publish date:
Market Recon: The Market Is Telling You It Doesn't Trust the Federal Reserve -- Recession Lurking?
It comes just 24 hours ahead of both an ECB policy decision and the British election. How much that matters, I'll let you know in 48 hours.
It comes just 24 hours ahead of both an ECB policy decision and the British election. How much that matters, I'll let you know in 48 hours.
"O, accursed hunger of gold, to what dost thou not compel human hearts!" -- Virgil
Such a Deal
The bad news was that the European Central Bank's (ECB) newly formed banking oversight authority, known as the Single Supervisory Mechanism, determined that Banco Popular (BPESY) (Spain's number five by assets, according to The Banker magazine's rankings) was "failing or likely to fail". In response, the European Union's banking rescue agency, known as the Single Resolution Board, put together a sale of the firm to Banco Santander (SAN) - Get Banco Santander S.A. Sponsored ADR Report for the whopping price of €1.0. No "billion" or "million" after the number there. We are talking about one euro. Banco Santander announced that it plans to put together a rights issue this summer to try to clean up Banco Popular's balance sheet. That balance sheet includes €37 billion worth of toxic real estate loans.
This is the biggest story of the wee hours for us in the Western hemisphere. What does all of this mean? Well, it's not Italy, and it's not JPMorgan's (JPM) - Get JPMorgan Chase & Co. (JPM) Report takeover of Bear Stearns, although I did have a brief flashback the moment I heard that news. I think the key takeaway here is that the EU and the ECB seem to have served their functions in this case almost to precision. What seems like an obvious boost to EU credibility comes just 24 hours ahead of both an ECB policy decision and the British election. How much that matters, I'll let you know in 48 hours.
Extremes
A lot to think about. Former FBI Director James Comey will testify before the Senate Intelligence Committee tomorrow. As we already mentioned, that just happens to the same day that the U.K. heads to the polls and the ECB makes a policy decision, with a Super Mario Draghi press conference in tow. Some day. Really, some week.
What's hot right now? No doubt, it's safety that's come into focus. The U.S. 10-year traded at yields, and gold is trading at levels, not seen since the post-U.S election market surge. The U.S. dollar? Oh, the DXY, cute little guy that he is, has been trading at lows not seen since October. Hmmm. Is the dollar weakness related to political risk? Are these softer levels related to fears of a more hawkish ECB president?
I don't think you'll see any change in policy at this ECB meeting. I do think that with the European economy starting to walk on two feet, president Draghi may be more likely to prep the markets (not to mention the issuers of debt) that the €60 billion a month quantitative easing program is starting to look a little like a €40 billion program to him.
Getting Sloppy
Now, about that reach for safety. There are numerous bumps in the road. U.S. equities have moved to and held near all-time highs, largely led by tech stocks, though defensive sectors have also done very well. That's less indicative of the search for cover that we are seeing from the gold and Treasury space. Cover from what? We know that skepticism abounds that any part of President Trump's pro-growth, pro-business agenda will ever be realized, but the economy was improving on its own, wasn't it? Right?
Maybe. Maybe not. Since the start of May, we have seen either negative or disappointing results for many macroeconomic data-points. Consumer level inflation, construction spending, vehicle sales, retail sales, revolving credit, manufacturing in the northeast, housing starts, new, existing, and pending home sales ... oh, and did anyone mention productivity and labor costs? What? I forgot some. Really? Oh, yeah. Payrolls, wages, participation, the balance of trade and factory orders. That's all? What? I lost you. Uhm, sorry. Just so many underperforming data-points.
On top of that, the FOMC wants to raise in rates in June and keep going. San Francisco Fed Pres. John Williams sees a possible fourth rate hike this year, all while managing down the balance sheet. Then, why, Sarge, would stocks be at the level that they are at, and safe havens be trading where they are at? That's easy, gang. The Fed's intended trajectory is indeed a headwind to the marketplace, and anti-growth. The markets just do not trust the Fed. Mind you, I'm not calling for a recession, the Atlanta Fed still sees second-quarter GDP at 3.4% seasonally adjusted annual rate. However, there is no denying that the economy (see above data points) is starting to look and feel sluggish, yet again. That's what the long end of the curve is telling you, while the short end still has to take the June hike seriously. This is why the banks have been in the dumper, and also what high equity valuations are telling you.
Coming Volatility
Now, if some at the FOMC start to believe that the Fed will be not be able to do much after June (unless the trajectory of this economy changes for the better), while others try to stay on their initial course... POW !! Just imagine the volatility.
What turns the ship around for the better? The optimism that progress on tax reform could do that all by itself, even before policy implementation. Then if that brought with it a fat, juicy, low rate repatriation event, and warm, sunny weather... Well, a kid can dream.
Macro
10:30 - Oil Inventories (Weekly):API -4.62 million , Last Week -6.4 million barrels.
10:30 - Gasoline Stocks (Weekly):API +4.08 million , Last Week -2.9 million barrels. Last night's data from the American Petroleum Institute brought with it a surprisingly large draw for headline crude, but also that large build in the gasoline space. A confirmation of this data by the Energy Information Administration this morning would mean that oil inventories had contracted for nine consecutive weeks. Last night, WTI crude traded higher in response to this data, but is now well off of those highs and back below $48 a barrel.
15:00 - Consumer Credit (April):Expecting $15.9 billion, March $16.4 billion. In March, consumer credit expanded by a fairly decent $16.4 billion. The problem is that only about 12% of credit expansion in this country has been coming from the revolving credit (credit cards) space, which is the part of the report that economists watch. This item comes with such a lag, that it does not really factor into price discovery for the markets upon release.
Sarge's Trading Levels
These are my levels to watch today for where I think that the S&P 500, and the Russell 2000 might either pause or turn.
SPX: 2448, 2441, 2435, 2427, 2418, 2410
RUT: 1408, 1402, 1397, 1390, 1385, 1378
Today's Earnings Highlights (Consensus EPS Expectations)
Before the Open: (NAV) - Get Navistar International Corporation Report (-$0.02)
After the Close: (GEF) - Get Greif Class A Report ($0.74)
What's Hot
Apple (AAPL) - Get Apple Inc. (AAPL) Report still in focus after mixed responses on Wall Street to its WWDC.
Tesla's (TSLA) - Get Tesla Inc Report CEO Elon Musk said on Tuesday evening the company wants to build three more battery plants in the U.S.
FANG stocks -- an acronym for Facebook (FB) - Get Facebook, Inc. Class A Report , Amazon (AMZN) - Get Amazon.com, Inc. Report , Netflix (NFLX) - Get Netflix, Inc. (NFLX) Report and Google (Alphabet) (GOOGL) - Get Alphabet Inc. Class A Report are set to open near records.
Apple, Facebook and Alphabetare holdings in Jim Cramer'sAction Alerts PLUS Charitable Trust Portfolio. Want to be alerted before Cramer buys or sellsAAPL, FB and GOOGL?Learn more now.
Click here for the latest business headlines.
This article is commentary by an independent contributor. At the time of publication, the author held no positions in the stocks mentioned.