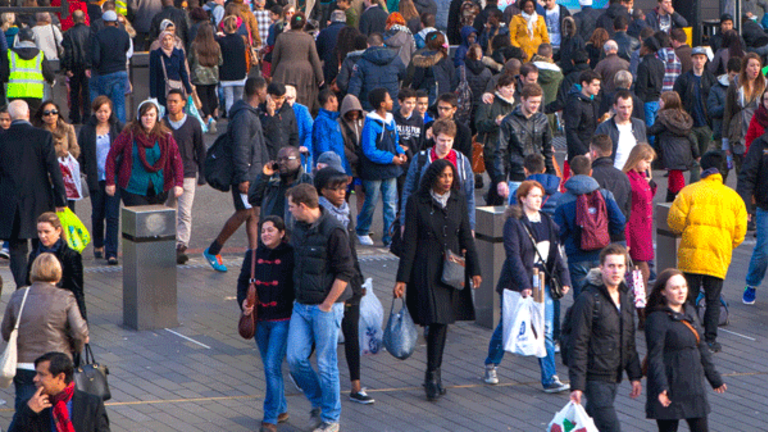 Market Recon: Ask Yourself Whether It's Over for Retail
Perhaps it is time to change the way we measure performance in retail.
"Work hard, stay positive, and get up early. It's the best part of the day." -- George Allen, Sr.
Retail in Plain English
One must ask oneself: Is it over for retail? If not over, is it time to measure performance differently? We all know that shopping habits have changed, but yesterday's moves within the Consumer Discretionary sector were just alarming. Especially when considering that this came in a quiet marketplace. Automobile stocks, leisure products, specialty retail, and even internet retail took it on the chin yesterday.
The worst of the beat-down was saved for those multiline retailers. Many well-known names that comprise this industry group gave up 4% or more on the day, including Nordstrom (JWN) - Get Report , Dividend Stock Advisor portfolio name Kohl's (KSS) - Get Report , Sears (SHLD) , and Target (TGT) - Get Report .
It is more than just changing habits, though. For the month of November, we've seen awful numbers for retail sales, durable goods orders, and personal income as the economy appears to be softening a great deal into the end of the year, and healthcare costs continue to strangle the middle class. Even policy shifts that are expected to produce relief are well off into the future and the degree to which those shifts are implemented may or may not be to the satisfaction of a market expectations that have certainly pulled some 2017 gains forward in 2016.
What to do about it? I have no positions among brick and mortar retailers at this time, other than Home Depot (HD) - Get Report . That one I consider to be different, because the consumer need is often more immediate there. Though I often dabble in TGT, and Walmart (WMT) - Get Report , those are always short-term trades, never investments. I am long Growth Seeker and Trifecta Stocks portfolios holding Amazon (AMZN) - Get Report equity for quite some time now, but even that pure internet play is no sure thing. The stock has largely gone sideways since July. In fact, AMZN has been making a series of lower highs and higher lows since early October, leading me to believe that this name is headed for an explosive move in the near term. A breach below $740 would concern me greatly.
As far as the bricks and mortar gang go, I walk the malls and I talk to the employees. I watch the behavior of the shoppers. There are no overly oppressive crowds, at least not in comparison to what I have seen in years gone by. Any long lines are usually due to understaffing, which only further illustrates the problem. The employees, in many cases, do not seem extremely stressed out, and in fact do seem interested in talking about it. Not only would I steer clear as an investor for now, but any temptation to get long this space would simply be speculative. Speculative ?? Really ?? I think that taking a shot here would be just that, taking a shot, and would be based on the belief that a given firm could compete better online.
Uphill Climb
The S&P 500 trading level of 2267 and Russell 2000 trading level of 1377 remain far more important to the short-term health of the market than any number in any other index. As mentioned in this column yesterday, the simultaneous breakage of those levels late on Wednesday has produced a hurdle that must be tackled prior to any resumption of northerly market direction. Don't look now, but the equity markets, in broad terms have gone sideways for two weeks.
Market Note: The bond market will close at 14:00 ET today.
Holiday Note: This is neither a religious note, nor is it a political one, at least not very often. Chanukah kicks off tomorrow, and runs through January first. Happy Chanukah. Christmas Day is this Sunday. Merry Christmas. Kwanzaa will begin on Monday, and end on January first as well. Happy Kwanzaa. I f you celebrate any of these, something else that I am unaware of, or nothing at all, we here at TheStreet wish you the happiest of seasons and some good, quality time with those whom you love. See you Tuesday.
Macro
10:00 - New Home Sales (November):Expecting 577,000, October 563,000 SAAR. New Home Sales hit the tape at a seasonally adjusted, annualized 563,000 in October. That was the weakest number in this space over the last seven months. That was also the seventh strongest number in this space since March 2008. This tells you that great progress has been made, but that the recent trend is going the wrong way. We look for a small uptick here today, and in fact we really need to see one. The housing data has been inconsistent for November, but the overall macro picture for the month has been just plain awful.
10:00 - University of Michigan Consumer Sentiment (December-rev):Flashed at 98.0. Clearly, the consumer is more optimistic of late. This trend has been confirmed both by the December flash for this item, and the November print for the Conference Board's Consumer Confidence survey. As positive as this would seem, November data for income, and November Retail Sales do not convey the image of a happy consumer. The market will likely react to this release.
13:00 - Baker Hughes Rig Count (Weekly): Last Week 637 total, 510 oil. We have seen a steady increase in the number of operational U.S. rigs, more so for oil than for gas. That steady stream had been a trickle until last week's sizable pop. I do think that we see more of the same, as long as WTI Crude prices continue to find support above $50. A headline increase in U.S. supplies did hurt crude prices on Wednesday, but WTI did hold its ground well above that level on Thursday.
Sarge's Cash Levels
SPX: 2279, 2273, 2267, 2259, 2253, 2247
RUT: 1377, 1368, 1363, 1355, 1349, 1339
There are no earnings releases scheduled for today that captured my attention.
At the time of publication, Stephen Guilfoyle was long AMZN, HD, although positions may change at any time.