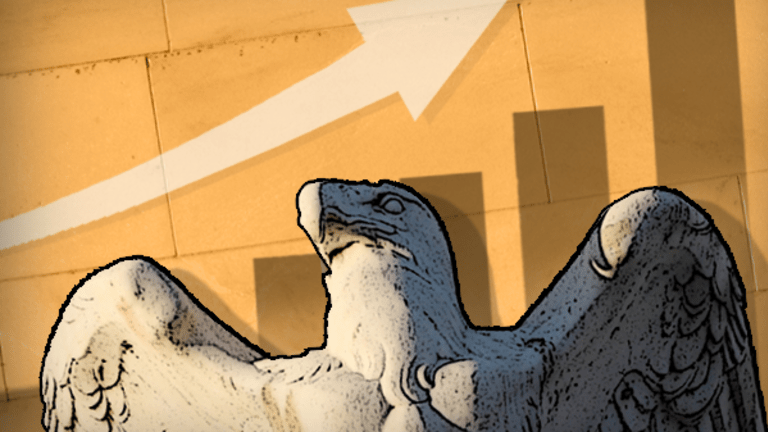 Market Recon: Another Fed Meeting Beckons
It's no secret that the Fed intends to remain on its current trajectory of tightening monetary policy.
"The real world is where the monsters are." -- Rick Riordan, author
Monster in Your Closet
In your immediate front this week will be another FOMC policy meeting. The members of the committee will have to show agility in how they relay their statement to the public this month. It's no secret to most of us that the Fed intends to remain on its current trajectory of tightening monetary policy. Since increasing the target for the fed funds rate to a range between 0.75% and 1% way back in March, Fed speaker after Fed speaker has marched out and paved market expectations toward another hike or two this year, as well as taking a shot at managing that monster hiding in our closet: their balance sheet.
Since that last policy meeting, first-quarter GDP (released last Friday) severely disappointed, March CPI actually contracted at both the headline and the core (March PCE prints today), and job growth slowed to a crawl (more on that this Friday). All of this weak, high-profile macroeconomic data puts the FOMC in a tough position. To blindly stay on track without addressing the apparent weakness, or attempting to paint it as temporary, would make the committee appear out of touch with reality (no, not them).
Still, the global economy does seem stronger, most economists do think that the second quarter is heading in a far better direction than did the first, which would play along with the seasonal norm in the U.S., and that the U.S. economy remains not far from "full employment" (I think we do, in fact, remain decidedly distant from claiming anything close to "full employment", but I don't have a vote, and the committee does not respond to my offers of help).
With only a 5% market expectation of a rate hike this week and futures markets pricing in a two in three chance of a rate hike in June, the official statement will be the only significant policy focus this week.
Wounded Consumer
The University of Michigan reported on Friday that consumer sentiment remains high. Subcomponents such as current conditions and expectations remain far above October 2016 levels. The Conference Board's consumer confidence numbers, also released last week, support this trend. Still, first-quarter GDP hit the tape at a seasonally adjusted 0.7% q/q SAAR. The primary culprit in GDP underperformance over the quarter was personal consumption expenditures. So, what gives?
Today, you'll see more data, not only for March consumer levels inflation, but data on income vs. spending for that month as well. Consensus view is for income to have outpaced growth for a third month in a row, after the data (and the people) suffered the reverse for most of 2016. Hard data vs. soft data. No kidding. How does the consumer "get on track" is the question swirling around economic circles. Well, folks, the consumers are wounded, and have been spending beyond their aggregate ability to spend for quite some time.
How long does it take for a wound to heal? For scar tissue to callous over? "Uncle Louie" kept his cash in a strong box for 70 years, and lived like a pauper even though he did not need to. The better question may be, is a consumer who might just be in a better place willing to go down the path of renewed pain? Maybe they (we) save when given a chance, for a change. Only time will tell if behavioral patterns have changed long-term. The view from the castle may have not seen that one coming.
Earnings Season
After last week's overwhelming onslaught of quarterly earnings releases, this will be another heavy week for such data, with over 36% of the S&P 500 going to the tape with their numbers. So far, first-quarter earnings growth is running more than 11% warmer on a year-over-year basis. You'll recall that we came into the season with estimates centering around gains of little more than 9%. Revenues could take more of the focus throughout the season, as overall this data-line seems to be running just below expectations (6% growth vs, 5.5%). Individual corporate beat rates remain above "earnings season" norms for both earnings per share and revenues at this point. As far as equity prices are concerned, making money is still the single most important impact item (but far from the only force).
Say What?
We've been saying in this spot all along that though equity valuations seem stretched by most metrics, earnings could help the market fill out the "oversized T-shirt" of valuation. That may or may not be happening before our eyes. What is also an obvious force in the marketplace is belief, or hope. As long as optimism remains that this administration can get pro-business, pro-growth policies passed at some point, it will remain very difficult for investors to hold on to bearish market positions, at least in the broad sense. While many scoff at a tax plan released that lacks a lot of detail and has many sticking points, the very action of keeping potential tax cuts in the news is a strategy all in itself, and a smart one. Most folks believe that where there is smoke, there is fire. So at least let them see some smoke.
On that note, the president in the media over the weekend, announced that the new Republican healthcare reform package will, in fact, guarantee coverage for pre-existing conditions. The individual states, it now seems, will not be permitted to opt out of this provision. If true, that removes a major obstacle to getting such a bill passed and would move Congress on to talking taxes. However, it remains likely that this, too, will drag on some. The president insists that this new version of healthcare reform will lower premiums and deductibles. Will cover those pre-existing conditions. Will not significantly cut the Medicare program. That program covers 55 million Americans. How does a new plan get all of this done? No, really, I'm asking you.
Macro
07:45 - Impact Speaker:Secretary of the U.S. Treasury Steven Mnuchin will be in Los Angeles to speak on global capital markets with Fox Business anchor Maria Bartiromo at this year's Milken Conference. The conference itself runs through Wednesday. I would think that the White House tax plan somehow comes up.
08:30 - Personal Income (March):Expecting 0.3%, February 0.4% m/m.
08:30 - Consumer Spending (March): Expecting 0.2%, February 0.1% m/m. Income growth has outpaced growth in spending for two consecutive months, with a third such month expected today. This is a fairly drastic, and most welcome change from what we saw for most of 2016. It is only when the consumer is again somewhat comfortable that he or she will again consume, and there certainly was some ground to make up. When does that comfort level lead to action? That's almost impossible to tell. With confidence levels still very close to multi-decade highs, the iron is hot.
08:30 - PCE Price Index (March):Expecting 1.8%, February 2.1% y/y.
08:30 - Core PCE Price Index (March):Expecting 1.7%, February 1.8% y/y. You may recall a while back that I told you that April would bring with it tougher comparisons for consumer-level inflation. Well, if expectations in this space are to be realized, that fact of life may come a month early in this March data. The year-over-year core print for this series is actually the one to watch, as that's the item that the FOMC and Wall Street watch the closest. On top of that, the FOMC makes a policy decision this week.
09:45 - Markit Manufacturing PMI (April-rev):Flashed 52.8. Given all of the attention that will likely be placed on the above items and the importance to the economy of the much more focused-upon ISM print, this item will fade away quietly for most traders. There should be little to no market reaction.
10:00 - ISM Manufacturing Index (April):Expecting 56.5, March 57.2. The manufacturing sector has truly seen a mild rebirth of the last six to eight months or so. We do not expect to see that much of a drop-off in the pace of headline expansion for April. I would think though, that at some point, we will find out just how much this expansion flattens out over time as crude prices move sideways to lower. At least regionally, this has to be a significant factor.
10:00 - Construction Spending (March):Expecting 0.5%, February 0.8% m/m. Construction Spending showed some life in February after what had been two poor months of poor performance back to back. This can be, at times, a volatile series. To see growth of the kind expected on top of an unrevised (or close to it) number for last month would be considered a major plus, and could cause a positive reaction in the marketplace.
Sarge's Trading Levels
These are my levels to watch today for where I think that the S&P 500, and the Russell 2000 might either pause or turn.
SPX: 2404, 2398, 2391, 2383, 2377, 2369
RUT: 1420, 1414, 1407, 1400, 1393, 1384
Today's Earnings Highlights (Consensus EPS Expectations)
Before the Open: (CAH) - Get Cardinal Health, Inc. Report ($1.46), (DO) - Get Diamond Offshore Drilling, Inc. Report ($0.09), (DISH) - Get DISH Network Corporation Class A Report ($0.69), (NSP) - Get Insperity, Inc. Report ($1.82), (L) - Get Loews Corporation (L) Report ($0.66), (TEN) - Get Tenneco Inc. Class A Report ($1.43)
After the Close: (AMD) - Get Advanced Micro Devices, Inc. Report (-$0.04), (CBT) - Get Cabot Corporation Report ($0.85), (DNB) ($0.90), (NBL) - Get Noble Energy, Inc. (NBL) Report (-$0.14), (THC) - Get Tenet Healthcare Corporation Report (-$0.52)
Top news on TheStreet:
Unfortunately for Chipotle, the Price for One of Its Most Beloved Ingredients Is Soaring
At the time of publication, Stephen Guilfoyle had no positions in the stocks mentioned.