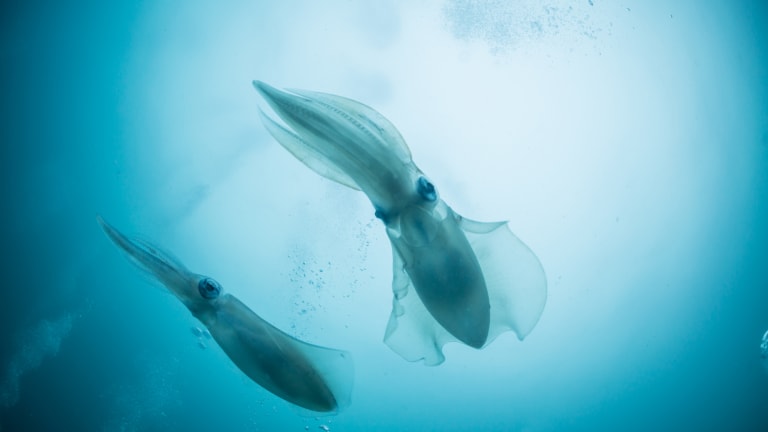 Here's How Amazon's Rise Is Like a Giant Squid Sucking the Life Out of Its Prey
Willingness to sacrifice profitability in the name of market share is not accounted in any inflation model.
Willingness to sacrifice profitability in the name of market share is not accounted in any inflation model.
"Motivation will almost always beat mere talent." -- Norman Ralph Augustine
Table Setters
After Monday's half day of volatility, equity markets appeared to stabilize toward the highs of the day after the release of the Fed's minutes from their June meeting. There is no doubt that these minutes paint a picture of an FOMC that remains in a hawkish mood. However, there does appear to be uncertainty at the central bank concerning the timing of the kick-off of its planned quantitative tightening program (the management of the balance sheet) that will likely run alongside continued increases in benchmark interest rates.
The last two weeks of June were marked by increased volatility in the equity marketplace, as some weakness in sovereign debt resulted in rising yields as not only officials of the Federal Reserve Bank, but also at the European Central Bank, the Bank of England, and the Bank of Canada all appeared to favor some tightening, or at least set the table to tighten monetary conditions at some point in the future.
Employment vs. Inflation
With the domestic macroeconomic data being reported in most inconsistent fashion year to date, this becomes a tug of war for the U.S. central bank between the labor market and consumer level inflation. Some Fed officials fear that the prolonged "undershooting" of unemployment rate projections could eventually lead to a rapid rise in inflation as well as an overall overheating of the U.S. economy. There are reasons why those at the FOMC are a bit off on this thinking (in my opinion). This is conventional textbook economics (the Phillips curve), which I've got to think does not apply as sharply in this modern era as perhaps it once would have.
For one, too many laborers in this economy are either underemployed, or not participating. The participation rate is far lower than it was during better times, and average workweek is now lower than it was earlier in this very recovery. Then there are the legions of folks who in the wake of the "great recession" went back to work at far lower levels of compensation than they had become accustomed to earlier in their careers. That kind of damage leaves scars on the consumer's ability and/or willingness to spend. There simply is more slack in labor markets than central bankers either realize, or are willing to admit. I am not downplaying the progress made. I just think that this recovery is far less mature, as well as far more fragile than do our policy makers.
Amazoned
This unmentioned and unrecognized slack in the labor markets has produced a chilling effect on consumer level inflation, but there's one more condition not mentioned in the textbooks. One that matters greatly. We speak often of which retailers have been, or are going to be "Amazoned". The changed environment in commerce brought on by the e-commerce giant Amazon (AMZN) - Get Report has not just changed the retail game, but the whole economy. Compressed margins brought about by a logistical juggernaut willing to sacrifice profitability in the name of market share, and not only sell to you what you want for less, but bring it to your doorstep is not accounted for in any inflation model.
One must ask, is sustained 2% consumer level inflation realistic in the era of reduced job quality, e-commerce, and high inventories of energy related commodities? The evidence of an almost permanently changed landscape is indeed mounting.
More of What's Trending on TheStreet:
I Am a Millennial Who Just Went to Kmart for the First Time Ever and Couldn't Believe This Place
High Valuations vs. Scarcity
In recent weeks, not only the Fed Chair herself, but several Fed officials have warned about asset prices that appear high. In every case, equity prices trading at historically high valuations are mentioned. No argument here, they are. Is this a bubble, though? Not in my opinion. These valuations are the result of the simplest equation of all: supply and demand. There are fewer stocks in our universe, only a rough 3600 in the Wilshire 5000, and a plethora of ETFs with an infinite number of strategies that need, by mandate, to invest in them. Need a reason why there always seems to be a bid under the markets? Could it be that this is simply the concept of scarcity at work? Basic economics, if so. Yet, this something we do not hear from our policy makers. I'm just a guy trying to make a living, but there appears to me to be explainable reasons for the resulting oddities of the modern economic landscape, as well as its market-based results.
No, we cannot pretend that this is normal; this is different. But, we may all be rookies in this together, the 40-year market veteran and the new kid with no experience. The regional Federal Reserve district president and the graduating economics student may all have the same level of experience in this environment. It may be time that we stop kidding ourselves that the classically trained know any more about how to go about unwinding an unprecedented level of monetary accommodation than does anyone else. Janet Yellen testifies before Congress next week, in what until next Friday will be a thin macro week. Next Friday is also when the major banks start going to the tape with their quarterly earnings numbers. My friends, there be squalls ahead.
Macro
03:45 - Fed Speaker:San Francisco Fed Pres. John Williams spoke live from Hobart, Tasmania this morning. The topic was centered on global economic growth. Williams, who does not vote on policy this year, but has been vocally hawkish throughout was taking questions from the audience as this morning note was being written.
08:15 - ADP Employment Report (June):Expecting 183,000, May 253,000. Interestingly, the monthly ADP print has been decisively outperforming the jobs data released each month by the government's Bureau of Labor Statistics. 2017 to date has this series averaging 247,400 per month, which is pretty darned healthy. However, non-farm payrolls are running at just 181,800 a month, with two of the last three hitting the tape in a state of severe disappointment. Makes you wonder, after a 2016 when the ADP and BLS data ran almost side by side (once averaged), just what is going on here. One of these two series is going to be drawn toward the other over the next few months. Clearly, at least one of these two suffers from completely inefficient methodology.
08:30 - Initial Jobless Claims (Weekly):Expecting 243,000, Last Week 244,000. Traders will likely allow this data-point to pass quietly due to its consistency. The four-week moving average for those items now stands at 242,250, and the entire range of expectations for this release span is just 11,000, from 239,000 to 250,000.
08:30 - Trade Balance (May):Expecting $-46.2 billion, April $-47.6 billion.
08:30 - Exports (May):Expecting $190.8 billion, April $190.9 billion.
08:30 - Imports (May):Expecting $237 billion, April $238.6 billion. After the goods trade balance showed some nice improvement from April into May, we'll look for similar improvement here. Now, this data prints with a lag, and will not move the markets upon its release. That said, these numbers will impact GDP projections for the second quarter, and you will hear from the Atlanta Fed later this morning. Their second-quarter expectation is currently running at an annualized 3.0% q/q.
09:45 - Markit Services PMI (June):Flashed 53.0. This is another macroeconomic data-point that will not get too many motors running. Most traders looking for direction based upon service sector performance will wait out the 15 minutes and react after the ISM releases their much more highly focused upon data.
10:00 - Fed Speaker:Federal Reserve Gov. Jerome Powell is set to speak from Washington, DC. Powell, who as a governor, holds a permanent FOMC voting slot is not expected to stray very far from housing finance reform today. It is not clear if questions will be permitted.
10:00 - ISM Non-Manufacturing Index (June):Expecting 56.5, May 56.9. After the ISM Manufacturing number, hot off the tape near the top of its recent range largely on roaring responses in the new orders and production components, traders will look to the service sector for their macro cue today. This series has been running at higher levels than has the manufacturing slice of our economy. For this item to remain ho, would bode well overall. This is today's key item.
11:00 - Oil Inventories (Weekly):API -5.76 million, Last Week +118,000 barrels.
11:00 - Gasoline Stocks (Weekly):API -5.7 million, Last Week -894,000 barrels. After eight consecutive daily price increases, crude too one to the teeth yesterday. That said, upon the API's weekly release that showed large draws for both the headline commodity as well as gasoline, WTI found a bid in after-hours trading. The marketplace will watch the EIA's print closely this morning for confirmation of last night's data.
19:30 - Fed Speaker:Federal Reserve Vice Chair Stanley Fischer will be in Vineyard Haven, Massachusetts to discuss government policy, and labor productivity. Obviously, Fischer votes on policy, and the audience will be allotted time to ask questions.
Sarge's Trading Levels
These are my levels to watch today for where I think that the S&P 500, and the Russell 2000 might either pause or turn.
SPX: 2449, 2442, 2435, 2427, 2421, 2411
RUT: 1433, 1427, 1420, 1412, 1403, 1397
Today's Earnings Highlight (Consensus EPS Expectations)
Before the Open: (AZZ) - Get Report ($0.69)
What's Hot On TheStreet
Apple is OK for the time being: For those silently worrying how the Apple (AAPL) - Get Report iPhone 8 will sell, simmer down -- the tech giant still has several huge advantages. On the hardware side, for instance, the iPhone still feels ahead of the pack thanks not only to Apple's design skills and the visible features of its hardware, but also what's under the hood points out TheStreet's tech columnist Eric Jhonsa. From the looks of things, the iPhone 8 should extend that lead, Jhonsa predicts.
Tesla is looking wobbly: Tesla (TSLA) - Get Report shares are looking a little shaky (again) after its Model S didn't get a top rating from Insurance Institute for Highway Safety (IIHS), reports TheStreet's James Skinner. The IIHS cited issues with the small overlap front test, which is meant to simulate crashes into trees, poles and other vehicles, as why the Model S did not receive the highest rating. IIHS Executive Vice President David Zuby said the front test remains a "hurdle" for some vehicles.
"Tesla made changes to the safety belt in vehicles built after January with the intent of reducing the dummy's forward movement," IIHS said. "However, when IIHS tested the modified Model S, the same problem occurred, and the rating didn't change."
Apple is aholding in Jim Cramer'sAction Alerts PLUS Charitable Trust Portfolio.Want to be alerted before Cramer buys or sells AAPL? Learn more now.
Visit here for the latest business headlines.
Get Morning Recon delivered directly to your inbox each market day. Click here to sign up for e-mail delivery of Stephen "Sarge" Guilfoyle's Morning Recon, Jim Cramer's Daily Booyah! or other great free newsletters from TheStreet.
At the time of publication, Stephen Guilfoyle had no positions in the stocks mentioned.