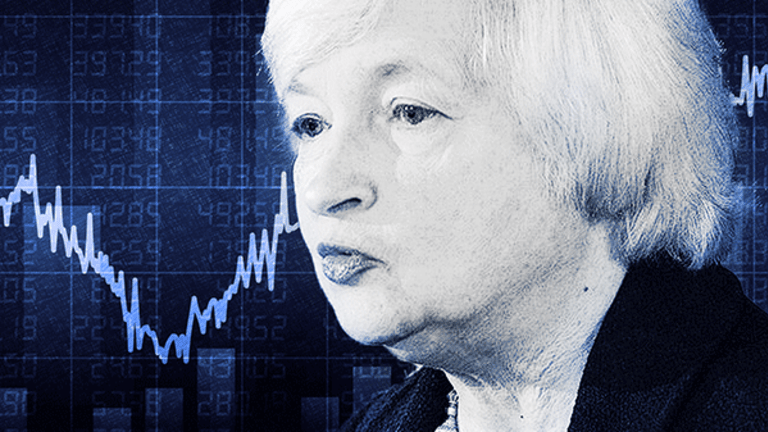 Market Recon: Ahead of Fed Minutes, Stop and Think About the March Meeting
The Fed's intention is that the ball is indeed rolling, and they feel the need to keep up.
The Fed's intention is that the ball is indeed rolling, and they feel the need to keep up.
On Discipline
We may have observed Presidents' Day here in the U.S. on Monday, but today is actually George Washington's birthday. Washington, as the chief founding father of our nation and still the only man to serve as Commander in Chief not only as President, but both prior to and also after completing his service as head of state, was highly quotable. One such quote has stayed with me all of my life. Washington was referring to the military, but I think the underlying ethic is easily transferred to any occupation, or walk of life... such as ours.
"Discipline is the soul of an army. It makes small numbers formidable; procures success to the weak, and esteem to all." -- George Washington
Take it to heart, gang. To be more successful than your talents allow naturally, one must develop a set of disciplines, and live by them. Makes trading a whole lot simpler. Makes life a whole lot simpler. Resist the easy way. Cut yourself some slack today, and you may never stop. Cut yourself some slack yesterday? Right the ship today, and move on.
The FOMC Minutes
1) Situation
They say the Fed minutes to be released this afternoon won't count for much. Maybe that's true, but they will make you stop and think about the Fed, and you should. The CME's website now puts the probability of a March 15 increase for the fed funds rate at 22%. That seems a little light to me. I know that I've said several times over the last couple of months that I hoped that the FOMC would wait until they saw evidence of an improving economy before they moved, and not to simply move going off of that completely ridiculous notion that the economy is running at full employment. We all know that the individual U.S. laborer is underemployed.
2) Mission
Real economic improvement. The likes of which we now see in spots across the manufacturing sector, the likes of which we saw in a dual pop for January retail sales and consumer level inflation. Did I mention fourth quarter earnings growth? In an economy that was at that time "humming along" at a pitiful 1.6% GDP? Yes, in my opinion -- and I am a tough grader -- we are now off of the canvas.
3) Execution
Janet Yellen has, I believe, been very clear in her intent. I have been a vocal critic in the past, but her directness here is welcome. Stanley Fischer seems to follow her lead. Kaplan, Harker, Dudley, Evans, yes even Charles Evans (former perma-dove) have all stood on street corners banging on the drums of intention. The intention that the ball is indeed rolling, and they feel the need to keep up.
4) Administration
They almost have to move in March if they want to do this three times, or at least leave open the possibility of moving three times. The markets, and the economy seem to be justifying taking that action. March is live, folks. I am not sure that it's a toss-up, but do not discount the possibility. As for the minutes, they may not say much, or lend any three week old clues. I hope you never hold me to what I wrote three weeks ago (unless I was right). Treasury yields, the bond proxies and the financial sector may react anyway, assuming higher rates are on the way if there is no dovish mention hidden in the weeds. As for the March 15 date with destiny, February retail sales data and the February CPI both hit the tape on March 14, after we get a look at January PCE on March 1. Giddy up.
5) Command and Control
What will be impacted today? Depends on a mention. Any mention, really. Something seemingly dovish. Something not on board with a clearly laid out intention. Something unforeseen. Dollar valuations. Treasury yields. Equity prices, some more than others. The financial space, along with the bond proxies, would face polar risks going into 2pm. Like something you missed, be prepared to act at your level ahead of time. Close to a target price on some merchandise you can't believe got here so fast? Discipline.
Macro
08:55 - Redbook (Weekly):Last week 0.9% y/y. This item has shown improving strength in back-to-back weeks now, after a three-week stretch of sub-par growth. A strong number here would play well with some better-than-expected comp sales from the retail space. Of course, reporting retailers have to continue to play along.
10:00 - Existing Home Sales (January):Expecting 5.58 million, December 5.49 million SAAR. Existing home sales are easily the largest slice of the housing pie. This series has stayed on trend since the U.S. election, despite a pop in mortgage interest rates in response to that election. The continued maintenance of a level comfortably between a seasonally adjusted, annualized rate of five to six million would be confirmation that this market is able to absorb these rates. These rates. More on that later, eventually.
13:00 - Fed Speaker:Federal Reserve Gov. Jerome Powell will be in New York City to discuss the U.S. economy and monetary policy. Powell does not make a lot of noise, and as a permanent voting member of the FOMC his words could impact the markets as much as the FOMC minutes that we'll see an hour later. Powell will take questions from the audience.
14:00 - FOMC Minutes: We've previewed them as best we can. This is the macroeconomic event of the day, and outside of housing data, probably the most significant macro event until next Tuesday's fourth quarter GDP revision.
Sarge's Trading Levels
These are my levels to watch today for where I think that the S&P 500, and the Russell 2000 might either pause or turn.
SPX: 2389, 2377, 2366, 2358, 2351, 2344
RUT: 1426, 1419, 1411, 1404, 1397, 1392
Wednesday's Earnings Highlights (Consensus EPS Expectations)
Before the Open: (EV) - Get Report ($0.57), (SN) - Get Report ($0.05), (SIX) - Get Report (-$0.04), (TJX) - Get Report ($1.00)
After the Close: (SAM) - Get Report ($1.24), (FIT) - Get Report ($0.17), (LB) - Get Report ($1.87), (TSLA) - Get Report (-$0.32)
At the time of publication, Stephen Guilfoyle was long SN, although positions may change at any time.