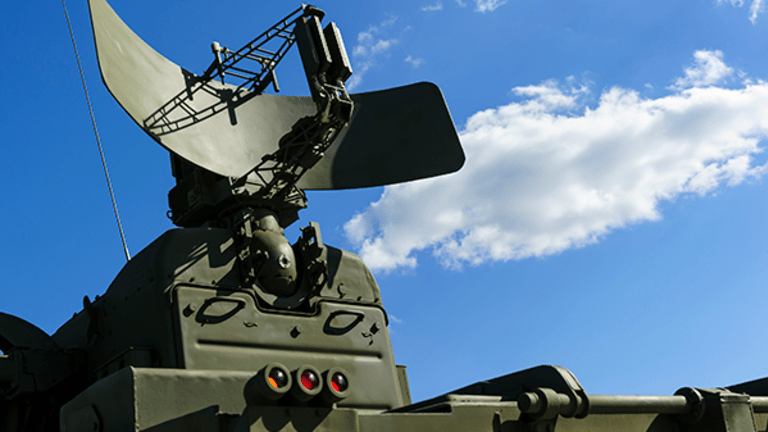 The Threat of a Hot War Must Be Assessed by Entire Civilized World: Market Recon
This 'selloff' smelled something like a rotation -- a rotation driven by the need to take profits.
"Any man who reads too much and uses his own brain too little falls into lazy habits of thinking."  
--Albert Einstein
A Polite Punch in the Face
Some might call what we saw in yesterday's trading a selloff. Some might not. The broader indices traded slightly lower, with the exception of the Nasdaq Composite. The day's slide for that particular index did actually approach the one percent mark. This "selloff" smelled something like a rotation -- a rotation driven by the need to take profits.
Tech shares really took it on the chin during the day's session. In fact, the start of this profit taking really began sometime last week, when the sector separated itself from the pack, and not in a good way. What gives? Oh, you can really blame a number of factors. Blame Washington. That's always a good place to start. Most of us, even those of us who gave up on reforming healthcare months ago, really wish that this debate would go away -- at least until there is a legislative victory regarding tax reform on the scoreboard. The current health care laws hurt many people. We know that, but the debate only delays what is achievable. Then, there is North Korea. 
Ever step on gum, and spend the next twenty minutes walking funny trying to scrape the darned gum off of your shoe? Well, North Korea is that gum. Just in case you spent most of yesterday afternoon discussing important stuff, like the NFL (I did), North Korean foreign minister Ri Yong Ho pretended that the U.S. had declared war on his nation. The unspoken threat there is that North Korea will feel free to take whatever actions Kim Jung Un feels he needs to take. Maybe someone should tell these guys that the day the U.S. declares war, there will be no maybe about it. 
The situation here is that the United States, and really the entire civilized world, are at some point going to have to decide on what amounts to the lesser of two evils. The threat of an actual hot war will be costly in terms of lives and treasure, while a protracted cold war will not be inexpensive either. In the meantime, there will be a bid under what are perceived to be safe-haven assets, as well as defense names. Under no scenario do I see less capital being sent in that direction.
Sleeping Beauty
As money comes out of areas sporting the most 2017 profit, it appears to finally be finding some areas previously left for dead by the financial markets. Why are most traders not too unhappy about taking it in the mush in some of their tech faves yesterday? Advanced Micro Devices (AMD) , Nvidia (NVDA) , Facebook (FB) , Lam Research (LRCX) , Electronic Arts (EA) , Micron Technology (MU) , and Activision Blizzard (ATVI) all gave up multiple percentage points. It's simple. Most traders long these names, though taking (hopefully just) a short-term hit in the space, are still up large there.
Many traders that hold those names are also finally seeing their energy longs wake up.  
Bang!! West Texas Crude crashed up through the $52 level in yesterday's trade, reaching prices in the $52.30s overnight. Remember when I told you that WTI had to take and hold $51.75 in order to realize any sustained recovery? Well, this morning comes that "hold" part. Crude can trade above $54 (honest), but technically, how traders handle any early price pressure today will be key. There are several components factoring into a sustained move higher by this commodity.
While it is true that at OPEC's mountain rave last week, Nigeria, and perhaps Libya, indicated that they would be willing to talk production freezes at higher levels, the rest of the oil producing world does seem unified. On top of that, the International Energy Agency (the IEA as opposed to the EIA, where our weekly inventory data comes from) reported last week that global demand for crude was recovering, and that it could reach 47.4 million barrels per day in 2018. The truth is that lower fuel prices have driven consumer choices in such a way that for every one electric car that hits U.S. roads, more than 60 SUVs are also hitting the road. 
Suddenly, the ugliest spots on my book are not really ugly at all. I can live with a Nvidia well off of its highs in exchange for an Apache (APA) that suddenly sports the color green for the first time in many, many months. A little give and take. Rock on. (APA, FB, NVDA and ATVI are holdings of Action Alerts PLUS.)
Too Much to Ask?
The rotation that we have seen of late is not all about energy. It's about everything that has been taken out back. About the financials driven by expectations for higher interest rates going into year end and beyond. About the small-caps based on expectations for tax relief. About the transports, despite the possibility of higher fuel costs.
Those of us who watch economic data expect to see the last revision to second-quarter economic growth this Thursday. That growth already stands at a seasonally adjusted, annualized pace of 3%. Most economists are expecting the revision to ratchet the number up to 3.1%. The third quarter is not running quite as smoothly, according to the Atlanta Fed. Their model currently paces this quarter at growth of 2.2%. That's where markets are looking for help.
It is the hopeful talk of tax cuts that are expected to breathe life into the domestic economy. It is those small-caps residing in the Russell 2000 that pay the highest effective tax rates in the country. In fact. most of them pay darned close to the 35% headline corporate tax rate.
Then there's the possibility of repatriated money, mostly from the tech space, either being returned to shareholders in the form of share buybacks and dividends, or maybe being put to work directly into the domestic economy through research, development, and expansion. This all adds up to increased economic growth. Optimism. That takes care of the transports. If you're a Dow theorist, then that in turn takes care of the Industrials. 
Of, there is a catch, my friends. There always is. This specific catch is that Congress has to accomplish something. Anything. Is that too much to ask? I hope not, yet I fear the answer.
The U.S. dollar continues to be hot. 
Macro
08:55 - Redbook (Weekly): Last Week 3.6% y/y. Year over year growth in this series, which measure chain store retail sales finally cooled last week after a torrid three week stretch. Still, after what retail has been through, 3.6% growth is darned strong. We'll take a repeat of that number in a heartbeat if we can get one.
09:00 - Case-Shiller HPI (July): Expecting 5.8%, June 5.7% y/y. While the Northeast has dragged well behind the rest of the country in home price expansion, the national non-seasonally adjusted 20-city average (the one that everyone follows) has been growing steadily in a year over year range above 5.5% and 6%. That is not expected to change today, and markets will not likely react sharply unless it does.
09:30 - Fed Speaker: Chicago Fed Pres. Charles Evans is set to speak from Chicago. As we mentioned yesterday, Evans is a voting member of the FOMC this year, and has a dovish reputation. In that speech from Grand Rapids, Evans indicated that he feels that the Fed should wait until there is clear evidence that both wages and consumer prices are rising more rapidly before hiking rates again. I actually agree with that stance.
09:30 - Fed Speaker: Cleveland Fed Pres. Loretta Mester will speak on global economic growth this morning from Cleveland. Mester has expressed her view as recently as two weeks ago that the Fed should not wait for increased inflation before raising rates again. That put her in direct opposition to Evans. Mester does not vote on policy again until next year.
10:00 - New Home Sales (August): Expecting 586K, July 571K SAAR. July New Home Sales fell badly below what was expected on a seasonally adjusted basis. While i would not call the series broken by a long shot, July posted the weakest print in this space since January. Due to it's potential for volatility, as well as the exponential impact that an new home built and sold has on a local economy, this is likely our macro event of the day. 
10:00 - Consumer Confidence (September): Expecting 120.1, August 122.9. This series has been screaming along at levels of extreme confidence ever since November, and amazingly has not shown any signs of softening at all. According to the Conference Board, the percentage of those stating that business conditions are good, and that jobs are plentiful just keep growing. Will this be the month that the headline print contracts? Let you know at 10am.
10:00 - Richmond Fed Manufacturing Index (September): Expecting 13, August 14.Yesterday, Dallas put their eleventh consecutive month of headline expansion to the tape. Today, Richmond tries to duplicate that feat. On Thursday, Kansas City goes for 13.
10:30 - Fed Speaker: Federal Reserve Gov. Lael Brainard will speak on labor market conditions from Washington, DC. Brainard, as a Governor, holds a permanent voting slot on policy, and is considered dovish. She has been vocal this month in expressing concern over the current pace of consumer level inflation.  
12:30 - Fed Speaker: Atlanta Fed Pres. Rafael Bostic will speak from Atlanta this afternoon on both the economy and monetary policy. Atlanta does not vote on policy until next year. Bostic will field questions at this event from both the audience and the media.
12:45 - Fed Speaker: Federal Reserve Chair Janet Yellen will be in Cleveland to make an appearance at the same conference that Mester will speak at this morning. Given her position, Yellen's words always have the ability to impact financial markets. She will answer questions for her audience today.
Sarge's Trading Levels
These are my levels to watch today for where I think that the S&P 500, and the Russell 2000 might either pause or turn.
SPX: 2513, 2504, 2497, 2489, 2482, 2471
RUT: 1465, 1459, 1452, 1446, 1440, 1430
Today's Earnings Highlights (Consensus EPS Expectations)
Before the Open: CCL (2.20), DRI (0.99), FDS (1.89), INFO (0.53)
After the Close: CTAS (1.31), MU (1.83), NKE (0.48)
Get Morning Recon delivered directly to your inbox each market day. Click here to sign up for e-mail delivery of Stephen "Sarge" Guilfoyle's Morning Recon, Jim Cramer's Daily Booyah! or other great free newsletters from TheStreet.
More of What's Trending on TheStreet:
At the time of publication, Guilfoyle was long APA, ATVI, LRCX and NVDA, although positions may change at any time.