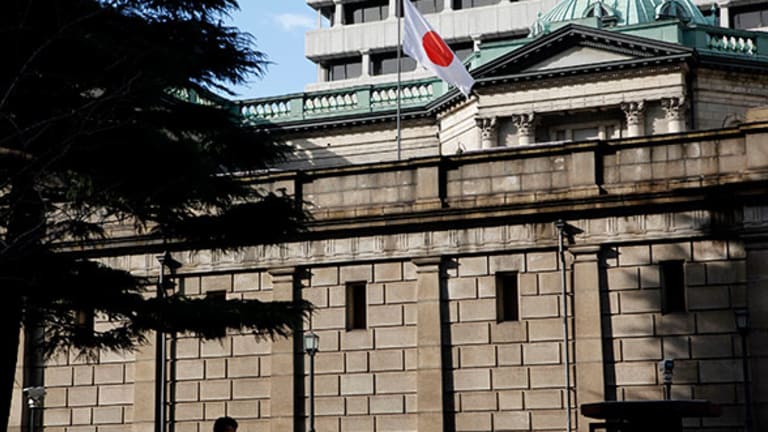 Market Expects Bank of Japan to Ease Monetary Stance This Week
Will BOJ lend a hand to government's stimulus package?
As Japan's prime minister promised a greater-than-expected stimulus package on Wednesday, the question has heightened further as to whether the Bank of Japan agrees to lend a hand to the government when its policy members come out of a two-day policy meeting ending this Friday.
A survey by Bloomberg showed that 32 of 41 analysts expect the central bank to ease its monetary policy, with an increase in holdings exchange-traded funds thought to be the most likely measure to be taken, followed by further cuts to the negative key policy interest rate. Reuters also said that most economists that it polled expect the BOJ to expand its assets purchases and cut rates further.
The BOJ's monetary policy committee is meeting for the first time since the U.K.'s June 23 Brexit vote, which sent tremors through the global financial markets. Following the June 15-16 meeting, the BOJ kept the interest rate at minus 0.1%, a rate it first introduced late January 2016 and has maintained since. The bank also maintained the pace of annual growth in monetary base at ¥80 trillion ($757 billion), as well as its holdings in ETFs at ¥3.3 trillion, and the Japanese real estate investment trusts at ¥90 billion.
Views that the BOJ should take action has heightened as recent data show the sentiment for business conditions have weakened on the back of stagnating inflation and ongoing appreciation in the yen against major currencies. Core CPI, which dropped 0.4% in May, has dropped six out of the last 12 months, stayed unchanged in three, and risen just 0.1% in three. Meanwhile, the yen has appreciated 14% against the dollar and 15% against the euro in the last year.
Japan's CPI is scheduled for announcement on Thursday, alongside industrial production and employment data.
If the central bank does decide to take action, it will come in combination with a government stimulus package, the details of which are expected to be announced next week. Prime Minister Shinzo Abe said in a speech on Wednesday that the government's stimulus package will exceed ¥28 trillion. While this was above the widely expected size of around ¥10 trillion, some reports suggest that "net new spending," which is the portion that effectively boosts the economy, is around ¥6 trillion.
One market participant suggested that the central bank's role is shrinking.
Abe's fiscal policy "should probably do quite a bit for the Japanese economy. Whether it's big enough, we'll find out. The market seems a little bit undecided," said Tatton Investment Management chief investment officer Lothar Menta on Bloomberg TV. "If you listen to politicians, the talk has been far more towards fiscal stimulus going hand-in-hand with the monetary stimulus...Monetary stimulus is running out of potential, and perhaps it is fiscal that needs to come in."
Former Fed chief Ben Bernanke seems to disagree. When he met up with Abe and BOJ governor Haruhiko Kuroda this month, Bernanke reportedly proposed the introduction of so-called helicopter money, or perpetual bonds, to stimulate the economy, advising that there were many more ways for the central bank to loosen the monetary system.
UBS, which expects a 50% likelihood of additional easing by the BOJ this week, said that no action by the bank this time around will have a negative impact on currencies.
"Historically the BOJ's policy communication has not been able to overcome the FX market's initial disappointment when expectations have been high (as in the April 2016 BoJ meeting)," UBS analysts wrote. "If that pattern still holds, the signalling effect of 'no [qualitative and quantitative easing] change' will result in significant [dollar yen] downside."