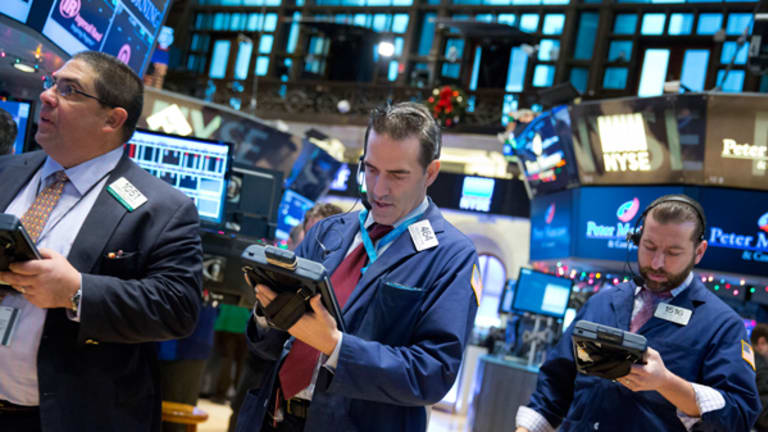 Market Caps Incredible Upside Move but Still Lower Than Last Week
The three major stock indexes tried but last week's drop couldn't be completely overcome.
NEW YORK (TheStreet) -- The stock indexes completed trading on Friday up slightly after a wild week. 
The DJIA was higher by 26.65 points on Friday to close at 17,804.80, gaining 735.93 points since Wednesday. The S&P 500 gained 9.42 on Friday to close at 2,070.65, gaining an incredible 97.91 points since Wednesday. The Nasdaq was higher by 16.98 on Friday to close at 4,765.38, up 217.55 points since Wednesday, and the Russell 2000 was higher by 3.80 Friday to finish at 1,195.96, gaining 56.58 points since Wednesday.
It appears Fed Chair Janet Yellen was able to deliver what the market needed to keep the market climbing higher.
The bulls can salivate as the stock indexes flirt with new all-time highs again. Technical indicators suggest caution should still be in order, however.
To put this week's up move in proper context, the three major stock indexes actually finished lower on the week versus the week prior. The DJIA, S&P 500 and Nasdaq were lower while the Russell 2000 was slightly higher. Things may not be as bullish as they appear on the surface.
Also, it is not unusual to have fast, steep moves such as what we have experienced this week. These moves are more reminiscent of strong bearish market rallies. The last times we had a two-day increase such as what was experienced this week were in 2011, 2009, 2008, 2002, 2000, 1998 and 1997. Those periods were all within a bearish market.
This article is commentary by an independent contributor. At the time of publication, the author held no positions in the stocks mentioned.