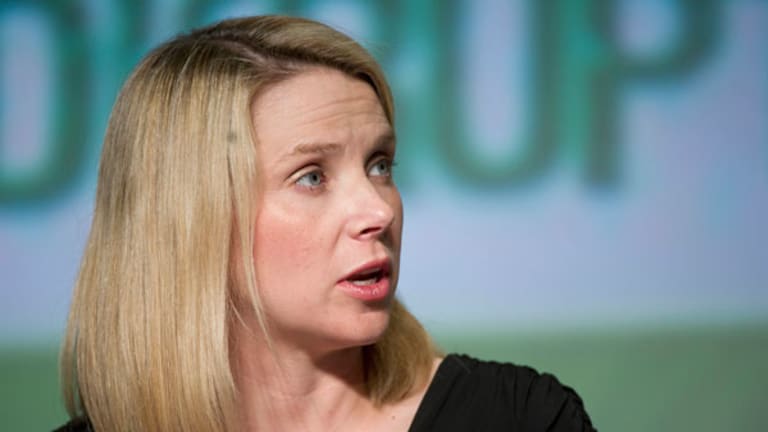 Publish date:
Marissa Mayer's 'New York Yankees' Strategy Will Fail at Yahoo!
High-profile acquisitions will not turn Yahoo! into Google.
High-profile acquisitions will not turn Yahoo! into Google.
NEW YORK (TheStreet) -- Ever since Yahoo! (YHOO) hired Marissa Mayer as CEO, I have been on board.
In fact, at the outset, when quite a few people second-guessed the move, I lauded and applauded. That was 68% ago. Now the Mayer bandwagon can hardly fit more people on it. That's often how these stories go.
Even if you miss a bit of what will be misguided upside, it's time to bail on YHOO. Hurts me to say this because ever since Al Gore invented the Internet, Yahoo! has been my No. 1 site. Between the home page, weather, sports and finance (the latter two are, by far, among the best in their respective businesses), I have spent more time using Yahoo! properties than any others.
I thought Mayer was the person who would harness what drives these channels, make them even better and cut all that traffic Yahoo! still gets loose on the world.
I think I was wrong.
The small
acquihires
I can live with, but
Mayer's move to take out Tumblr
I just can't.
TheStreet's
Dana Blankenhorn told us
Tumblr completes Mayer's vision
at Yahoo! Like most people -- set aside a few Tumblr purists -- he likes the deal. But, if you believe Peter Kafka at
-- and I generally do -- Mayer isn't done. She's putting up even more of the company's cash hoard to make a play for
Hulu
.
Yahoo!'s New York Yankees' Strategy
Everybody has an analogy; we should compare analogies to ***holes, not opinions. And they're quite frequently farther away from the mark.
Supporters of the deal parallel the Tumblr acquisition to
Google's
(GOOG) - Get Report
successful purchase of
YouTube
. A few have even justified it by pointing to
Microsoft's
(MSFT) - Get Report
buyout of
Skype
. Sounds great, but, ultimately, these are both flawed analogies.
Also see: The 5 Dumbest Things on Wall Street This Week: May 24 >>
YouTube and Skype both fit, more than logically, into successful existing platforms. Google did an excellent job integrating YouTube into its ecosystem and previewing the vision. It took Microsoft longer -- and they're still not there -- but they're moving in a more valid direction each day. You would think that one day, the world would associate Skype not only with Windows and Xbox, but with video calling broadly. (To an extent it already does: "Hey, let me
Skype
you!). Whether Steve Ballmer can execute or not is neither here nor there, but the fundamental vision makes sense.
You're stretching when you make the same or similar cases for Yahoo!/Tumblr.
Mayer's strategy -- which steals from the New York Yankees or Pittsburgh Penguins playbook, not Google's or Microsoft's -- smacks of a CEO with lots of cash at her disposal, but no original idea of how to move forward. Instead of building on what Yahoo! already has, Mayer feels the need to pick up other platforms that have exploding and/or inherently mobile user bases. And she's going to count on this additional traffic to sell advertising to a Madison Avenue that's not exactly fond of her to begin with.
Also see: Yahoo!: Tumblr Has A Really Good Thing Going >>
Tumblr and Hulu both add to one of Yahoo!'s biggest problems: An incredible lack of focus. What in the world is Yahoo!? Does anybody really have any idea? Mayer has said she wants Yahoo! to become "a daily habit." While I like that sentiment, I did not construe it to mean
everything to everyone
.
Mayer could spend a fraction of what she has spent and is willing to spend on a proper branding/marketing campaign and the poaching of individual top-notch talent the old-fashioned way and have more of an impact than she will have by adding more clutter to the pile at Yahoo! This company can barely manage and monetize what it has, how can it possibly welcome in more, not-so-small-and-simple moving parts?
Even though it's more than a little bit funny to compare Yahoo! to
Apple
(AAPL) - Get Report
, there's a takeaway there.
"Everybody" wants Apple to buy
Twitter
or
Netflix
(NFLX) - Get Report
or something else absurd. Thus far, it hasn't. And I don't expect it to anytime soon, if ever. If Tim Cook does something like is, it will stink like desperation.
Also see: Mayer Rolls the Tumblr Dice >>
Whether you think it will work or not, Apple, very obviously, has a strategy. They have -- I hope -- a clear direction they're headed in. Other than vague statements about an exciting product pipeline on conference calls, Cook doesn't say much about it. He also has loads of cash, but no need to spend it on extravagances that fall on the fringes of what lies at Apple's heart.
You can argue, logically, that Yahoo! has no heart, however, here again, that's the secondary analogy. It's not that Yahoo! lacks the tools to be successful. It has them in place. And just as New York Yankee and Pittsburgh Penguin-type strategies often fail (the latter remains to be seen), trying to be like Google at Yahoo! will end badly for Mayer at Yahoo!
She'll go out in what the media -- in another 180 -- will label a blaze of incompetence.
--
Written by Rocco Pendola in Santa Monica, Calif.
David Peltier is a research associate at TheStreet. In keeping with company editorial policy, he doesn't own or short individual stocks. He also doesn't invest in hedge funds or other private investment partnerships. Under no circumstances does the information in this column represent a recommendation to buy or sell stocks. Peltier appreciates your feedback;
to send him an email.