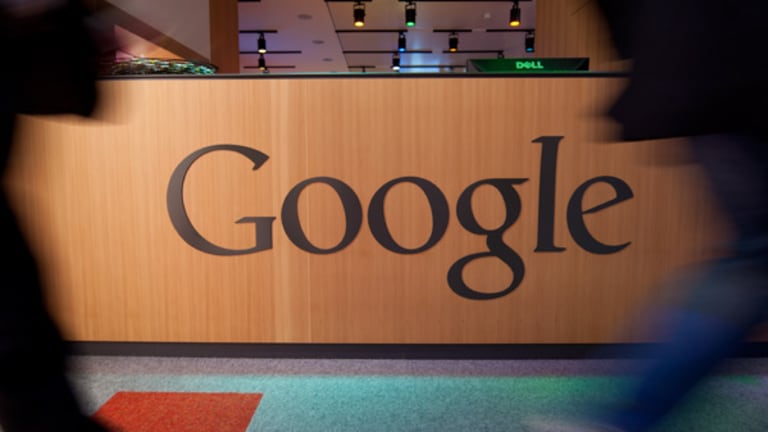 Mapping Out Google's Waze Deal
Google's grabbing of Waze was more of a defensive move than an offensive one.
NEW YORK (TheStreet) -- There's never a dull moment with Google (GOOG) - Get Alphabet Inc. Class C Report.
Amid much speculation about what the company was going to do with its $50 billion cash hoard, now we know (at least) that $1.1 billion to $1.3 billion of that cash is allocated for
Waze
, a social mapping application that provides real-time information and alternative routes for drivers via GPS.
Assuming that this deal receives regulatory approval (I don't see why it wouldn't), Waze will add extra oomph to Google's already dominant maps application.
It's worth noting here that although this announcement was
just made official on Google's blog
, the financial terms of the deal have not been disclosed. The question everyone is asking is: Why Waze?
The way I see it, Waze's immediate contribution to Google is not the sole or immediate focal point of this deal. This is not to downplay Waze's potential. But I do believe that Google's immediate strategy was to keep Waze out of the hands of (among others)
Apple
(AAPL) - Get Apple Inc. Report
.
It's no secret that Apple's iPhone 5 map situation will go down as one of the biggest blunders in the company's history. Not only did the map failure prompt CEO Tim Cook to offer an immediate apology, but the embarrassment also resulted in the ouster of Scott Forstall, Apple's senior vice president of iPhone Software.
Also see: Google Closing In on Purchase of Waze >>
This entire situation ignited flames about how Apple was suddenly losing control of its brand. Google then stepped in and was proclaimed the most dominant tech company. The disappointment of Apple's "map-gate" presented the "I told you so" occasion that Google had been waiting for. Google seems intent on maintaining this lead.
Apple has since resolved the maps fiasco, but if Apple had gotten its hands on Waze, which (according to published reports) is used by nine out of 10 Israelis, the scales against Google maps would have become more balanced, if not tipped more in Apple's favor. Plus, we shouldn't discount how Waze could have benefited Apple's push for the connected car.
So this move by Google to pick off Waze is significant from the standpoint that Google was playing defense not only against Apple, but also against
Facebook
(FB) - Get Meta Platforms Inc. Class A Report
, which had shown prior interest in Waze for a reported $1 billion.
Also see: What Women Get Wrong About Father's Day >>
Plus we can't entirely rule out that
Microsoft
(MSFT) - Get Microsoft Corporation Report
, which is pretty irrelevant in the mapping space, could have been interested in Waze to help spur the adoption of Windows Mobile.
There are also offensive benefits in Google's deal.
The question is, how fast can Google integrate Waze into its existing map app and start realizing revenue benefits. I don't believe that Google will see an immediate impact, though. Nor do I believe this to be the expectation of Google's management.
However, if estimates are correct that Google's current map program can generate close to $5 billion in revenue over the next three years, it certainly makes the potential revenue contributions for Waze, which boasts about having 45 million users, all the more interesting, especially since the company projects to end 2013 with a user base of 70 million.
That's a pretty significant number. And to the extent that Google can leverage this base of 70 million to increase the value of mobile ads, this can potentially become a $300 million annual revenue stream for Google. This is assuming that Waze can generate a reasonable average revenue per user rate of $4.25. For Google, even at 50% adoption, this still amounts to $148 million.
This may seem like chump change. But the key here is in the perceived real-time value that Waze brings with its GPS location service. Google will be able to tell drivers where the alternative hot spots are to dine, given the newly learned congested route. This is why Facebook wanted Waze and why Google had to keep Waze out of the hands of Apple.
In the near term, this deal (if/when completed) doesn't really change Google's valuation all that much. I have always liked Google's stock, and I believe with or without Waze Google was a compelling buy, especially when it trades for less than $900. But investors should continue to pay attention to new developments regarding Waze. Google may just have dropped the first domino of a group of Waze-like deals that may follow.
At the time of publication, the author was long AAPL
.
Follow @saintssense
This article is commentary by an independent contributor, separate from TheStreet's regular news coverage.
Richard Saintvilus is a private investor with an information technology and engineering background and the founder and producer of the investor Web site
. He has been investing and trading for over 15 years. He employs conservative strategies in assessing equities and appraising value while minimizing downside risk. His decisions are based in part on management, growth prospects, return on equity and price-to-earnings as well as macroeconomic factors. He is an investor who seeks opportunities whether on the long or short side and believes in changing positions as information changes.