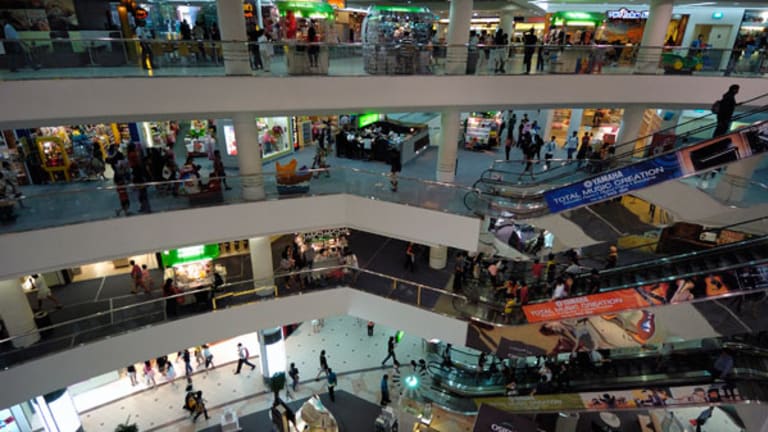 Malls Aren't Dead, Long Live the Mall: Simon Property CEO
The American mall is not dead, actually quite the opposite, says Simon Property's CEO David Simon.
NEW YORK (TheStreet) -- The American mall long has been left for dead it's been alleged. The sprawling retail campuses were thought to be headed toward extinction as people navigated virtual aisles on the newest gadgets from Apple (AAPL) - Get Apple Inc. (AAPL) Report , Google (GOOG) - Get Alphabet Inc. Class C Report , Amazon (AMZN) - Get Amazon.com, Inc. Report   and Samsung.
But interestingly almost the complete opposite has happened at malls across the country despite mass store closures from major tenants such as specialty retailers Gap (GPS) - Get Gap, Inc. (GPS) Report , Abercrombie & Fitch (ANF) - Get Abercrombie & Fitch Co. Class A Report , Aeropostale (ARO)   and American Eagle Outfitters (AEO) - Get American Eagle Outfitters, Inc. Report , and even a vital anchor partner in the beleaguered Sears (SHLD) . Driving the rebirth of the mall have been investments by property owners in new dining experiences (bye-bye McDonald's (MCD) - Get McDonald's Corporation (MCD) Report , hello P.F. Chang's), upgraded storefront appearances, and new luxury labels that range from a Louis Vuitton inside a Macy's (M) - Get Macy's Inc Report to a stand-alone Hugo Boss specialty shop.
Watch More: The State of the Cruise Line Industry, as Seen by its CEO
Simon Property Group (SPG) - Get Simon Property Group, Inc. Report coming into 2014 owned or held interests in 308 income-producing properties in the U.S. It now has 228 following the spinoff of Washington Prime Group in May. Boasting a market cap of $53.8 billion, the company is the biggest player in the market, with General Growth Partners (GGP)  a distant second at a market valuation of $22.2 billion.
According to Bloomberg, Simon Property's rental income growth has accelerated for two consecutive quarters, increasing 8.7% in the second quarter. Competitors Vornado (VNO) - Get Vornado Realty Trust Report and General Growth Partner logged a rental income decline of 1.1% and an increase of 2.7%, respectively, in the second quarter. Amid a group consisting of General Growth Partners, Kimco Realty (KIM) - Get Kimco Realty Corporation (KIM) Report , and Macerich (MAC) - Get Macerich Company Report , Simon Property's occupancy rate is more than 11 points higher, according to Bloomberg.
With Simon Property in the middle of developing several premium outlets and re-developing its traditional malls, TheStreet talked exclusively with the company's CEO David Simon regarding the future of the mall and why specialty retailers are currently in love with opening new outlet stores.
Watch More: Planet Fitness' Domination has Just Begun
Brian Sozzi: Do you believe the U.S. remains "over-stored" even after thousands of post-recession closures?
David Simon: The fact is that real estate changes all of the time, whether it's apartments, motels, hospitals, or storage units; malls are no different. The conventional thinking that we are over-stored, malls are dying, this whole thread just doesn't meet reality. That doesn't mean there aren't going to be certain retail projects that no longer need to be retail because the demographic and trade area has changed, but by and large the mall business is a vibrant, healthy product type, just like apartment buildings, office buildings, etc.
It's not something I really worry about because it's a local equation.
Sozzi: Simon Property has been aggressive in remodeling its malls, literally from the ground floor up. Could you take us through some of the elements you are infusing into these new malls?
Simon: Generally, we are taking a number of our properties that are well positioned in a particular market and continuing to enhance the customer experience through better amenities, more merchandise mix, a better merchandise mix, mixed used elements, and creating food halls and dining pavilions. In some cases, it's as simple as bringing the mall into the 21st century because it's dated and needs to be refreshed, bringing in technology, Wi-Fi, loyalty programs. The ability to talk to the consumer as they walk the mall about brands and what's being promoted is a focus.
Sozzi: Simon Property continues to have strong occupancy rates. When in discussions with retailers for lease renewals what are some of the broad takeaways right now?
Simon: The store closures, for better or for worse, has been part of our business. In most cases, not all, if real estate is valuable the fact is that over the years we have been able to take an underperforming retailer and put in a better one. In the period from 1990 to 1997, every year I dealt with store closures, huge ones. We didn't have enough demand to deal with the store closures.
The one difference, right now, right as we speak, the store closures you hear about, we think we have enough demand to deal with them. It's nowhere near what I have seen historically, but it's ongoing throughout our business.
The store closures yes, maybe they are a bit more than what they were about a year ago, but we think the pipeline of demand is more than capable of dealing with whatever comes up. Primarily what I am seeing is more closures in the teen apparel category. It's important for the retailer to change to what the teen wants. But it's incumbent on us to find the retailers that could feed the changing tastes. Those include names such as TopShop, Zara, H&M, Lululemon (LULU) - Get Lululemon Athletica Inc (LULU) Report , Athleta, American Girl, and fast-casual restaurants. Seeing mostly shrinkage in the teen sector, that is primarily because they just didn't changed, they had a great run for 15 years.
Sozzi: Simon Property has a good bit of Sears and J.C. Penney (JCP) - Get J. C. Penney Company, Inc. Report locations serving as anchor tenants. Do you have concerns about these companies?
Simon: I am glad to have seen J.C. Penney turn the corner. I do believe that J.C. Penney has a business there for the moderate consumer that is concerned about fashion but has budgetary constraints. I do think there is a really good business there. And Sears has a lot of great brands that as they sort through how they want to present them to the consumer, has the ability to continue to have a customer base that will support a physical environment.
But, we are prepared for the worst. We have lots of alternatives. What's amazing is that we have no, maybe one anchor, that is empty today. We have never had a smaller group of vacant anchors. I think there is enough demand in the locations that you can't replace, you may box it with the Zaras of the world, a health club, entertainment uses, or you may even tear it down because that anchor wasn't driving traffic and had no impact on the mall. If we get that space back, anything we do will be additive.
Sozzi: Many apparel retailers are focusing on opening up new stores in outlet centers. What is going on in the outlet scene? It seems hot.
Simon: Through a lot of selling and research, the retailer has realized that "you know what, it's not brand negative," it's brand positive having an outlet strategy. If the consumer loves the brands, they love a bargain. The ability to get the brand at a bargain is compelling, same with the tourism that comes. Then, of course, it's a very profitable sector for them.
Sozzi: How do you believe new ship-from-store programs, whether it's at Gap or Walmart (WMT) - Get Walmart Inc. Report , will impact the mall looking out into the future? Stores are essentially turning into distribution centers.
Simon: I think it's a very positive initiative, Macy's, Gap, Foot Locker (FL) - Get Foot Locker, Inc. Report , and a number of the ones that have a real good feel, say Nordstrom (JWN) - Get Nordstrom, Inc. (JWN) Report  too, on their consumer and technology are very, very bullish about ship from store. What's really big, also, as I talk to retailers is reserve in store. It's all being clouded though, if it's reserved in store is that an internet sale or brick and mortar sale? The fact of the matter is that it really reinforces the impact of their physical stores.
It's going to be an interesting five years. The retailers are all over this, but so are the mall owners in trying to help play a role where they can to support the retailers, including having enough broadband or Wi-Fi, infrastructure-type things.
Watch More: Buffalo Wild Wings CEO Tackles the Future with Innovation
At the time of publication, the author held no positions in any of the stocks mentioned.
This article is commentary by an independent contributor, separate from TheStreet's regular news coverage.