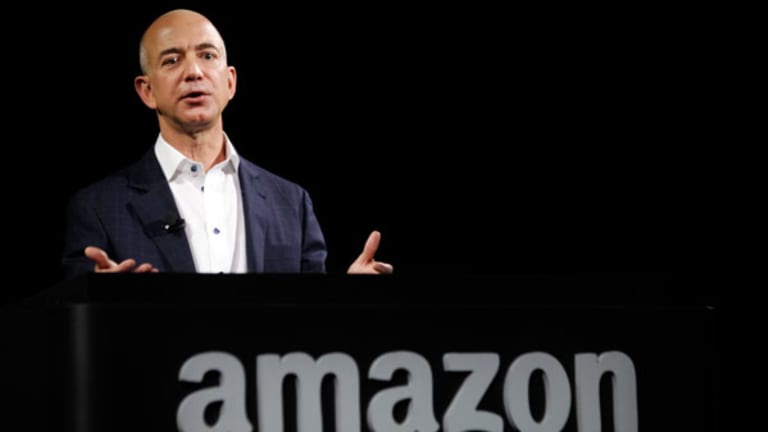 Making Sense of the Crash in Amazon Stock
But if you're a long-term, buy and hold investor this AMZN sell-off should be a dream come true.
NEW YORK (TheStreet) -- If you require the low down on Amazon.com's (AMZN) - Get Free Report quarter, here it is via TheStreet's Chris Ciaccia.
As I write, the stock's down about $30 -- 8.88% -- to just under $308 per share. And I'm getting all of these I told you so emails and Tweets from people who have bet against AMZN all the way up and, misguidedly, on head fake after head fake, down. Obviously, this dive ain't no head fake.
But there's something these cats -- many of whom call themselves "value investors" (whatever that means in 2014) -- fail to comprehend. Long-term investors do not invest within the confines of a boxing match or the up-and-down-the-court Clippers-Warriors NBA playoff game I watched Thursday night. If you're buying and holding stocks for the long-term you're not doing it as round-by-round sport.
So, fine, AMZN bears and shorts win this round. As the kids used to say, #BFD.
If you're long AMZN, let's hope you didn't do it simply to ride the momentum. If you did, sorry, but you sort of deserve any pain you're feeling right now. Momentum investing is not a long-term strategy. It should not comprise any segment of your portfolio other than that percentage you set aside for speculative bets. The size of that speculative allocation depends on the way you stomach risk and your overall financial condition.
The right way to be long AMZN is to have understood the story before the intense momentum kicked in. To have decided that it's the long-term, leave-it-to-your-grandkids stock of our generation. But to do that you had to a.) do your homework months and years ago and, subsequently, b.) buy into what Amazon CEO Jeff Bezos has been selling since the late 1990s!
Just as I did earlier this week in an article where I argue Amazon should not buySears Holdings (SHLD) , I often reference the interview Bezos did with Bloomberg Businessweek in freaking 1999. A reporter asked Bezos if Amazon would ever stop spending and earn a profit:
Our strategy is very, very clear: We're focused on long-term returns for investors. And to throttle back on investment now would be shortsighted. When we have less opportunity, that will probably happen. But as long as we have lots of opportunity, we're going to continue to invest commensurate with that opportunity in a very disciplined and methodical way, but in a long-term context. To do anything else, we believe, is irrational ...
Make no mistake about anything I've said here: Long-term profitability and building an important and lasting and sustained company is incredibly important to us. We just believe that, by investing now, we increase our chances of achieving those things.
Bezos (and Amazon in general) continues to field the same question -- quarter after quarter -- 15 years later. It's a joke. If you think the emergence of Amazon as retail's disruptor and undisputed leader has been nothing but a Reed Hastings-like show of smoke and mirrors, you're nuts. Bezos has a plan. And it's working so well he would be dumb to alter it. He can only enhance it. It's a testament to the legitimacy and staying power of the business model Bezos conceived and continues to evolve that an answer he gave in 1999 remains relevant in 2014.
If you don't understand this line of thinking, shut up. Quietly short AMZN stock. If you time it right, you might make money. But don't confuse what you're doing with standing up for the purity of investing. Because if you hate Amazon the company and/or AMZN the stock, you don't understand investing. You're playing the momentum game, which makes you part of the problem.
--Written by Rocco Pendola in Santa Monica, Calif.
Rocco Pendola is a full-time columnist for
TheStreet
. He lives in Santa Monica. Disclosure: TheStreet's editorial policy prohibits staff editors, reporters and analysts from holding positions in any individual stocks.