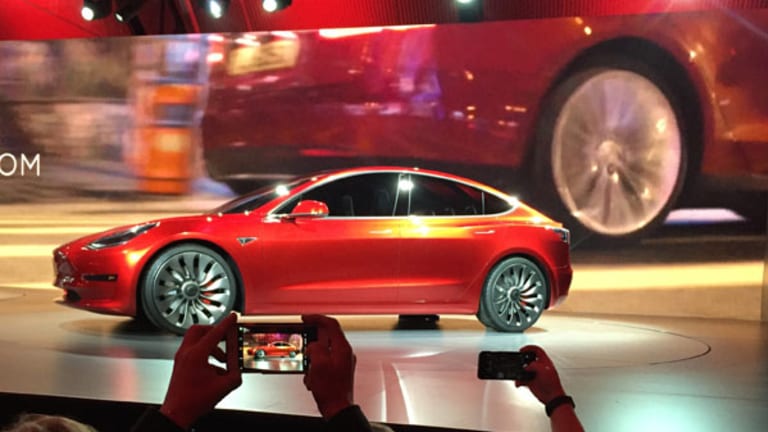 Making Sense of Tesla's Stock Movement This Week
Let's review recent major developments at Elon Musk's brain child and see what they mean for investors.
Last Friday Tesla (TSLA) - Get Report shares closed at $207.61 and with just a few hours left in the trading week, Tesla shares are now above $218.17. The more-than-5% move higher in one weeks' time was precipitated by several news stories and has given some traders the ability to bank some serious profits.
Let's take a quick look at what happened this week that has caused Tesla's shares to move higher.
On Monday the stock closed just slightly higher at $208.29 as investors were still processing the news, which was released the previous Friday that Audi executive Peter Hochholdinger would be joining the Tesla team as its new Vice President of Vehicle Production. Hochholdinger will be in charge of improving production. He had been with Audi for a number of years and should really help Tesla scale production.
On Tuesday shares closed at $204.66, down 1.7% on very little news relating to the company's business.
The lack of news turned around quickly on Wednesday as Goldman Sachsupgraded Tesla stock first thing in the morning. Goldman changed its rating from "neutral" to "buy" and placed at $250 price target on Tesla. The analysts went on saying that while Tesla's volume targets were ambitious, the recent 23% decline in the stock gives investors an opportunity.
Tesla stock closed Wednesday at $211.17, a 3.18% increase for the day.
Then after the market closed, Tesla itself announced it would be selling $2 billion in stock. Of the $2 billion, $1.4 billion of it will be sold by Tesla to help fund its plans to accelerate production of the Model 3. The other $600 million will be sold by Tesla CEO and Founder Elon Musk to cover tax obligations related to him exercising stock options. Initially this news pushed the stock lower in after-hours trading Wednesday, but not for long.
Tesla stock opened Thursday at $213.62 per share and closed for the day at $215.21 on very little new news pertaining to Tesla's business. But, Tesla was talked about quite a bit on Thursday as a number lawyer's and Wall Street insiders called "foul" on Goldman Sachs for upgrading Tesla stock just hours before the new stock offering was announced, of which Goldman was a key underwriter of the deal.
And today, news broke that Panasonic will be able to accelerate its investment in Tesla's "Gigafactory" if Tesla needs it. Panasonic plans to invest $1.6 billion in the factory.
Additionally, this morning it was announced that Tesla had sold 6.8 million shares as a price of $215 per share, raising $1.46 billion.
According to the companies 10-Q as of April 29, 2016, Tesla had 133,944,622 shares outstanding. So the 6.8 million shares the company sold, bringing the new outstanding share count to 140,744,622, dilutes current shareholders by just slightly more than 5%.
If we take the stock sale one-step further, the new share count of 140 million and thee current share price of $218 gives Tesla a market cap of $30.68 billion. For a car manufacturer who produced just 14,820 cars in first quarter 2016, that is a massive amount of growth built into the stock price, especially when we consider Ford and General Motors have market caps of $52 billion and $47 billion respectively even though they produce millions of cars annually.
I am not saying Tesla doesn't deserve its current price because what the company is doing to change the car industry is amazing. But, as we witnessed this week, I fully believe Tesla shares will continue to be a roller coaster ride for years to come, which may mean some investors are better off leaving the stock alone all together, while others may see an opportunity trading, if that is how you invest.
---
For more information on how to profit from the ups and downs of Tesla's stock price, check out this simple step-by-step process. The trader who created it has been85% Accurate and gives his Personal Guarantee: "Give Me 9 Minutes a Week and I Guarantee You $67,548 a Year." He turned $50,000 into $5 million trading this way and for a limited time, he's guaranteeing you at least $67,548 per year. Click here to see how easy it is to collect thousands of dollars in "Free Money" every month.
This article is commentary by an independent contributor. At the time of publication, the author held stock in Tesla.