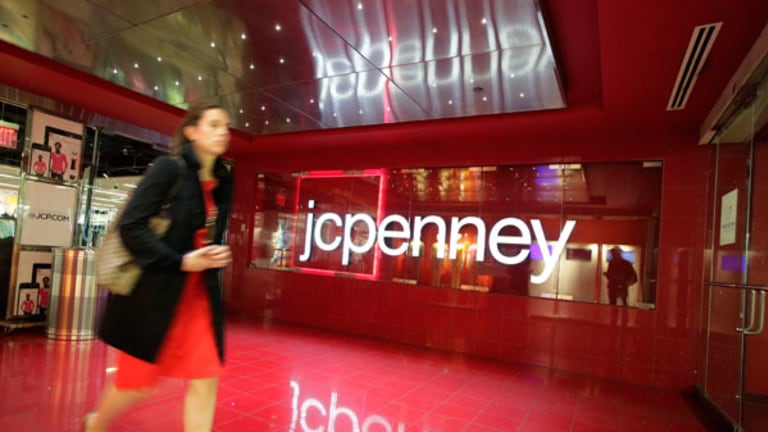 Publish date:
Making a Case for J.C. Penney
J.C. Penney needs a little Christmas, right this very minute.
J.C. Penney needs a little Christmas, right this very minute.
NEW YORK(TheStreet) -- J.C. Penney (JCP) - Get Report shares were left for dead by investors in September and swooned into the first three weeks of October, but they have now recovered nearly 50% from their Oct. 22 intraday low.
That recovery comes even though the retailer's third-quarter earnings report failed to meet analysts' expectations.
What's going on? First, let's talk relative value, the language I was talking before the September swoon.
The company Wednesday reported net sales of $2.78 billion for the quarter. Before its 9% pop on Wednesday's earnings release, those net sales were worth more than the value of the entire company. It was $2.88 billion at the start of trading today.
The number was reported as below expectations, but it was actually better than the previous two quarters, both of which came in at a little more than $2.6 billion.
Most retailers trade at about half their annual sales. Here's a retail stock that's trading at slightly less than one-fourth of its sales. That's what equity buyers call value. Assuming the company can hold its sales rate near here, it should be good for gains, and because we're talking Christmas, that's not a bad assumption. J.C. Penney had sales of $3.88 billion for its Christmas quarter last year.
Another reason for optimism came on the most recent conference call, where CEO Mike Ullman said the company was fixing problems caused by the RFID sensor system that was bought by former CEO Ron Johnson and had made the store a magnet for thieves.
The company is now returning to traditional tags and a standard return policy, which means gross margins should improve.
Here's another bit of good news. Malls seem to be making a short-term comeback. Macy's (M) - Get Report, Dillards (DDS) - Get Report and Nordstrom (JWN) - Get Report, all of which anchor many malls, reported better-than-expected results for the most recent quarter. Kohl's (KSS) - Get Report and Wal-Mart (WMT) - Get Report, which live outside malls, did less well.
This indication of better mall traffic is buttressed by J.C. Penney's own conference call, where Ullman said that November was looking pretty good. Like many retailers, J.C. Penney runs on a fiscal year ending in January, to cover returns on Christmas merchandise, so November is the first month of its current quarter.
There is more good news on the technology front. J.C. Penney is working with Shopkick on an app that can alert people to sales while they're in the store. The Web site is already featuring the same pricing it's advertising for Black Friday, along with free shipping on orders of more than $100.
Online sales for the company have been stabilizing since the summer, and its traffic during the back-to-school season was said to be strong. The site now features traditional J.C. Penney merchandise, mostly warm clothes, and the discounts are marked prominently.
Overall retail sales are ticking upward. Income gains seem to be going to people who like a traditional mall. J.C. Penney stores seem to be located where the growth is.
The company is not out of the woods. Retail analyst Howard Davidowitz still thinks the company will have to file for bankruptcy so it can close stores and remake its balance sheet. Long-term debt is still a big problem, and the company's raising of $1 billion in equity during September diluted shareholders.
But some smart folks, such as Legg Mason's Bill Miller, are now nibbling on that J.C. Penney debt, some of which carries a coupon rate of 12%. Avenue Capital has also been buying J.C. Penney bonds. Many will disagree, but some feel that the company retains some levers it can press to pay back bondholders.
Right now, the J.C. Penney turnaround is little more than a trade. This is not yet an investment grade stock. The comeback in malls is uneven -- Sears (SHLD) remains a disaster. But there are enough green shoots, enough short-term optimism, for people to make a little money.
J.C. Penney's needs a little Christmas, right this very minute, as they sang in the musical Mame. It needs an old-fashioned, 20th century, mall-driven Christmas, and it may be getting one. The season is coming just in time.
At the time of publication the author owned no shares of companies mentioned in this article.
This article is commentary by an independent contributor, separate from TheStreet's regular news coverage.