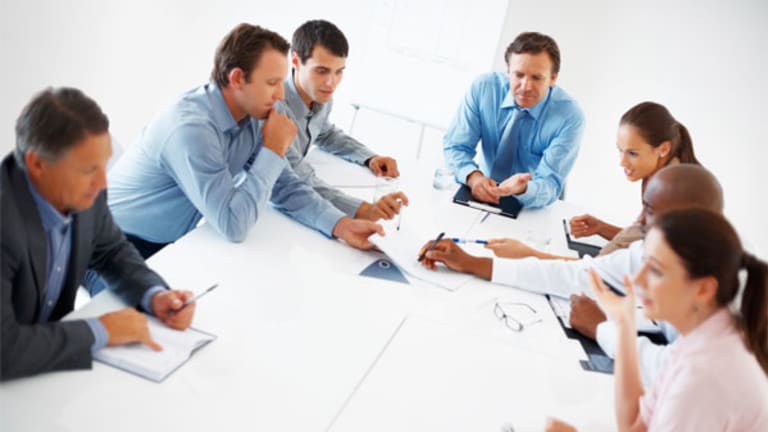 Make Your Statements Sing: The Innovators
Your mission, vision and value statements can be words of worth or just worthless words.
Your mission, vision and value statements can be words of worth or just worthless words.
NEW YORK (
) -- For years, businesses have been told there are three statements essential for gaining employee and stakeholder engagement, and creating investor awareness: The mission statement; the vision statement; and the values statement. Usually these statements end up taking too long to create, are too confusing, and fail to deliver a memorable meaning. They end up being just words of little worth.
I'd like to leverage my years of experience working with businesses and nonprofits -- of all sizes and in various stages of development -- to offer a few simple guideposts to developing these three statements. We'll make them more than pretty words for an annual report, advertising campaign, or employee handbook insert.
To start, these statements are usually just too darn long. To this end, I'd like to suggest answers to the two functional questions for each statement: What does the statement contain? and Why do we need it?
Mission Statement
: Answers why we exist.
What does the statement contain?
This should talk about the problem we solve, the issues/concerns we address, and who benefits (customer), and perhaps geography (U.S., international, etc.) or condition (growth companies, people in need, etc.).
Why do we need it?
It offers a basis for the enterprise's relevancy and reason to exist (or continue to exist).
Vision Statement
: Answers what we want to become.
What does the statement contain?
This is a future-oriented "statement of possibility." It explores how the customer will be better off with your company, and how the company will be recognized if it is successful.
Why do we need it?
This gives us something to always be striving for in order to better ourselves and ensure our relevancy and reputation.
Values Statement
: What's important to us in achieving our mission.
What does the statement contain?
This is a collection of no more than five principles that provide parameters for achieving goals.
Why do we need it?
This statement will drive decision-making and daily conduct in all relationships, regarding all policies and surrounding all practices.
So do any of these statements really matter? In my reflective consultative response: "It depends." And it truly does.
Enron, WorldCom,
Tyco
(TYC)
,
General Motors
(GM) - Get Report
, Bear Stearns,
Goldman Sachs
(GS) - Get Report
,
Bank of America
(BAC) - Get Report
,
Pfizer
(PFE) - Get Report
, and any other corporate entity ever embarrassed by a footnote in their firm's history -- or the annals of scandalous business history -- have had mission, vision and values statements.
They've been marvelously crafted; approved by legal counsel; lauded by advertising and marketing execs; hailed by business and academic scholars; posted and plastered on everything from coffee mugs to murals, pens to plaques; and signed off on by boards, C-suite members and employees.
There was one problem: Not everyone interpreted them in the same manner, or at least they found ways to create exceptions to their intent.
Mission, vision and value statements are meant to define expectations and establish direction. They are to be explained, ingrained and attained. Above all, they are to be enforced constantly and consistently. These statements set the stage for: Customer service, quality assurance, product/service development, financial capacity, relationship management, talent capacity, supply chain and distribution partners, and sales and growth objectives.
The ultimate plan for these three statements to succeed is to have them articulated by management, learned by every employee, demonstrated at every level, and managed and evaluated daily.
These three documents empower, enable and inspire profit to happen. They are intended to keep teams and individuals from being led astray in search of profit without regard to principled parameters.
10 Tips
Here are 10 final suggestions surrounding the logistics of crafting your mission, vision and values statements:
1. Engage a professional to facilitate the crafting of the statement. He or she brings experience, examples, as well as process in order to keep things on track and minimize personalities and politics that often sway sessions.
2. Conduct the session in an off-site meeting area to avoid distractions.
3. Allow a half-day for brainstorming on each statement and another half day for fine-tuning the statements.
4. While diversity of function might be advantageous, keep the group as small as possible. It will be difficult enough to agree on verbiage, let alone sentiment. The larger the group, the more difficult that will be.
5. Resist the temptation for a thesaurus. If the words don't come naturally, they're probably not worth using.
6. Your best tool will be the old-fashioned flip chart sheets on the walls. You'll find yourself better visualizing, adding, and eliminating words and phrases.
7. Embrace a guiding spirit for the entire firm without specific functional emphasis (e.g., don't emphasize sales, service, delivery or other things over other functions).
8. Regardless of the words used, provide definition to ensure group understanding. (e.g. honesty may be seen as what you say, but what about the things that are not said aloud?) Always ask, "What does that really mean?" And "Will everyone, regardless of position, be able to understand it?"
9. Less is always more. A simple sentence is better than multiple ones or complex concepts interrupted by commas. Strength and simplicity rules.
10. Once you've agreed on the statements, let them "rest" for a day, and then come back with a half-day session for final agreement. Discuss how to communicate the statement to the various internal and external (customers) parties.
Only when everyone who has a stake in the firm can see the words of these statements demonstrated, a truly convincing brand can be established. It is only then that a culture of innovation can exist. It is only then that a level of sustainability through economic and business cycles can occur.
-- Written by Vince Crew in Naples, Fla.
Vince Crew, is founder of REACH Development Services (www.REACHdevelopment.com). He has more than 30 years of Communications and Ethics experience and holds a master of science degree in marketing and communication, with an emphasis on "Leadership and Ethical Decision Making During the Lifecycle of an Organization." Vince is a national media expert on business innovation, strategic growth and leadership. He has been interviewed by Entrepreneur magazine, Fox Business Network, CNN, CNBC and more. Crew is the author of four books, including his latest, Everyday Ethics, Everlasting Consequences.