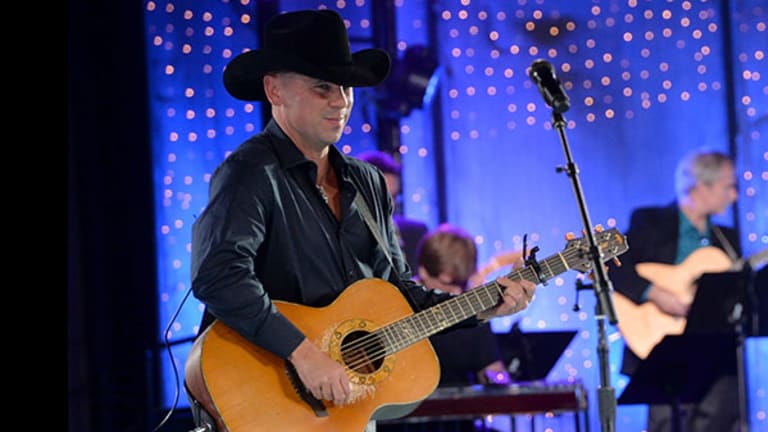 Publish date:
Mainstream and Country Join Hands, Sing 'God Bless America'
Contrary to hype, country music's growing marketshare has nothing to do with white identity and everything to do with open-minded artists giving the middle what they want.
Contrary to hype, country music's growing marketshare has nothing to do with white identity and everything to do with open-minded artists giving the middle what they want.
PORTLAND, Ore. (TheStreet) -- No, country music isn't taking over the United States. No, white U.S. voters aren't going to be an overwhelmingly arch-conservative and racist voting bloc in years to come.
As tidy of a little narrative as that would be for those keeping an eye on the nation's cultural and demographic shift, in each case it's an oversimplification that paves over the nuance and diverse effects of each development.
Though a new study out of Northwestern University claims that an independent white voter will get anxious and shift hard right if told that whites will no longer make up the majority of U.S. citizens 30 years from now, the fact that those surveyed had a median age of more than 45 discounts how Generation X and Millennials -- for whom diversity and tolerance aren't exactly new conditions -- would react under the same circumstances. And while it may be news to The New York Times that country music is something that U.S. audiences listen to in great numbers, there are stadiums full of people right on the Times' doorstep noting that country's kind of been this way for a while now.
Instead of playing out like a two-dimensional linear narrative of how scared white people are running to the safety of country music in an increasingly diverse U.S., these two storylines have a far less cynical bond. Only 61% of Millennials identify as "white," compared to 73% of Baby Boomers and 80% or more of older generations. Having either a country or country music that doesn't embrace that diversity and, instead, holes itself up in enclaves of antiquated notions and ideals isn't going to fly with that younger demographic.
Thus, the game has changed a little bit. While the Times still somehow considers Taylor Swift "country" -- despite long ago transcending that genre and eschewing twang and drawl for beats and Tegan and Sara covers -- the most prominent face of country music in the last decade or so has been the tanned, hat-shaded Tennessee visage of Kenny Chesney and the cocktail country that comes along with it.
Chesney could fill Neyland Stadium in Chattanooga, Tenn., on whim, but does so at Gillette Stadium near Boston and MetLife Field in New Jersey by doing something that's not so uncommon for a modern country singer: Singing about things that someone beyond Chattanooga just might relate to. A spiritual successor to Jimmy Buffett, Chesney's songs like When The Sun Goes Down, Beer In Mexico, Summertime and Out Last Night have taken their place in the post-work beach-and-bar pantheon with Margaritaville and Cheeseburger In Paradise. When he invites guests to play on his tracks, he's just as likely to bring in classic rockers like Joe Walsh, middle-of-the-road pop stars like Uncle Kracker and Dave Matthews or reggae groups like The Wailers as he is to collaborate with country mainstays like George Strait and Tim McGraw.

To that end, it's made him a huge deal in mainstream circles. As the 10th largest touring act of 2013, Chesney and company took in $90 million, drew nearly 1.2 million fans and sold out 31 of 44 shows. Granted, Beyonce and Rihanna did better -- as did long-dormant Depeche Mode -- but he outdrew One Direction, Justin Bieber and Fleetwood Mac in fewer gigs.
Since any good thing is worth repeating, country acts like Jason Aldean (No. 21 with $47.8 million in box office receipts last year) and Luke Bryan (No. 24, $45.5 million) have followed in Chesney's footsteps and found success with what's become known as "bro country." In fact, Bryan's album Crash My Party was the No. 8 best-selling album of any kind in 2013, according to Nielsen, with only fellow bro-country act Florida Georgia Line selling more country albums by taking Here's To The Good Times to No. 6 on the year.
Sensing a theme here? It's not exactly new ground -- Toby Keith settled any Bush-era backlash with party anthems like Red Solo Cup and I Love This Bar while Alan Jackson brought in Buffett himself for It's 5 O'Clock Somewhere -- but it's made country palatable to a broader audience. It's also received a huge hand from rock music, which seems to be doing its best to alienate that same crowd.
As we noted earlier, country isn't taking over just yet. It's growing at the same rate as electronic dance music and with only 15% of the radio listening audience, according to Nielsen, it isn't quite at pop or rock levels. However, we'll note that Chesney (48), Bryan (37) and Aldean (37) are significantly younger than rockers including Bruce Springsteen (64), Mick Jagger (70), Keith Richards (70), Jon Bon Jovi (52), Roger Waters (70), Madonna (55) and Fleetwood Mac (with an entire lineup 64 and older).
Playing to the Middle
Rock made the decision to abandon the mainstream and go diving into its niches sometime around Napster, effectively abdicating its long-held pop music throne. As a result, it's seen its share of digital music sales dwindle 12.2% to 22.6% of all music sold in 2013. Even pop saw sales drop more than 15% and its share of digital sales drop to about 20% of the total. Country's share, meanwhile, is at 12.6%, but rising.
You know who that probably surprises least? Last year's top-grossing touring act: Bon Jovi. That Jersey-based rock band hadn't had an album go to No. 1 in U.S. sales since New Jersey was released in 1988, but has had its last three albums accomplish that feat after releasing the country-flavored song Who Says You Can't Go Home featuring Sugarland's Jennifer Nettles in 2005. That spawned the 2007 country-rock album Lost Highway, a collaboration between Island Records and Mercury Nashville that featured guest spots from country stars LeeAnn Rimes and Big and Rich.
What both country and older rock and pop musicians have learned is that it's incredibly foolish to close off avenues and turn off fans when everyone can get in on the party. It's why folks who were into Hootie and The Blowfish in the '90s made a seamless transition to Darius Rucker's country career and to country festivals with him on the bill. It's why Brad Paisley could even attempt his ill-fated Accidental Racist collaboration with LL Cool J. It's why Lionel Richie's 2012 album Tuskeegee featuring his hit songs performed as duets with Chesney, Nettles, Aldean, McGraw, Rucker, Buffett, Blake Shelton, Rascal Flatts, Billy Currington, Little Big Town, Shania Twain, Kenny Rogers and Willie Nelson was his first No. 1 since 1986's Dancing On The Ceiling.


Country has drifted a little more mainstream with its laid-back, all-purpose persona, but the mainstream has drifted Nashville's way as well. While it doesn't help to have certain wide receivers showing up to shows in Philadelphia and dropping N-bombs, country music is creating the inclusive, middle-of-the-road environment that country rockers like Linda Rondstadt, The Eagles, The Band, Creedence Clearwater Revival and even the Grateful Dead used to inhabit generations ago. It may have spawned punk and disco as folks tired of the homogeny, but hip-hop and electronic dance music exist as similar counterweights today.
There is always going to be a need for a soft, doughy, non-sugary middle in U.S. music. Country still has some of its rougher edges, but those huge Chesney and Aldean audiences are flocking to shows for their big-party inclusiveness, not for backwards division. If Taylor Swift can still be considered "country" in some circles after sharing a stage with Carly Simon, Tegan and Sara, Jennifer Lopez, Ellie Goulding, Nelly, Sara Bareilles, B.o.B, and train -- and counting Alicia Keys, Kesha, Katy Perry, Bikini Kill's Kathleen Hanna, Garbage's Shirley Manson and Lena Dunham among her fans -- it's a testament to how far both country and U.S. audiences have come.
That they've traveled that distance to embrace should only make us more optimistic about where we're headed as fans and as a country.
-- Written by Jason Notte in Portland, Ore.
>To contact the writer of this article, click here: Jason Notte.
>To follow the writer on Twitter, go to http://twitter.com/notteham.
>To submit a news tip, send an email to: tips@thestreet.com.
RELATED STORIES:
>>Josh Homme and Old Rockers Grumble Into Irrelevance
>>The Worst '90s Relic: Booing Courtney Love
>>5 Cities Where Records Still Rule
Jason Notte is a reporter for TheStreet. His writing has appeared in The New York Times, The Huffington Post, Esquire.com, Time Out New York, the Boston Herald, the Boston Phoenix, the Metro newspaper and the Colorado Springs Independent. He previously served as the political and global affairs editor for Metro U.S., layout editor for Boston Now, assistant news editor for the Herald News of West Paterson, N.J., editor of Go Out! Magazine in Hoboken, N.J., and copy editor and lifestyle editor at the Jersey Journal in Jersey City, N.J.