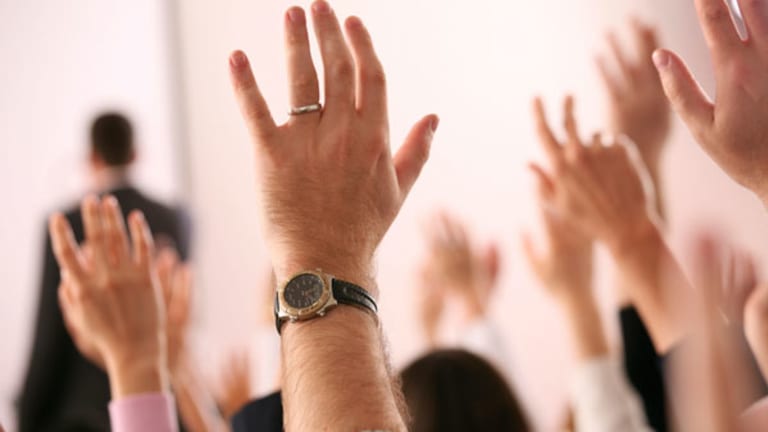 Main Street to AIG: We Still Hate You
As if AIG doesn't have enough problems, AIG is still the most hated company in the U.S., a new poll finds.
NEW YORK (
) -- Recent apologias from Wall Street firms have highlighted the importance of reputation management post-financial crisis.
Street firms, mind you, aren't necessarily doing a good job of managing their reputations. It's just that they've finally accepted that public perception matters in ways beyond simply having their brands printed on corporate charity 5K run t-shirts, the donor pages of opera and theater programs, and over the entrance ways to art-museum wings.
It's probably too soon to judge whether efforts by the likes of
Goldman Sachs
(GS) - Get Goldman Sachs Group, Inc. Report
and
Citigroup
(C) - Get Citigroup Inc. Report
to resuscitate their public images will work, but they've been busy bees of brand management lately.
Goldman Sachs tried in its annual letter last week to defend itself from charges of profiting from the mortgage market meltdown -- more or less encouraging clients to buy up toxic mortgage assets that Goldman was busy selling.
Goldman also defended the bonuses that have incurred so much public wrath. The annual letter also acknowledged Goldman Sach's public relations problem: "We have not been blind to the attention on our industry and, in particular, on Goldman Sachs, with respect to compensation," the letter reads.
Last Thursday, former Citigroup executives faced renewed congressional fire from the Financial Crisis Inquiry Commission as former CEO Chuck Prince was on the hot seat in Washington D.C.
Prince and former Citigroup executive committee head Robert Rubin both told the congressional commission on Thursday that they were unaware of the level of toxic subprime debt and mortgage-related securities that would ultimately bring down the U.S. economy.
It's hard to see how much comfort Main Street will take from the fact that the top executives of one of the largest banks in the world and, in Rubin's case, a former Treasury Secretary, had no idea what was going on under their watch at Citi.
"It's hard to put yourself back mentally at that time," Prince told the congressional commission. And based on Prince and Rubin's comments that they were not even aware of the mortgage market risks, it might me more apt to say their minds weren't even working.
Nonetheless, as the big financial firms were busy not remembering much that occurred during the financial crisis as a method of massaging their public personas, Americans were not sitting tight and giving them more time before passing judgment.
Notably,
Harris Interactive
(HPOL)
released the results of a poll last week that asked residents of Main Street
which U.S. companies they believed had the best and worst reputations.
Berkshire Hathaway
( BKR.B) was, not surprisingly, at the top of the reputation list. After all, President Obama was invoking Warren Buffett's name for a while there during the financial crisis. Every time the markets seemed poised on another nuclear-detonation button point, we would hear President Obama saying "I've talked to Warren Buffett", almost as if that statement alone should send the markets back up.
The
Who's Who of the Hated
in the Harris Interactive poll results, however, reads like a cast of primary characters in the most recent financial crisis and federal bailout epic, from the auto companies to the U.S. housing market and the financial wizards on Wall Street who piled toxic debt as high as hubris befitting classical Greece's Mount Olympus.
Freddie Mac
( FRE),
Fannie Mae
( FNM) and
AIG
(AIG) - Get American International Group, Inc. Report
were the triumvirate of companies with the worst reputations in the poll.
The leading lights of the corporate hated were followed by Goldman, Citi,
General Motors
,
Chrysler
and a parade of good old despicable standard bearers in terms of encouraging public ire, like the airlines -- in this poll's case,
Delta Air Lines
(DAL) - Get Delta Air Lines, Inc. Report
.
TheStreet
, for our part, was curious to see if our readership had the same views of corporate detestability. And so, we asked in our own poll,
Which U.S. company do you think still deserves to be Public Enemy No. 1?
The results of
TheStreet
poll can be summed up this way: How does Main Street hate AIG? Let us count the ways ... or at least the poll percentages.
Approximately 44% of poll takers helped AIG leapfrog right over Freddie Mac and Fannie Mae -- the lowest reputation companies in the Harris poll -- to be voted the most hated company by
TheStreet
readers.
Only 11% of readers judged Freddie Mac to the most despicable company, while only 9% of survey takers think Fannie Mae is evildoer
numero uno
in the markets.
Goldman Sachs noted in its annual letter last week that its relationship with AIG would not have resulted in any material economic loss to the company even if AIG had not been bailed out by the government.
But as far as readers of
TheStreet
are concerned, the links between AIG and Goldman are rock solid, at least when those links are links of despicability: Goldman was second to AIG among the Who's Who of the Hated, garnering 25% of poll respondents' seemingly ceaseless wrath against Wall Street.
As a matter of fact, poll respondents were so busy hating AIG and Goldman, that Citi got a virtual pass. Even as Citi's former top dog Prince -- maybe it's more accurate to refer to Prince as just a Citi dog -- was testifying before Congress with his lack of recollections about the financial crisis, only 7% of those surveyed by
TheStreet
thought Citi deserved to be Public Enemy No. 1 among the big evil corporations. Maybe with its stock trading at under $5, the poll is a reflection of how many readers have banked on Citi shares as a comeback stock story.
With 8% of the votes, Delta was even judged lower on this business reputation totem poll than Citigroup.
Not that garnering any votes in this poll, even the least of any company, is something to write home about. It may, on the other hand, be something for companies like AIG and Goldman Sachs to call Warren Buffett about.
At least in Goldman's case, it wouldn't be the first time.
-- Reported by Eric Rosenbaum in New York.
RELATED STORIES:
>>Berkshire Owns Best Business Reputation
>>2009's Biggest CEO Compensation Packages
>>A Rare Moment of Bad Press for Buffett
>>See our new stock quote page.
Follow TheStreet.com on
and become a fan on
Copyright 2009 TheStreet.com Inc. All rights reserved. This material may not be published, broadcast, rewritten, or redistributed.