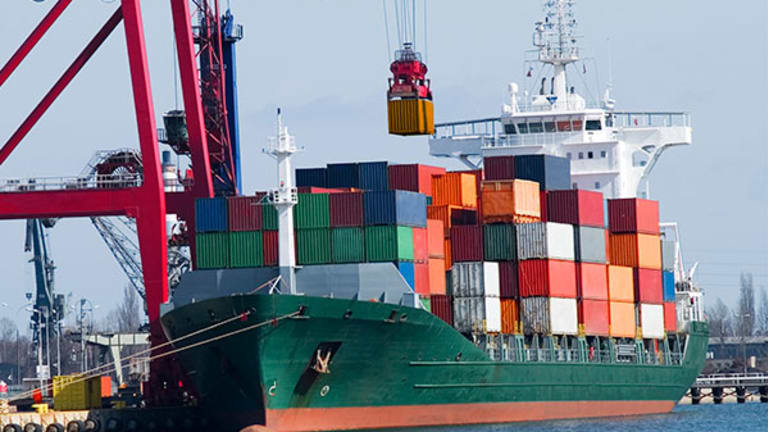 Maersk Is Poised to Steam Ahead in 2017, Says Exane BNP
Rising freight rates are poised to drive a 30% increase in the value of the world's biggest shipping group, while an oil deal could be the cherry on top.
A.P. Moller Maersk (AMKBY) , the world's biggest shipping group, could rise from the grim depths of 2016 to be one of next year's top performers, according to Exane BNP.
The French bank's analysts, including Robert Joynson, see a rebound in shipping rates for the group's Maersk Line and a much-rumored combination of Maersk Oil business with the oil operations of Danish utility DONG Energy as catalysts that could push Moller Maersk's shares to 12,300 kroner within 12 months, up from their current level of 9,860 kroner.
The Danish company has seen stock rise 9.86% since the beginning the year. 
Maersk on Thursday announced it had agreed to buy Hamburg Sud, the world's seventh-largest container shipping group. The deal is reportedly worth between $3 billion and $5 billion.  
"The tide is turning, and for 2017 our stance is...that unless freight rates collapse, Maersk Line profitability will rebound," the analysts noted in a report dated Nov. 30.
Maersk had a torrid 2016 after both shipping rates and oil prices collapsed, driving revenues down from $40 billion in 2015 to an estimated $36.2 billion this year, while net profit tumbled from $4.28 billion to a likely $1 billion. Yet revenues from both oil and shipping are poised for improvement in 2017, according to Exane, which is tipping 2017 revenues of $39.2 billion and net profit of $2.79 billion.  
The signs of green shoots in the shipping unit are already visible in the wreckage of 2016's shipping sector.
The collapse of Maersk's South Korean shipping rival Hanjin Shipping Co. in August, which led an estimated $14.5 billion of goods stranded on its ships, took about 3% of the capacity out of the market. That boosted spot rates, but had little immediate effect on Maersk, largely because two-thirds of its fleet are on contracted rates.  
That will change over the coming quarters as Maersk Line rolls over its contracts at higher rates. Exane estimates that if current spot rates continue through 2017 then the price Maersk Line earns for shipping each twenty foot container equivalent unit, an industry measure known as a TEU, would increase by an average $100 over 2016's average rate of about $850. That in turn would transform this year's expected $100 million net operating loss at shipping unit Maersk Line into a $2 billion net profit next year.
The combination with Hamburg will cement Maersk's No. 1 status adding 20% to its capacity and increasing market share to 18.6%.  
Rates could go higher still. A Nov. 30 article appearing in the Journal of Commerce, an international shipping and logistics trade paper, cited an unnamed logistics director who was budgeting for an about 20% increase in shipping rates in 2017.
Exane makes less of the potential benefits of a deal between Maersk Oil and Dong Energy's oil business but says that Maersk's energy business "would appear an ideal partner for Dong." The combination of the two units would create a mid-sized energy group worth about $10 billion, including debt, that could then be spun off.
Maersk said in September it planned to merge or spin-off the energy unit to focus on its shipping operations, a month before Dong announced plans to sell its oil and gas business to focus on renewable energy.
The Dong unit, which claims to be cash flow positive at oil prices of $35 per barrel, comes with about $4.3 billion of deferred tax assets that it has been unable to tap as it hasn't made a net profit since oil prices collapsed over 2015.
Dong has said that it is in the early stages of considering its options, while Maersk declined to comment on recent reports that it was already in talks with Dong.