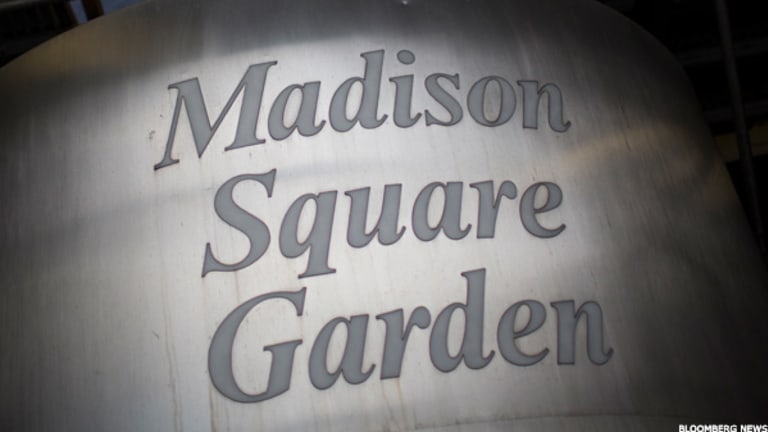 Madison Square Garden Cashes Out Stake in Fuse Network -- to J-Lo
In a bidding war between former power couple Jennifer Lopez and Sean 'Diddy' Combs over the Fuse channel, Madison Square Garden came out on top.
In a bidding war between former power couple Jennifer Lopez and Sean 'Diddy' Combs over the Fuse channel, Madison Square Garden came out on top.
NEW YORK (TheStreet) -- Madison Square Garden (MSG) - Get Report found a buyer for its Fuse Network music channel -- and came out on top in the deal. Former couple Jennifer Lopez and Sean "Diddy" Combs battled over Fuse, and J-Lo's cash and stock deal won the day.
Fuse's new owner is NuvoTV -- not a household name, but available in 32.7 million homes in the United States. NuvoTV is backed by shareholder Jennifer Lopez, who is chief content officer for the Latino-focused channel. With the acquisition of Fuse, NuvoTV's parent company SiTV Media gains a channel that reaches 73 million households.
Diddy and Lopez dated from 1999 to 2001.
The suitors for Fuse reportedly came down to Lopez's NuvoTV and Diddy's Revolt music video channel. Diddy offered $200 million and no equity in his channel, according to sources. NuvoTV bid $226 million in cash and 15% ownership of the shares of a combined Fuse-NuvoTV, plus a seat on the board of directors. This stake took MSG closer to the overall $400 million price they were reportedly seeking.
The deciding factor was likely cash, but the equity and possible upside in SiTV Media helped Madison Square Garden maximize its return.
SiTV plans on keeping the channels separate, but will use the combination as leverage in deals with cable providers. The ability to cross-promote and pair the channels for advertisers will also help SiTV's ambitions. SiTV rebranded its channel as NuvoTV in 2011 and brought in Lopez in 2012 to help boost the network and its popularity.
NuvoTV showcases celebrities like Jennifer Lopez and Mario Lopez and airs original and syndicated content. In December, NuvoTV surprisingly announced that it had won the basic cable syndication rights for Showtime's popular gorefest Dexter to begin in 2014. The network has the rights to air all eight seasons and is hoping that the strong Latino cast of the popular show will boost ratings for the network.
Univision, the leading Hispanic American media company, is considering a late 2014 IPO. This offering would boost the value of SiTV and related competitors. Univision was taken private in 2007 at a $12.3 billion valuation. The company is now partially owned by Televisa (TV) - Get Report and has over 62 television stations in the United States and Puerto Rico.
Univision continues to see strong ratings for its content. In a recent week, Univision ranked fourth in television ratings for six consecutive nights. This streak means Univision, which reaches 96% of U.S. Hispanic households, beat either ABC (DIS) - Get Report, NBC (CMCSA) - Get Report, CBS (CBS) - Get Report, or Fox (FOXA) - Get Report on each night.
Another rival, Comcast-owned (CMCSA) - Get Report Telemundo, is the second-largest provider of Spanish language content. Comcast gained the channel in its acquisition of NBCUniversal. With the increasing draw of Latino audiences, SiTV could also find itself as an acquisition target of Univision, Telemundo or another media company.
Madison Square Garden was wise to get rid of the Fuse brand. The music channel didn't fit strategically with a company focused on venues and sports. Sure, the channel could air concerts that took place at its iconic namesake arena, but otherwise it had little value for MSG.
In the last fiscal year, media was the strongest segment for Madison Square Garden. Revenue rose 10% to $677.7 million for the media segment, and was boosted by strong viewership of sporting events on the MSG Channel. Media also made up $328.6 million in operating income, compared to entertainment and sports, which saw operating income of -$24.7 million and $13.5 million respectively.
Off-loading Fuse also gives Madision Square Graden a nice amount of cash. The company is looking for an acquisition, according to the New York Post. Madison Square Garden may also consider a dividend or a large share buyback.
The company's 15% equity stake in NuvoTV should also keep the company in the spotlight and provide a boost when Univision prices its IPO later in 2014.
At the time of publication, the author held no positions in any of the stocks mentioned.
This article represents the opinion of a contributor and not necessarily that of TheStreet or its editorial staff.